'RuPaul's Drag Race All Stars 6': 3 Dramatic Moments From Episode 11 of 'Untucked'
The top 4 was in sight for the queens of RuPaul's Drag Race All Stars 6 following Eureka's return to the competition after she beat Silky Nutmeg Ganache in the final lipsync showdown on episode 10.
Not only was Eureka firmly back in the running, she proved she well and truly deserved her place as she was named the Top All Star of the week following the "Charisma, Uniqueness, Nerve and Talent monologues" challenge.
The challenge, which is clearly a play on The Vagina Monologues, sees the queens share stories from their lives, with Eureka winning after she detailed an unfortunate incident where she defecated on stage.
It is up to her then to decide who should go home out of the remaining queens; Ginger Minj, Kylie Sonique Love, Ra'Jah O'Haha, or Trinity K. Bonet.
Here are the top moments from the episode, which is now streaming on Paramount+.
The Queens Reflect on Their All Stars Journey
With the end of the road so close, the queens took a moment to look back on their time on the show, and how well they've done when compared to the last time they appeared on the programme.
Ginger was particularly emotional while reflecting on her journey as she admitted she was desperate to do better than she did on All Stars 2.
She explained to the others: "Coming back and making it past that hurdle, I may look unshakable but I was literally thinking please just let me make it past episode 3, please let me do better than I did before."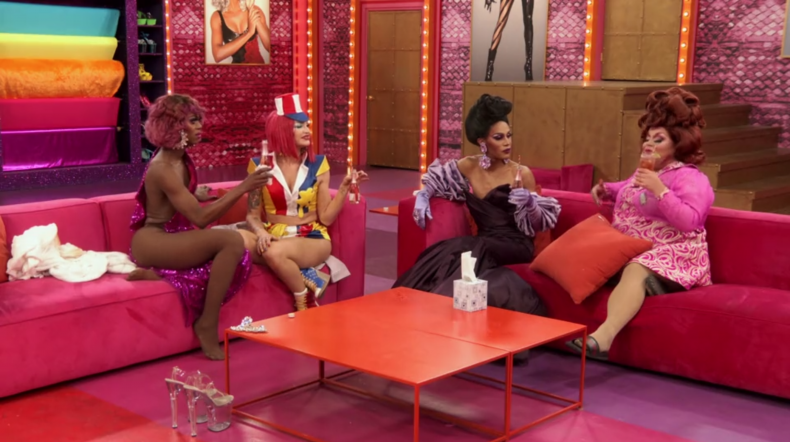 Ra'Jah also reflected on her middling performance on season 11, which saw her getting eliminated halfway through the competition.
"To think this time around I got to do the snatch game which I really wanted to do, I won on both of the design challenges and I'm so proud of myself I'm so proud of my work," Ra'Jah said.
Kylie competed on season 2 of RuPaul's Drag Race back in 2010, and she only made it as far as episode 4.
Reflecting on how well she's done in All Stars, she gushed: "I'm just so grateful, I went home on Snatch Game just because I didn't understand it and then b**** I came back and the Snatch Game assassin over here [Ginger], I was right there next to my sister and that made me so proud."
It's true, Kylie made a strong effort on Snatch Game when she portrayed Dolly Parton as she kept up with Ginger's quick wit throughout, which is no easy feat.
Ginger Makes a Subtle Dig at the Cast of RPDR Season 7 and All Stars 2
While discussing how much they've enjoyed being on the show together, Ginger made a reference to her time on RuPaul's Drag Race season 7 and All Stars 2, remarking how different it was.
She said: "This is my third time here and I've never had the experience that I've had with this group of girls.
"From the very first time we all stood here in the workroom I had this energy of comfort and love, like 'oh this is the group of girls I'm supposed to be with',
"You know, Ru always says you have to find your tribe, b**** we found our tribe."
On season 7 Ginger made it to the top 3 alongside winner Violet Chachki and runner-up Pearl, while on All Stars 2 she competed with the likes of Alaska, Detox, Katya, and Alyssa Edwards for the crown.
It was certainly a different vibe on both those in comparison to All Stars 6 because the queens are not nearly as catty to each other as in previous seasons.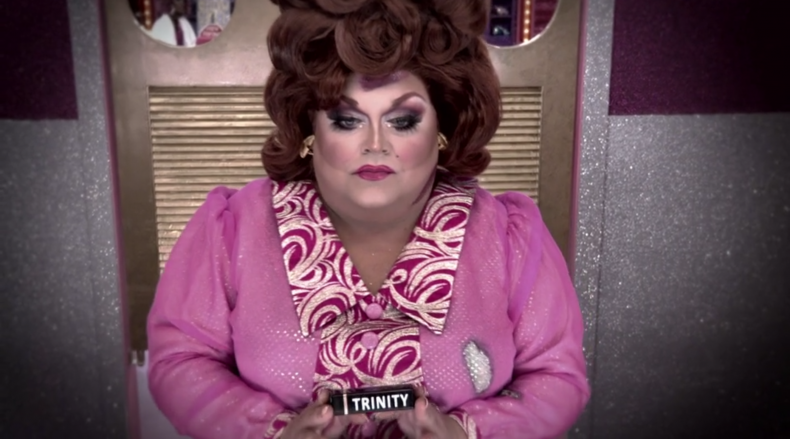 Who Voted for Trinity to Go Home?
Sadly, Trinity was the queen to be sent home at the end of the episode with both Eureka and the group picking her, the latter of which lip-sync assassin Jaida Essence Hall revealed.
Untucked revealed that it was a unanimous decision, with Ra'Jah, Ginger, and Kylie all choosing Trinity to sashay away.
While she was visibly upset and looked near tears while heading back to the workroom, Trinity kept her head high and told producers she was happy with how she did on the show and it was simply her time to go.
She said: "I'm devastated but if we're going to play this game fair then its my turn to go because if you add everything [up] I have the most bottoms, ain't no way around it."
While packing up her stuff, Trinity went on: "I'm sad because I was almost there and it wasn't that I was bad it's just someone had to go and it was me, [I'm] leaving with a sense of accomplishment but unfinished business. I have no regrets, I gave it my all."
The queen also said she "surprised" herself during her journey on All Stars because at first she didn't know she could do so well at so many things.
RuPaul's Drag Race All Stars 6 concludes on Thursday, September 2 on Paramount+.