'RuPaul's Drag Race All Stars 6': 4 Dramatic Moments From Episode 9 of 'Untucked'
With only five queens left in the competition tensions were high in episode 9 of RuPaul's Drag Race All Stars 6: Untucked, which aired on Thursday.
In the main episode, Ra'Jah O'Hara, Ginger Minj, Trinity K. Bonet, Kylie Sonique Love and Eureka! were tasked with making their own cartoon characters for the Drag Tot challenge.
And, as the competition is so close to the end, four queens were left in the bottom, with Ginger, Trinity, Kylie and Eureka at risk of going home after Ra'Jah was named the Top All Star of the week for her character I See You Queen.
The stars were all given positive critiques from the judges so it was up to the queens to make the difficult decision of picking which one of them deserved to sashay away.
Newsweek can reveal the four essential moments from Untucked.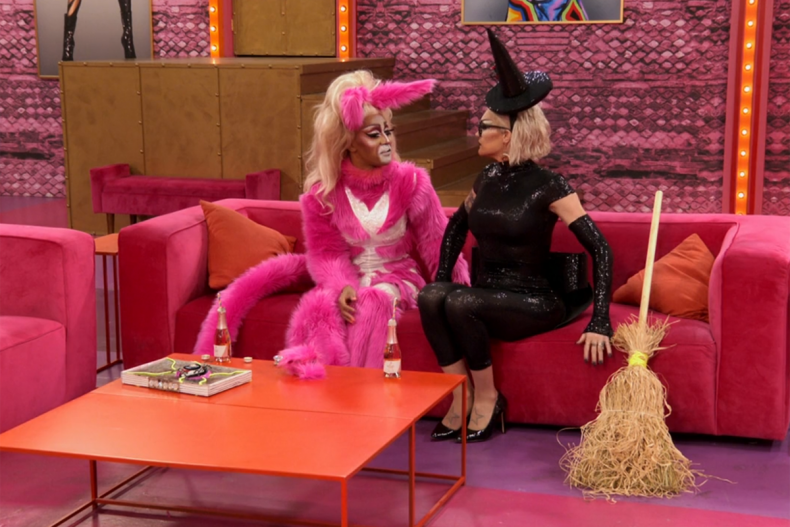 Trinity and Kylie Have a Tense Exchange Over the Mini Challenge
Earlier in the main episode, the queens took part in an amusing match game where RuPaul asked various questions and they had to pick which queen best suited the scenario he was talking about.
In one instance, RuPaul asked who deserved to go home next and Trinity and Kylie both wrote Trinity, with Ra'Jah and Ginger picking Eureka, and Eureka naming Ra'Jah.
After learning it was Kylie who had named her, Trinity confronted her competitor to find out why she had picked her to sashay away.
Kylie was nonplussed at first, claiming she didn't "want to talk about it" and didn't "give a f**k" about the mini challenge as it wasn't going to actually result in Trinity being sent home.
She then explained: "l mean because you'd been in the bottom a few times and I honestly figured that everyone else was going to say it so I did, and you even said it so why are you f***ing mad at me?"
Trinity responded: "I'm not mad at you, I just wanted to know why you thought I'd be in the bottom, you didn't think in the next challenge I could redeem myself?"
And Kylie hit back: "Well you did, it wasn't like I didn't think you were going to redeem yourself but I had to put somebody and I wasn't going to put my name."
Eureka and Ginger Have a Sweet Moment Together
While taking a smoke break outside, Eureka and Ginger shared how happy they were to compete together and uplift each other on the show as plus-size queens.
Eureka poured her heart out to Ginger, saying: "We are both fierce big girls, I'm proud I gave you a run for your chunky money b***h.
"We've pushed each other this entire competition, you motivate me in a way that you don't understand."
She added: "I'm proud to have been in this competition with you, I appreciate you and the work you put in, you work your a** off."
Ginger was visibly emotional over Eureka's praise, and said in return: "It's been an honor and a privilege to represent particularly with you, somebody who is so strong but in such a different way than I am."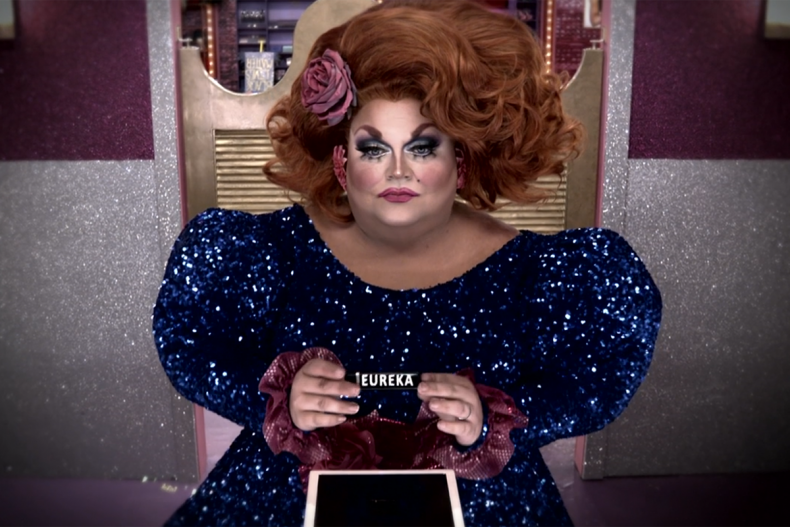 Who Did the Group Vote to Sashay Away?
After Ra'Jah lost to lip-sync assassin Kameron Michaels, it was revealed that the group had chosen to send Eureka home.
And the vote was unanimous, as it was shown during Untucked that Trinity, Kylie, and Ginger had picked Eureka's lipstick.
Had she won the lip sync, Ra'Jah would have also chosen Eureka to go home as she was shown picking the queen's lipstick prior to going up on stage.
Eureka said afterwards: "I'm sad but I hold my head high... I had a great run here, I'm proud of what I've done. I feel good I feel that top four is incredible so I think it's their time, the party is going to be boring without me!
"What an honor to be a part of it, earning the respect of your sisters is so incredible. It's nice to show out and [show] the elevation of my drag."
Eureka Reacts to the Game Within a Game
Before leaving the competition, RuPaul stopped Eureka from heading home and told her to get ready to go to the main stage for a lip sync.
Eureka was visibly flustered by the prospect, quickly running to reapply makeup, change her outfit and put on a new wig.
She said: "This is wild y'all, I don't know who I'm lip syncing against, I kind of want to cry I'm just emotional.
"I just feel excited but also a little overwhelmed. It's weird how the world works, two minutes ago I was writing a farewell message and now I'm preparing for a lip sync."
Eureka admitted she was "nervous as f**k" to go back out onto the mainstage because she didn't know "what [she's] lip syncing to, or who [she's] lips yncing against."
RuPaul's Drag Race All Stars 6 and Untucked air Thursdays on Paramount+.