All season RuPaul has teased the "game within a game," telling each eliminated queen they could be given another chance and asking if they want to play.
The nature of the game was finally revealed on Episode 10 of RuPaul's Drag Race All Stars 6, with the eliminated queens asked to lip sync to earn back their spot on the show.
Serena ChaCha, Jiggly Caliente, Silky Nutmeg Ganache, Yara Sofia, Scarlet Envy, Jan, Pandora Boxx and Eureka all took part—with A'Keria C. Davenport choosing not to return.
Silky proved the strongest competitor, winning six lip syncs in a row to reach a final face-off against Eureka. The results of their battle will be revealed next week.
Untucked showed the eliminated queens reconnecting after each lip sync, decompressing and swapping notes about their performances. Here Newsweek can reveal the top three moments from the episode.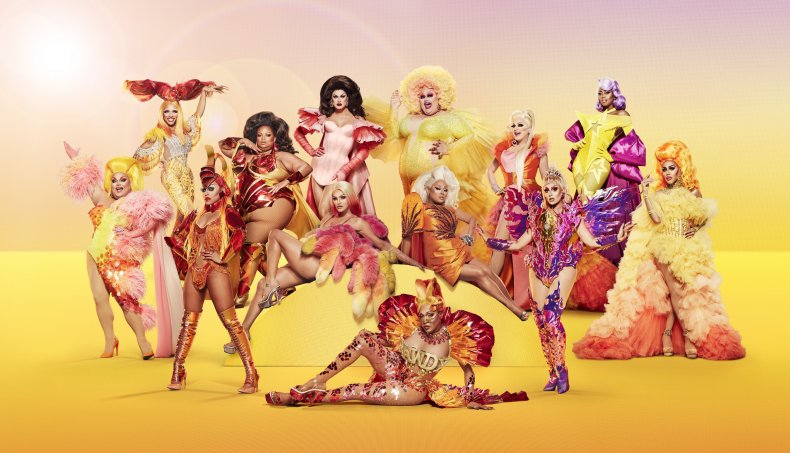 Yara and Silky Have an Intense Conversation
Silky was originally sent home in the third episode of the competition, after lip sync assassin Laganja Estranja beat that week's top All Star, Trinity K. Bonet, and announced the group had chosen her to leave.
After Silky beat her in their Rudemption lip sync, Yara took a moment to explain why she had picked her to sashay away.
"I just want to say I picked your lipstick to send you home because I felt you were giving up or maybe you were tired," Yara said.
Silky admitted she'd taken "too many steps back" during the competition.
Yara told her: "I know Silky, and I know when you are in a room everybody notices. You're like me.
"I want to see that if you go back into the competition, you know you have everything to send everybody home.
"Send all the motherf****** bitches home one by one. Do it for you, for me, for Jiggly, Serena, do it for everyone."
Silky Tries to Comfort Scarlet After Beating Her
Silky's next lip sync rival was Scarlet Envy, who was left feeling "crushed" after her defeat.
When they met to chat, Silky tried her best to cheer up her competitor.
Scarlet said: "I'm just crushed, it hurts really bad the first time and also the second time. I'm trying not to be this girl, I'm trying to not feel bad for myself."
Silky told Scarlet she "shouldn't be feeling bad at all," adding: "We get this opportunity to come here and you get to show up and show out."
She added: "I beat you today, but you beat on life, girl."
Silky Talks to Herself After A'Keria Surprise
The biggest surprise of Episode 10 was A'Keria's decision not to take part in the Rudemption lip sync, saying she was happy with what she'd achieved on the show and didn't need to come back.
Silky decided to lip sync by herself, revealing that she'd prepared a two-sided costume to represent Barbie and Ken for Aqua's "Barbie Girl."
After the performance, Silky went backstage to discuss—with herself—how things were going in the lip sync showdown.
Switching between her Barbie and Ken sides, Silky told herself: "I want you to know I'm proud of you. You're doing your thing, you're shaking your tail feathers and trying to get back in the competition and the world sees it."
RuPaul's Drag Race All Stars 6 and Untucked air every Thursday on Paramount+.