'RuPaul's Drag Race' Fans Remember Chi Chi DeVayne's Most Iconic Moments After Drag Queen's Death
Chi Chi DeVayne, a former contestant on RuPaul Charles' popular Drag Race franchise, has died, according to reports on Thursday. The entertainer and drag queen was 34 years old.
Although DeVayne's cause of death has yet to be revealed, her death may be connected to her recent hospitalization. Just a week prior to her passing, the Shreveport, Louisiana native shared a video of herself laying in a hospital bed on her Instagram Stories, Entertainment Weekly reported.
"Keep me in your prayers. I'll be back soon," DeVayne said in the video, which has since expired from her Instagram Stories.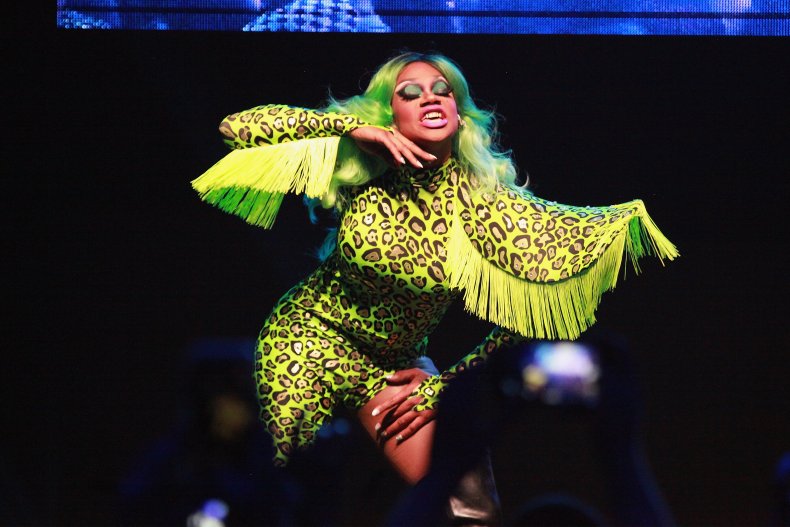 DeVayne first revealed to fans that she was possibly suffering from kidney failure back in July when she was first hospitalized following high blood pressure complications. At the time, she told fans that catheters were connected to her heart and had her kidneys surgically replaced before undergoing dialysis treatment. She was released from the hospital later that same month.
DeVayne, who helmed the stage name of Zavion Davenport, made her first big splash on RuPaul's Drag Race back during Season 8. An instant fan-favorite, she shined throughout the competition, solidifying her spot in the competition with a memorable lip-sync battle performance of "And I Am Telling You, I'm Not Going" from the 1982 Broadway musical Dreamgirls against Thorgy Thor. In the end, DeVayne was eliminated from the show after landing the spot within the top four finalists.
Two years after her Drag Race debut, DeVayne appeared on the All-Stars competition for Season 3 and placed eighth.
Following news of her death, a number of DeVayne's friends and fans as well as her former Drag Race sisters took to social media to express their condolences.
"An iconic queen literally everyone in our industry will always love," Trixie Mattel, who appeared on Drag Race Season 7, wrote on Twitter.
Meanwhile, Ongina, who appeared on the inaugural season of Drag Race wrote: "Rest in Power Angel! Seriously one of the nicest people I've ever met. Zavion Davenport Chi Chi DeVayne we will miss you!"
Many fans posted video clips and photos of DeVayne's most memorable moments on the show.
"Rest in peace Chi Chi. I'm in shock. Our second queen to have passed from Drag Race. You will be forever our star Chi Chi. Thank you for bringing our joy to our lives in S8 & AS3. We love you. #DragRace. #ChiChiDeVayne," one fan wrote.
Another tweeted: "[Chi Chi DeVayne] you will never be forgotten."