'RuPaul's Drag Race UK's' Starlet Was Left in 'Vulnerable Place' After Exit
Being eliminated in the second week of RuPaul's Drag Race UK Season 4 left Starlet in a "very vulnerable place," she told Newsweek.
When she walked into the Werk Room, the South African drag queen seemed poised to be a threat to be reckoned with, but the second week's girl group challenge proved too difficult an obstacle to overcome.
Starlet was in the bottom two against Jonbers Blonde, but after their lipsync it was her competitor's name that was called as the winner, not hers, a moment that the queen felt, understandably, quite upset about.
'RuPaul's Drag Race UK's' Starlet Was Left in 'Vulnerable Place' After Exit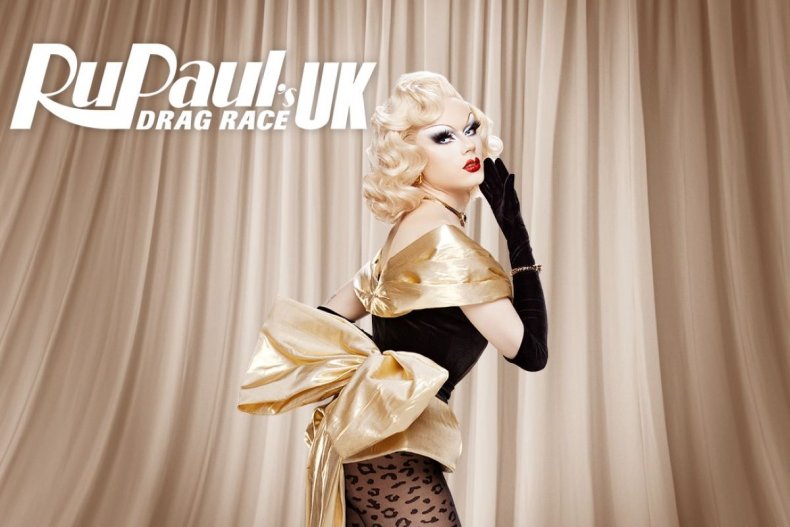 After thanking RuPaul for the opportunity, Starlet walked off the stage and did not say anything else when at the back, like most other queens do. Starlet told Newsweek that her remarks at the front of the stage were her exit line.
"I said my exit line at the front of the stage where I said, 'Thank you for giving me my dream and now I get to go find another,' which was not like a shady thing at all," Starlet said when reflecting on her sudden departure.
"I was just trying to be positive and looking at it in a good way, that this isn't the end and there's more for me out there.
"When I walked off it wasn't like, 'oh, my gosh, I'm so annoyed, and upset and angry with everybody, and I don't want to see everybody.' I was so upset and emotional and vulnerable I felt I just needed to get offstage, just get a moment to myself, and I did.
"When I watched RuPaul's face when I walked off [in the episode], I got really worried that that came across as disrespectful or ungrateful, or like bratty, which is not the case at all. I was just in a very vulnerable place."
Since the episode aired Starlet said things have "been really emotional" for her, but she was lucky to have "been surrounded by really close friends [who] held and supported me throughout."
Looking back at the moment RuPaul told her to sashay away, Starlet explained what was going through her mind: "It's a combination of just disbelief and shock that that's happening. Nobody enters Drag Race with the hopes of that happening, everybody wants to make as far as possible. Yeah, just a bit of heartbreak really."
On the Girl Group Challenge and Her Team's Struggles
The challenge for the second week saw the queens perform in Yass-tonbury Festival, a play on Glastonbury Festival, which takes place in England, and they had to write lyrics, record them and perfect choreography for a show-stopping performance in a very short amount of time.
Starlet's team, Triple Threat, were up first. The group included Sminty Drop, Black Peppa, Baby and Jonbers Blonde, but each fumbled while performing, either by forgetting their lyrics or not dancing in time.
"That's something that that is not my strength," Starlet said of the challenge. "I sort of said on the show, we were writing the lyrics [and] I've never done that in my life so I felt like I was in a field and there's a path going that way, that way, that way, and I have no idea which one to go down.
"Like, this could go in any direction, I don't know what's the best thing, what's the best direction to go for?"
"But Baby was amazing," Starlet added. "She really supported all of us and helped all of us with our song-writing and the choreo[graphy], and I had fun. Whether it looked like it, or not, I enjoyed myself."
Starlet is referring to critiques from judges Graham Norton and Michelle Visage who told her that she appeared "petrified" on stage and also didn't seem to be "having fun" while presenting her runway outfit after the performance.
"I can see what they mean, like watching the episode I can see what they're saying but that's just my face," the queen joked. "I can't change that, and my drag is not done for making funny faces, it's done to be elegant and poised."
The Judges' Critiques Did More Harm Than Good
Speaking of the judges' critiques, Starlet also spoke of how being constantly told she seemed shy actually made her retreat further into herself than encourage her to stand out.
Starlet said: "I'm happier with how I came across on episode 2, I think that gave a bit more insight [into me], not fully, but more insight into the truth of that I'm a massive goof ball, and I'm always like the class clown, I've been told that my whole life, but my drag style is very poised and elegant.
"I was feeling really self-conscious, the worst thing you can tell someone that's shy is that they're shy, and the second I walked into the Werk Room it was 'you're shy, you're shy, shy, shy' every 30 seconds, so that kind of took me to a bad headspace and didn't really help.
"But this last episode has made me feel a bit more confident because it's nice to know that now people have at least seen that what I'm saying is true. I do feel like it almost made me shyer, and now I feel like I can just be free to just be who I am in life, that's it, deal with it."
Looking to the Future
With that in mind, Starlet is now looking forward and, like she said during her final moments on stage, is seeking out a new dream.
She said: "[I'm] definitely throwing myself into my craft and what I love, which is fashion and make-up and being visually creative, that's never going to change.
"I would like to get more into performing. I do love burlesque. I love the glamour and the grandeur of burlesque. I would love to have my own make-up brand or make-up class. I'm currently getting into YouTube, so you can catch me on YouTube, not just the Instagram.
My drag has always been very much focused on existing in online spaces, and I would like to further add to that."
RuPaul's Drag Race UK airs every Thursday at 1 p.m. PT / 4 p.m. ET in the U.S. and in select territories exclusively on WOW Presents Plus, day-and-date with its local airing on BBC3 in the U.K.