'Drag Race UK Vs The World's' Lemon on Exit and 'Stupid' Pangina Heals Death Threats
Lemon might not have been on RuPaul's Drag Race UK Vs The World for long but she certainly has a lot to say about her time there, especially the negative reaction some viewers have had to her fellow queen Pangina Heals.
In the competition show, like All Stars before it, RuPaul defers the decision of who is eliminated each week to the top 2 queens, who have a lipsync battle to determine who comes out on top and who decides who is sent home.
Unfortunately, this often results in said winner being criticized and hounded by some viewers for their decision, and in Pangina's case it resulted in immediate death threats and racist remarks.
As you've probably surmised by now, Pangina decided to send Lemon home over Janey Jacké after beating Jimbo in the lipsync, thus ending the Canadian drag queen's hopes of being crowned the Queen of the World.
Lemon spoke to Newsweek about this turn of events, calling the negative reaction "stupid" and saying viewers who felt entitled to send death threats to Pangina should "get friends."
On Pangina Heals and the Death Threats She's Received for Eliminating Lemon
Hitting out at viewers sending the death threats, Lemon said: "I just think it's stupid... get friends and have people that you can talk to because no one is telling you you can't have an opinion, no one is saying that you should watch the show.
"And just, like, the whole time you [think] everyone's perfect, and we're having fun. We understand that there's drama involved, we understand, you know, you can like a number or not like the number, that's so fine.
"It's just people need to realise that when I take all of this off I'm a person, and I'm sitting looking at my phone trying to text my friends and I'm getting notifications from people saying, 'Oh, you're disgusting.' You know what I mean?
"That's just not cool, no matter who you are, you know. So, yeah, I just wish that people would realise that none of you could do what we do.
"That's the thing, every time I see someone commenting their hateful opinion about someone, I'm like, 'I would love for you to post a single 10-second video of you walking in a straight line in heels. I need you to put on a pair of heels and walk down a hallway for me, and film it and put it on the internet. And then we can talk.'"
Going on to discuss Pangina's decision, Lemon was diplomatic as she said: "Drag is subjective. So, I hope that she picked me because she liked Janey's number better. But, you know, I also think I had some really expensive garments hanging up and I had a row of couture shoes, and I had every human hair bit in the name.
"I think if she was playing the game good for her because she stayed longer than I did, you know what I mean?
"I think what people need to remember is that that is the centre of the show, the set-up of the show is that you're supposed to fight to the very end.
"So for her to be getting mean messages and hate mail, and stuff like that, I think that's absolutely crazy.
"Pangina and I are friends and we are sisters, and I think it would break my heart to think that someone is sending her messages on my behalf that I would never agree with or send her."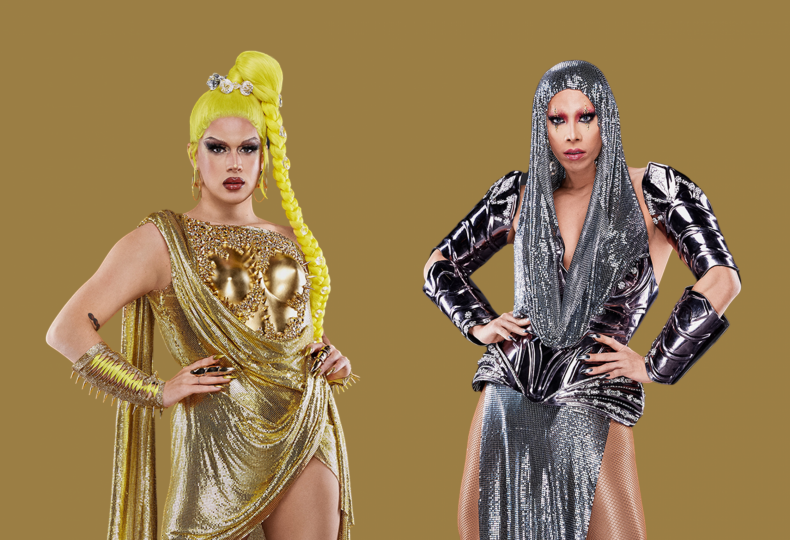 Why It Was Unfair the Judges Called Her Dance Unoriginal but Didn't Give Others the Same Critiques
For Episode 1's talent show Lemon put on a show-stopping dance number to one of her songs, and the performance saw her jump from a staircase and into the splits.
But even with her upbeat performance the judges weren't completely enthralled by her because they claimed it was not "original" enough, saying they had "seen it" before in reference to Aja's similar jump into the splits in All Stars Season 3.
Lemon told Newsweek that while she understood the critiques she was surprised that her fellow queens did not get the same remarks, especially given some had done similar versions of their talent show performance on Drag Race before.
"I think the comment is totally valid. Like that is absolutely a valid critique of my performance," Lemon explained.
"I just wonder why no one else got the same critique, because everyone else did some things that I've also seen on All Stars before, and some of them did stuff they've already done on All Stars before [both Jujubee and Mo Hart have appeared on All Stars].
"So I was just, you know, I understood what they were saying because I was first in the line-up so I have all my critiques first.
"And then as they went down the line, every next person, I was like, 'wait, wait' because I felt like I was getting these wonderful compliments but said with an eye roll and a grimace, and then some people were being insulted with laughter."
Admitting she wouldn't have "put [herself] in the bottom," Lemon said: "One thing that's interesting about the show is that I think we all disagree with the judges all the time.
"There's so many things that I'm like, 'Oh, I don't think so.' But that's kind of the fun of it, drag is completely subjective. There's no way to look at two drag artists and say 'she is definitely better than her.'
"At the end of the day, if my opinion is that I like this person and yours is that you don't like this person then we're both right, you know.
"Drag is about having fun and about, you know, expressing yourself. And I had so much fun and I feel like I expressed myself, and at the end of the day Ru and Michelle [Visage] didn't live and that's fine."
How Lemon is Feeling Now
Lemon went on to say she felt "very relieved" for the show to have finally started airing and for people to learn she was sent home first because she found it difficult to deal with the turn of events on her own.
"I'm feeling very relieved. It's been a hard year, honestly, to deal with this, this feeling of looming failure coming in the distance," she admitted.
"People kept coming up to me and saying 'we can't wait' and I was like, 'well b***h you're not gonna get it for long.'
"So I'm very thankful that now I can finally start talking s**t, and I can finally start being a little be rude on Twitter and have my fun, because, honestly, losing is not the issue.
"It was more the feeling of being in front of people that you love, and having them not love what you do. That was, like, what was really hard for me. You know, I've lost plenty a competition, thank you very much."
Team Canada All the Way
While Lemon's time on the show is over Jimbo is still able to represent Canada's Drag Race in the competition, and the queen shared her delight over being able to see her Season 1 sister take the world by storm.
"I think what Jimbo does is so special and I don't think there's any drag artists on the planet earth, or even in the whole universe, that comes with what Jimbo does because Jimbo lives on a f**king plant of her own, am I right?
"So I was so excited for Jimbo to be there. And I feel between me and Jimbo I feel all of Canada can find themselves somewhere, we have the quirkiness and, you know, the drama, and silliness, and the fun.
"So, I was so excited to see Jimbo there and I'm so excited to see the rest of the competition, and you know what, I'm team Canada all the way."
RuPaul's Drag Race UK Versus The World airs on WOW Presents Plus on Tuesdays at 4 p.m. ET/ 1 p.m. PT.