Rural Americans, Once 8 Times Less Likely to Die From COVID, Now Nearly 2.5 Times More Likely
When the coronavirus outbreak hit the U.S. in March, it was major cities like New York and Seattle that saw alarming rates of cases and deaths. But as the nation moves into a so-called third-wave of the pandemic, rural Americans are now the ones being disproportionately affected by COVID-19.
Analyzing the average death rate in non-metropolitan areas over the last 14 days, those living in rural areas are shown to be dying at a rate that is nearly 2.5 times higher than those living in metropolitan areas. Data from the Centers for Diseases and Control Prevention indicates that the death rate in metropolitan areas is 0.23, compared with the 0.55 rate in non-metropolitan areas.
The impact on those living in rural areas versus urban areas seems to have swapped over the course of the pandemic.
In the first two weeks of the pandemic, between March 19 and April 2, Americans in metropolitan areas were eight times more likely to die from COVID-19 compared to their rural counterparts.
However, as the nation faced a second wave over the summer, death rates in urban cities and rural towns began to even out. In the first week of August, death rates among Americans living in metropolitan areas and non-metropolitan areas was roughly the same.
By August 9, the death rate of rural Americans had surpassed that of Americans living in urban areas—and the gap between the two has only continued to widen. Americans who had previously been eight times less likely to die from COVID-19 are now nearly 2.5 times more likely to.
As cases began to rise over the summer in these locations, the CDC stated that the 46 million Americans in rural areas faced distinctive challenges due to these individuals' greater likelihood of being in the high-risk category and having relatively less access to health care.
"Worries about the consequences of COVID-19 outbreaks in rural areas of the US go back to the beginning of the pandemic," Charles DiMaggio, an injury epidemiologist at New York University, told Newsweek. "The rates of people with conditions that put them at risk of severe disease, things like high blood pressure and obesity, are higher than in urban areas. Rural residents are also generally older and often living with disabilities. Couple that with fewer hospitals and ICU beds and it is a potentially disastrous scenario."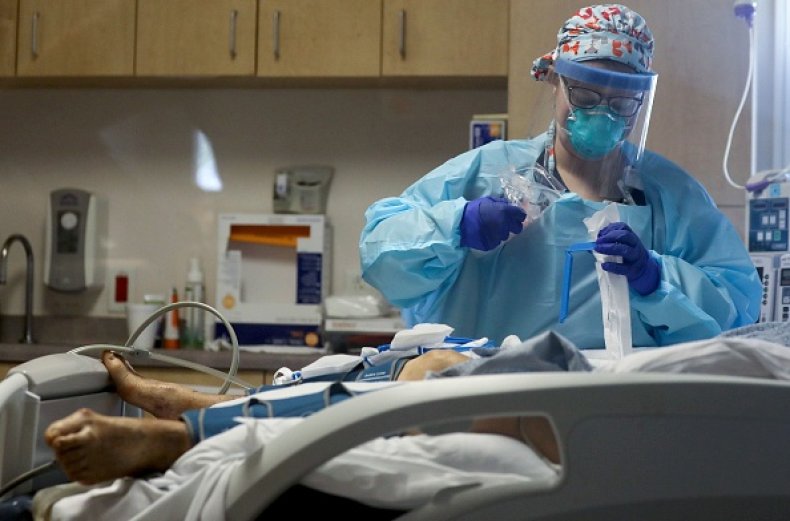 "There are some potentially mitigating factors," DiMaggio said. "Clinicians have learned more about how to treat patients with COVID-19, like placing patients in prone position to help with breathing. And there are some treatments like dexamethasone that have been shown to decrease deaths in the most severely ill patients. But I would be concerned that resources and staff may be stretched to the limit in some parts of the country."
However, small hospitals are now facing greater risks as cases begin to spike and previous issues, such as staffing shortages and financial vulnerability, become magnified.
"These rural hospitals are designed for primary care, general surgery," Alan Morgan, CEO of the National Rural Health Association, told USA Today. "They were never designed for a global pandemic response."
Morgan said that each of these critical-access hospitals has an average of one or two ventilators and that most lack ICU beds.
Rural hospitals have also struggled financially in recent years. According to the National Rural Health Association, 136 rural hospitals have closed in the past decade.
"Lower rates of health insurance coverage means rural people are less likely to get tested and seek treatment for COVID-19," rural sociologist David Peters told Newsweek. "Even if they do seek treatment, rural hospitals are smaller, under-staffed, and [lack enough] ICU beds and medical staff to deal with infectious diseases. There is very little rural hospitals can do to treat serious cases of COVID-19, with many patients requiring transfer to larger hospitals several hours away."
Peters also said that rural communities tend to have higher employment rates in sectors where there have been greater COVID-19 outbreaks, such as prisons, long-term care facilities, and large-scale livestock production and meat processing facilities.
Peters said the Midwest and Great Plains have also experienced greater coronavirus outbreaks because social norms have prevented the adoption of safety practices like mask wearing.
He said that both mask wearing and social distancing were politicized in an election year, with these practices marked as Democrat or Republican.
"Being sparsely populated, rural communities depend on each other to make a living or to weather crises. This is built in mutual trust and interaction that can only occur in face-to-face interactions. Community services are provided by volunteers through local groups," Peters said. "Small towns cannot afford paid staff to provide these services, as is done in large cities. The same social connections that make rural places resilient also makes them more vulnerable to COVID-19."
He added that the lack of broadband and the nature of many rural businesses also made it difficult for these communities to move entirely online.
"Online ordering and delivering of groceries or prescription drugs is not an option. Most rural communities exist in a pre-virtual world," he said.
In an article published last month by nonprofit news site The Conversation, the University of Colorado's Lauren Hughes and Roberto Silva wrote that in order to slow the rate of cases in rural hot spots, each area's "unique demographics, economies and perspectives" need to be factored in.
"Framing levels of risk in understandable terms for different types of activities can also help, such as how to exercise or socialize safely. Working with trusted local messengers, such as business owners and faith leaders, can help convey evidence-based information," the authors wrote.
"Planning is also essential," Hughes and Silva added. "Communities need to prepare so they can get supplies, testing and treatment when needed; protect the most vulnerable community members; educate the community; and support people in isolation and quarantine."
As of November 16, the U.S. has reported over 11 million confirmed cases and more than 246,000 deaths. In the last six days alone, more than 1 million Americans tested positive for COVID-19.