In Rural Iowa, Howard County Swung Big From Obama to Trump, and Signs Point to a Repeat Victory
The signs in Howard County, Iowa, seemingly point to red.
The area is made up of about 9,300 people, all of them situated just south of the Minnesota border. Before 2016, Nobel Peace Prize winner Norman Borlaug and several Olympic wrestlers were the things most likely to generate headlines.
And then the county flipped from supporting Democratic President Barack Obama by a 21-point margin in 2012 to a 23-point red wave for then-Republican nominee Donald Trump in 2016. It was the only county to support both candidates by at least a 20-point margin, and the swing was the second largest in the country, 2 points shy of Elliott County, Kentucky.
After four years in the White House, Trump still has that outsider appeal that drew voters to him the first time around, and his "America First" agenda could make it difficult for Democratic candidate Joe Biden to persuade voters to go blue.
"Without a doubt, they're going to go for the president again," a senior Trump campaign official told Newsweek. "I'm more confident than ever."
When driving around Howard County, it's difficult not to notice the support for Trump. In a county that's become more vocal since 2016 in its backing of Trump, "everybody seems to have a flag," said Laura Hubka, chair of the Democratic Party of Howard County. They're flying outside people's homes and on their trucks, and some supporters have even put decals of Trump on their car windows to make it appear as if he's riding in the back seat.
"I was extremely surprised at how the 2016 election turned out," said Neil Schaffer, chairman of the Howard County Republican Party. "Maybe some Trump supporters kept it closer to themselves, but we can't keep up with the request for yard signs and barn signs, so there are people willing to publicly stand up for him now."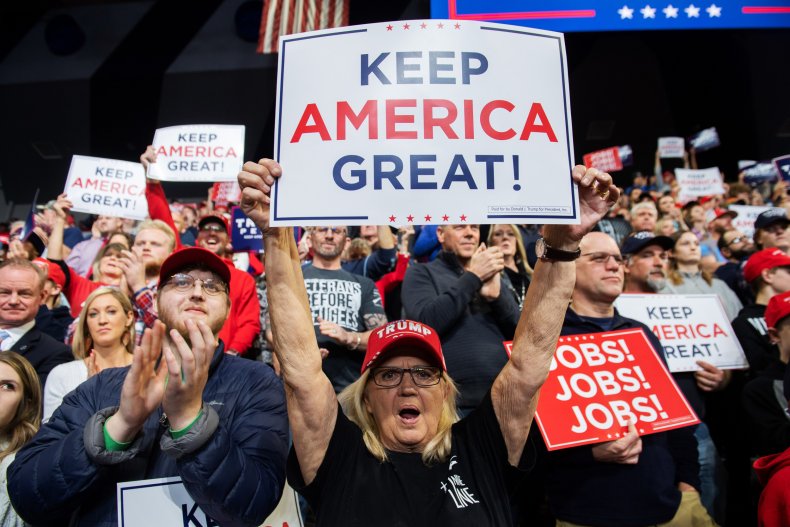 After the 2016 election, the GOP "never left" Iowa, where Trump won by nearly 10 percentage points, said Preya Samsundar, the GOP's Iowa/Minnesota communications director. That relationship-building enabled them to "tap into" enthusiasm on the ground early on, giving them an advantage over the Biden campaign.
Working to connect with Iowans, Trump and Vice President Mike Pence visited the state to interact with them in person, whereas Biden gave a virtual keynote speech during the Iowa Democratic Party's Hall of Fame event in July. Two different campaigning tactics during the pandemic, "one of those resonates with Iowans and the other doesn't," Samsundar said.
Samantha Cotten, the Republican regional communications director for the Midwest, considers the GOP's ground game superior to Biden's, a point that Hubka didn't dispute. While Republicans have face-to-face conversations with people, Democrats aren't knocking on doors because of the coronavirus. So their outreach largely relies on people reading paper literature, a fool's errand in the art of campaigning.
"It's tough running a race that seems stacked against us, but we're going to do our darndest to get our candidates' names out there," Hubka said.
She sees the county going for Trump in November, and data from the Trump campaign showed Howard County voters believe the president will do a better job of rebuilding the economy than Biden, by 51 to 38 percent.
Newsweek reached out to the Biden campaign for comment but didn't hear back in time for publication.
For Aaron Schatz, a farmer who voted twice for Obama and then for Trump, the economy is driving his support for the president. Farming is a business and his wife is a business owner, so in 2016 they liked that Trump was a businessman who might "look out for us." Four years later, sales for corn and beef are "ticking up," a "promising" sign ahead of the election, and he sees Trump as "trying his best" to fight for policies that help farmers.
"Trump has talked more about farmers than any president as long as I've been alive," Schatz said. "He's trying to do things to help us in the middle of the country. Not saying it always worked out how we wanted or how he even wanted it to, but he's at least talking about it and wants us to succeed."
As a candidate, Trump pledged to put America first and undo trade policies and deals he considered unfair to the United States. One of those agreements he lambasted for being harmful was the North American Free Trade Agreement (NAFTA), which Biden voted in favor of in 1993. It's been blamed for closing tens of thousands of factories and killing hundreds of thousands of jobs.
In 2018, the United States, Canada and Mexico reached an agreement on a new treaty, the United States-Mexico-Canada Agreement, that gained praise from House Speaker Nancy Pelosi. Biden agreed with CNN's Jake Tapper that the USMCA is "better" than NAFTA and called the latter a "mistake" during an interview with WJBK, but he criticized Trump for implementing other policies that have hurt workers.
Looking toward 2020, Barry Christensen, a third-generation farmer who voted for Obama and then Trump, said the president's perceived success or failure among the agriculture community would sway people to either reelect him or support Biden. That's going to have the "most weight" in Howard County, Christensen said, adding that he thinks the election will be closer than people think, although he seems to be the minority.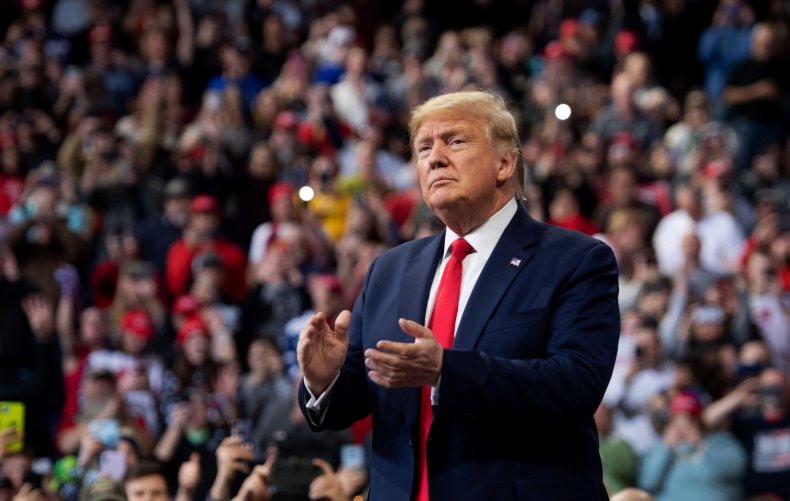 The president "catered to the farmers," Schaffer said, and reached out to the rural community in a way that he doesn't see when looking at the Democratic ticket. Because the president is seen as following through on promises he made during his 2016 campaign, voters are reassured that what candidate Trump says is what President Trump will do.
"Trump elevated farmers and manufacturers to where they can negotiate on a global scale," Samsundar said. "They've thrived under President Trump, so I can't think of a single issue whatsoever that will encourage voters to go for Biden."
Iowa Democratic Party Chair Mark Smith told Newsweek the state's Democrats have made "enormous strides" since 2016, when many people turned to Trump as a candidate who would fight for working people. Years after the election, Smith said, Trump broke "every promise to Iowans." Smith touted Biden's Build Back Better plan as a path forward to "add jobs and grow wages" for communities of all sizes.
"Iowans in rural communities like Howard County can see and feel how damaging Trump's chaotic trade war, handouts to Big Oil and mishandling of the pandemic have been for farmers and Iowa families," Smith said. "Regardless of how they voted in 2016, Iowans have seen up close the failures of the Trump administration."
Admittedly, Hubka said she isn't "feeling the Biden love" in Howard County, but people like herself will cast ballots for him as a vote against Trump. Between the "chaos," tweeting, uncouth comments and increasing national debt, Hubka said, some people may not vote to reelect Trump, even if they're not being vocal about it.
Behind the scenes, Hubka said, people have told her they won't vote for Trump again, but they've kept quiet about their decision because of the overwhelming support the president has in the area. One man, she said, even has a Trump sign in his yard, because saying he wasn't voting for the president could cause a rift between him and his son.
Feeling that people couldn't be honest about they would vote contributed to the shock people experienced when Trump won in 2016, and it's now making it hard for Hubka to get "true numbers" for where Biden's support stands. Still, she's not hopeful Biden's supporters will turn out to be a "silent majority," as was the case in 2016 with Trump.
"I will be lucky if I can shave 7 or 10 percentage points," Hubka said.