Rural Voters Helped Trump Win in 2016—How Do The Polls Say They'll Vote in 2020?
During the 2016 presidential election, President Donald Trump's ability to garner support from rural voters was key to his victory over former Democratic presidential candidate Hillary Clinton. Just over two months out from the 2020 general election, polls suggest that the president's support from rural voters remains strong, although it could be waning.
An analysis of exit polling data by NPR following the 2016 election showed that Trump and Republicans managed to significantly grow their support in rural areas, continuing a trend going back to 2008. The GOP's share of the electorate in rural America stood at about 53 percent in 2008. In 2012, it jumped to about 59 percent and then went up to 62 percent in 2016.
Just over 70 percent of voters in rural areas with less than 2,500 residents not close to a metro area voted for Trump in 2016. In rural areas with less than 2,500 residents near metro areas, some 66 percent of voters went for the Republican candidate. The percentages were about the same (66 percent) in rural areas with larger populations—up to 19,999 residents—far from and close to metro areas.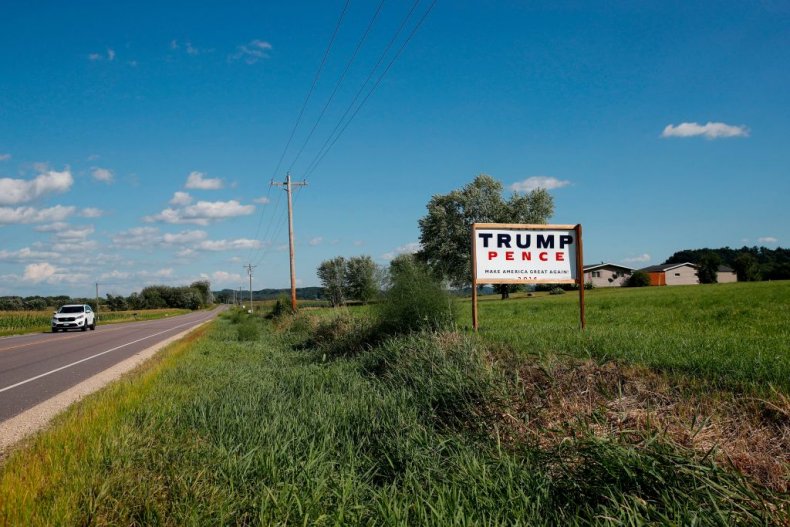 Recent surveys suggest that a majority of rural voters still back the president ahead of the 2020 election, although the percentage may be on the decline.
An ABC News/Washington Post poll carried out last month showed that 56 percent of rural voters continued to support the president over Democratic challenger Joe Biden, who was backed by 38 percent. But that marked a stark decline from March, when Trump led Biden among rural voters by 47 percentage points. The survey additionally found that disapproval of Trump's job performance among rural voters had risen 20 percentage points since March.
In late June, NPR/PBS NewsHour/Marist released the findings of a poll showing that 61 percent of rural voters backed Trump. Meanwhile, just one-third (33 percent) said they supported Biden. It also found that 60 percent of rural voters said they approved of the job Trump was doing as president, while 42 percent said they strongly approved. In small towns, the president's approval rating stood at 52 percent, with 34 percent strongly approving.
A more recent poll from late July by Focus on Rural America of rural voters in Iowa, Michigan, Minnesota and Wisconsin was more favorable to Biden. However, the sample size was relatively small, only polling 800 voters total—or 200 in each of the four states. That poll found Biden leading by 6 percentage points among rural voters in Iowa, 10 percentage points in Michigan, 18 percentage points in Minnesota and 11 percentage points in Wisconsin.
Nationally, nearly all recent polls suggest Biden has a significant lead over Trump. The currently Real Clear Politics average of national polls shows Biden ahead of Trump by about 7.8 percentage points—50.1 percent to 42.3 percent. The results of a CNBC/Change Research survey published Wednesday showed the Demcoratic nominee with the backing of 51 percent of voters compared to 43 percent who support the incumbent Republican president—a lead of 8 points for Biden.