'Rush: Beyond the Lighted Stage' Documentary Filmmaker Remembers Drum Legend Neil Peart
Tributes and appreciations from rock musicians and fans continue to pour in for legendary Rush drummer and lyricist Neil Peart, who died last week. Among those paying homage is a filmmaker who co-directed an acclaimed 2010 documentary, Rush: Beyond The Lighted Stage, about the Canadian rock band. Released a few years before Rush's final studio album Clockwork Angels and their belated induction into the Rock and Roll Hall of Fame, the film now serves as a sort of memorial tribute to Peart.
"He was a remarkable talent," said Sam Dunn, the co-director of Beyond the Lighted Stage, told Newsweek. "A true master of his instrument, one of the greatest lyricists and poets to ever work in rock music. He was an author, an adventurer and also a gentleman. He's quite a remarkable individual."
Directed by Dunn and Scot McFadyen, Beyond the Lighted Stage (which won a Juno Award and was nominated for a Grammy) is a nearly two-hour history about Rush featuring interviews with the three members—Peart, bassist Geddy Lee and guitarist Alex Lifeson—as well as testimonials from such musicians as Nine Inch Nails' Trent Reznor, Tenacious D's Jack Black, and the Smashing Pumpkins' Billy Corgan.
"He's such a perfectionist, such a f***ing monster musician," Lee said of Peart in the documentary. Lifeson recalled of Peart's audition for the band in 1974: "He pounded the crap out of those drums. He played like Keith Moon and John Bonham at the same time."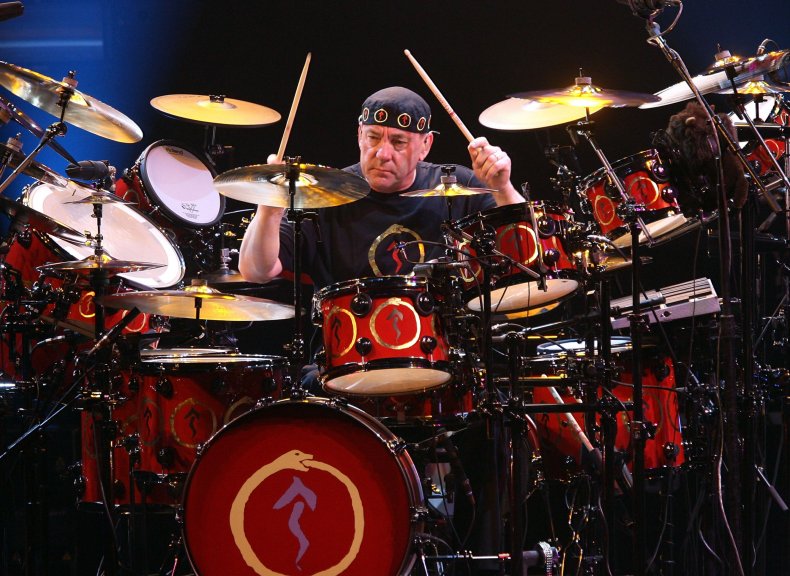 During his time with Rush, Peart was generally regarded as publicity-shy—a musician who let his incredible playing style and lyric-writing speak on his behalf. As Dunn said of the drummer: "He was also very private, which meant that even for a lot of people who knew his music and studied him as a drummer really didn't have a sense of who he was. It's really just been in the last 72 hours since he passed away that I've realized how unique and special it was that we got the opportunity to interview him for Beyond the Lighted Stage. He had never really sat down and talked about his life. I just feel grateful that he trusted us to tell his story and the story of Rush. It was one of those was one of the opportunities in life that you got to cherish."
In making Beyond the Lighted Stage, Dunn was struck by Peart's extreme intelligence and precise thinking. "He had a strong mastery of the English language... the way he would weave stories together in the interviews and really pack so much perspective, information and knowledge into his responses, was pretty rare."
One of the most poignant moments in the film occurs when the members of Rush took an indefinite hiatus from the late 1990s to early 2000s after the tragic deaths of Peart's daughter and first wife. It prompted Peart to step away from the band and travel on his motorcycle in different parts of North America as a form of healing.
"Those two guys were the most stable thing I had," Peart said in the documentary, referring to his Rush band mates, "my family and loved ones, and those who dared to stay around me through that time and so hard to—I would've walked [away] (laughs)."
"He struck me as a serious thinker," said Dunn. "But on the other hand, he had a jovial, friendly manner about him. As he says in the film, he was never at ease with the musician-fan relationship and the concept of there being millions of fans that adore him. But when it came to sitting down with him for a couple of hours to talk about music, life, things he was passionate about, he was open and and one of the friendliest guys you'd ever meet."
Outside of the band's records and tours, Beyond the Lighted Stage is probably the closest way that both die-hard and casual fans of Rush will ever get to know the real Neil Peart. "
In relative terms, people feel like they know Getty and Alex," said Dunn. "Whereas I think with Neil, maybe prior to the documentary, they didn't really feel like they knew him. The documentary at least gave them sort of a glimpse into what Neil was really like."
Rush: Beyond the Lighted Stage, co-redirected by Sam Dunn and Scot McFadyen, is now streaming on Netflix.