Where Is Chris Tucker? Jackie Chan Needs Him for 'Rush Hour 4' (And So Do We)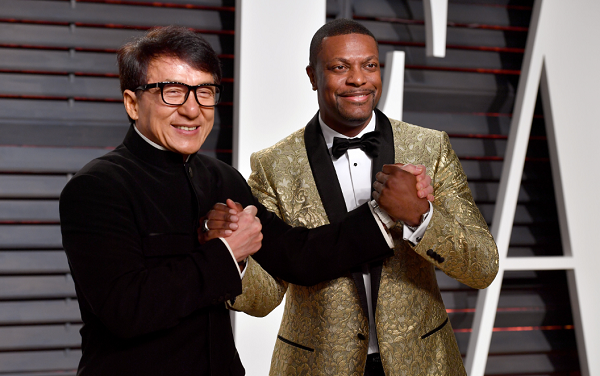 Ten years have passed since we last saw detectives Young Lee and James Carter taking down the Chinese mafia on the big screen in the Rush Hour franchise. Now, Jackie Chan, who played Lee in the first three movies, is calling on Chris Tucker, his screen partner, to agree to Rush Hour 4.
In an interview with Power 106's The Cruz Show Wednesday, Chan revealed that there was indeed a Rush Hour 4 in the works. But there is one problem: Tucker has not yet signed on.
"[It's coming] next year," Chan said. "For the last seven years, we've been turning down the script, turning down the script. Yesterday, we just agreed."
Although Chan seemed excited to finally have another Rush Hour in the works, he made it clear that if Tucker wasn't involved, he wouldn't be either.
"Next year [we'll] probably start—If Chris Tucker agrees," he said. "It's not about money! It's about [having] time to make. I tell Chris Tucker, 'Before we get old, please do Rush Hour 4.'"
Despite being 64 years old, Chan does not believe he or his 46-year-old castmate are too old to create another action-packed film. "Rush Hour you can do anytime," he said.
In their last outing, 2007's Rush Hour 3, the partners were causing mischief in Paris during a mission to find an infamous mob boss. In Rush Hour 2 (2001), they were causing trouble in Lee's native Hong Kong after an explosion at the U.S. embassy killed two Customs agents. And before that, when the unconventional duo was first teamed together, they were tearing up the streets of L.A. to find a Chinese diplomat's daughter who had been kidnapped.
Tucker, once one of the highest-paid actors in Hollywood, has kept a low profile in recent years. With the buddy-cop franchise and the classic Friday under his belt, the former Def Comedy Jam icon seems to enjoy staying out of the spotlight, appearing on screen occasionally in small roles like Danny in 2012's Silver Linings Playbook. In 2015, he re-emerged briefly for his own stand-up special on Netflix.
During an interview with the Los Angeles Times ahead of his Chris Tucker Live Netflix special, the actor said he's still been hard at work.
"I went back to my roots," Tucker said. "Having a lot of fun. It's been great doing what I wanted to do. I never stop working. I'm always on the road, honing my craft. I'm touring around the world: Australia, the Middle East, Asia, Malaysia, Singapore."
He added, "There were also the charitable things when I wasn't filming. I got to travel with Bill Clinton through Africa, which was an incredible experience. You get this success and other people invite you to do things and take these trips. I'm glad I said, 'I'm going to Africa and learn what's going on in the world.' It shaped me as a person and shaped my life going forward."
If Tucker was to join the Rush Hour 4 cast, it would be his first time in a leading role since Rush Hour 3.