Rush Limbaugh, in His Last Presidential Election Pitch, Tells Audience Not to Be Dissuaded by Record Early Voting
Conservative radio personality Rush Limbaugh took to the airwaves on Monday with a strong push for his "dittoheads" to go to the polls and vote for President Donald Trump in what is likely to be the last election Limbaugh lives to see.
Limbaugh has served as a rallying force for conservatives since the 1980s, and his show is heard by an estimated 27 million people each week. Limbaugh told his listeners last month that he was surprised to have survived the summer after he was diagnosed with stage 4 lung cancer earlier this year, and he has spent his time in recent days helping to rally the president's base.
Limbaugh's show on Monday served as both a crescendo celebration of Trump and his supporters and a warning of what Limbaugh described as media efforts outside of his own Excellence in Broadcasting Network to "suppress Election Day turnout."
"Ladies and gentlemen, if there was ever a day to turn off all media except for the EIB Network, it is today, because we have reached peak disinformation," Limbaugh said.
In addition to issuing warnings about the media, Limbaugh's final show before Election Day was marked by compliments of Trump's energy levels and hectic rally schedule, a brief discussion with Eric Trump as the president's son was on the way to a campaign event in Scranton, Pennsylvania, and repeated calls for voters to go to the polls.
"This is absolutely the way we win, Election Day turnout, unless you've already voted," Limbaugh said. "But despite all you've heard about early voting and absentee, the number of people who haven't voted yet is phenomenally high. So just make sure that on Election Day, if you've not early-voted, that you get out and turn out because it is how this election is going to be won."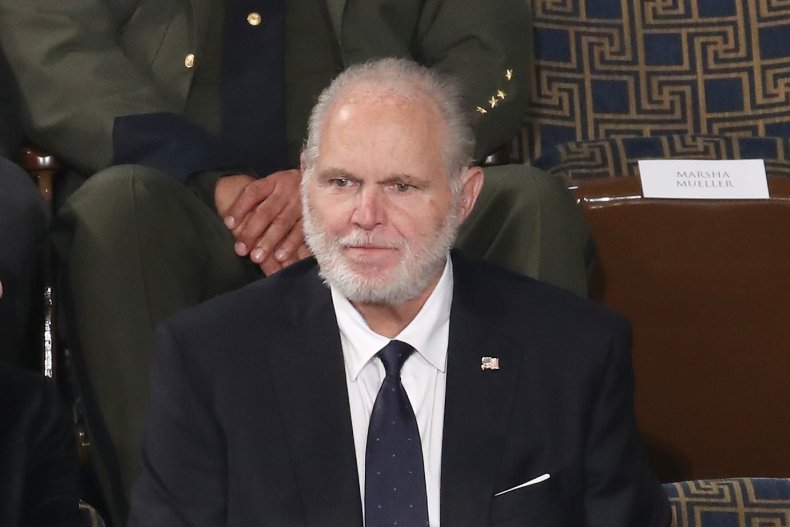 Limbaugh began his career as a disc jockey in the late 1960s. He took a break from radio for a few years before submerging himself in it once again as a talk show host in the 1980s. The Rush Limbaugh Show was nationally syndicated in 1988 and broadcasts to more than 600 stations.
The Rush Limbaugh Show's national reach began the year after the Federal Communications Commission (FCC) struck down the fairness doctrine, a policy from 1949 that required broadcasters to present both sides of a controversial issue in as fair or balanced a way as possible. The FCC's decision in 1987 to eliminate the policy created a path for figures such as Limbaugh to move forward with shows that were open about their political alignments and included commentary from guest speakers who provided additional support for those positions.
Over the past three decades, Limbaugh attracted controversy countless times by making racist, sexist and homophobic comments. He has argued against some of the criticisms levied against him over the years by saying that he uses humor when speaking with his listeners, an approach he believes they understand but the media does not.
As Trump's run for office in 2016 heated up, Limbaugh frequently praised Trump and has continued to do so on most issues over the past four years. Trump even selected Limbaugh to be a Presidential Medal of Freedom recipient earlier this year, an award Trump announced while Limbaugh was in attendance at Trump's third State of the Union address in February.
As Trump was recovering from his COVID-19 diagnosis last month, he called in to The Rush Limbaugh Show for a "virtual rally," and Limbaugh shared a photo on Twitter last week of a large "Trump 2020" banner outside his home. While watching the Senate vote last week to approve Amy Coney Barrett as the U.S. Supreme Court's newest associate justice, Limbaugh told his listeners that the moment presented an important reminder to them all.
"We don't have a choice in this election," he said. "It's got to be Donald Trump."
He continued by saying he believes the modern Democratic Party wants to "erase the Constitution" and rewrite it. "It's serious, and it's scary, and we don't have a choice," he said. "You have to get out there and vote Trump."
Limbaugh reiterated his call for voters to go to the polls in a video he posted on Twitter on Sunday. In the video, Limbaugh can be seen standing in front of a series of "Trump 2020" signs in South Florida.
"We are all-in for President Trump because he is all-in for us," Limbaugh said. "Vote. It matters. Be part of it. Make a difference."
Limbaugh continued his push for listeners to go to the polls on Monday, telling them, "don't be afraid of COVID" and encouraging them to wear masks and practice social distancing if they vote in person.
He praised the crowd sizes at Trump's rallies and the enthusiasm of Trump supporters hosting events of their own across the country. He also spoke as if in awe of Trump's energy levels to draw a contrast with Biden's campaign events, which have been smaller in size because of precautions his campaign has taken during the pandemic.
"I've never seen anything like this. And then you see the fire my father has, the energy," Eric Trump told Limbaugh as the two discussed Trump's rallies. "He's always been the Energizer Bunny."
"We're going to bring this home for you, Rush," Eric Trump said, to which Limbaugh replied, "Your dad needs to win."
Later during his show, Limbaugh said without evidence that Democrats would "love to be able to eliminate elections." He told his listeners that Democrats are "not the majority" and brushed off Hillary Clinton winning the popular vote in 2016.
"That's people with party loyalty, folks," he said. "That does not indicate we've lost the country yet."
As part of his final push to listeners during the most contentious presidential race in recent memory, the message Limbaugh repeated over and over was a reminder for people to vote. He told his listeners that each vote matters regardless of the millions of registered voters throughout the country, because a vote for Trump can "cancel out" a vote for Biden.
"There is nobody else's vote that counts more than yours," he said. "Your vote can cancel out a Democrat vote. You never know the math and how it works. But it doesn't work if you don't do it. You have to vote."
Newsweek reached out to Trump's campaign for comment but did not receive a response in time for publication.