Rush Limbaugh Misses Another Show Amid Battle With Lung Cancer, Producer Asks for Prayers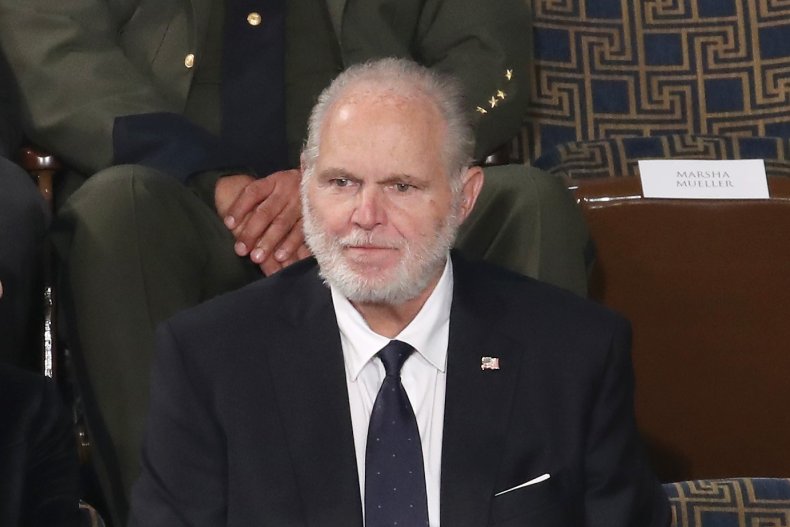 Rush Limbaugh's producer asked fans for their prayers on Wednesday while the conservative talk radio host was forced to miss another show due to his ongoing battle with lung cancer.
Producer James Golden, who works under the pseudonym Bo Snerdley, took to Twitter to announce that frequent guest host Ken Matthews would be filling in for Limbaugh, whose illness has forced him off the air for more than a week.
"Our prayers are with Rush as he continues to fight the illness he [has] been afflicted with," Golden tweeted. "We are still praying for a remission. Today @KenMatthews will fill in for Rush. Thanks for all of your prayers, kind words and wishes for our Rush. God Bless you."
Matthews echoed the news on Twitter a short time later, while sharing a picture of himself with Limbaugh. A late change of plans meant that Brett Winterble ended up serving as the guest host instead.
Limbaugh was diagnosed with advanced lung cancer in January 2020. One day after Limbaugh publicly announced his diagnosis in early February, former President Donald Trump presented him with the Presidential Medal of Freedom during his final State of the Union address.
Despite his diagnosis, Limbaugh was able to continue hosting the show for most of the year that followed, interrupted by periodic absences. On his October 19 show, he said that there had been "some progression" in his cancer and told listeners that he was living with a terminal illness.
"It's tough to realize that the days that I do not think I'm under a death sentence are over," Limbaugh said. "We all know that we're going to die at some point, but when you have a terminal disease diagnosis that has a time frame to it, then that puts a different psychological and even physical awareness to it."
Shortly after the show aired, Limbaugh thanked fans for their prayers and words of encouragement on Twitter. Limbaugh left the platform in January following Trump's permanent ban.
"Thank you so much for your overwhelming encouragement and support, and prayers out there," Limbaugh tweeted. "They absolutely work! Fear not, I plan to hang around a long time to continue to annoy the left."
During Limbaugh's final show of 2020, he said that he was "feeling pretty good" and expressed further gratitude to his fans while noting that he had already lived past his "expiration date."
"I wasn't expected to be alive today," said Limbaugh. "I wasn't expected to make it to October, and then to November, and then to December. And yet, here I am."
Newsweek reached out to Golden for comment.