Rush Limbaugh's Virtual Rally—How and Where to Watch Donald Trump's Remarks
President Donald Trump appeared on Rush Limbaugh's radio show Friday to hold a "virtual rally." While the president recovers from COVID, he's unable to attend events in person. That didn't stop him from campaigning for re-election, though, as he spoke to Limbaugh about the illness, his presidential campaign and more.
Limbaugh's conversation with the President already aired, but that doesn't mean you can't catch up on everything Trump had to say. You can rewatch the radio rally on Rush Limbaugh's website, but you'll have to subscribe to his radio show to listen.
In order to access any of Limbaugh's direct content, you'll need a username and password to access Rush 24/7. There is a list of subscription tiers, which start at $6.99 per month.
There's also a free way to access the show. You can tune in via the Rush Limbaugh Show Podcast, which is available to stream on the iHeart Radio website. The link to the presidential rally is here.
In the conversation, Trump claimed he's already beat COVID. Apparently, he's no longer suffering from symptoms of the virus.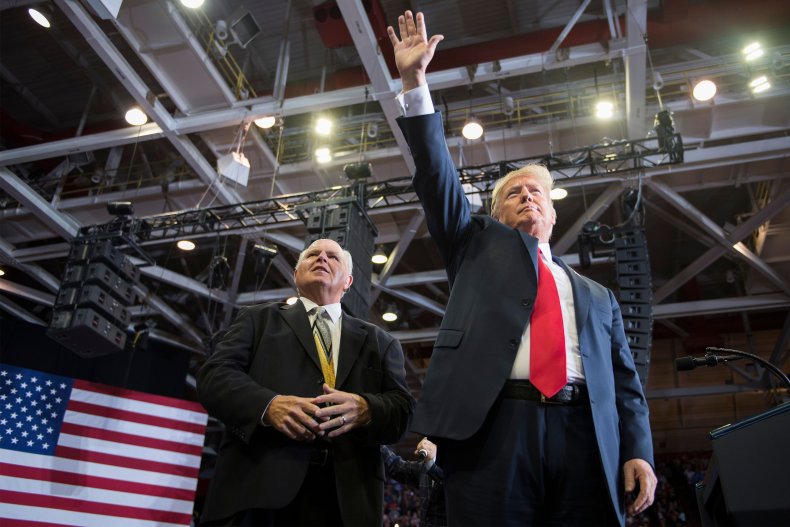 Trump first admitted he was "not in great shape" when he was first suffering from the respiratory virus, which has caused over a million global deaths since the end of 2019. But Trump's recovery process was shockingly fast.
"I recovered immediately, almost immediately. I might not have recovered at all from COVID," he said, referencing the mix of Regeneron Pharmaceuticals drugs he took to feel better, Business Insider reported. He also clarified he's no longer on any medications for COVID.
Limbaugh has been dealing with his own health concerns. The radio host, who was awarded the Presidential Medal of Freedom in February, is battling lung cancer. He's been off of his radio show for much of the week due to treatment and returned Friday for the virtual rally.
Though Trump is just out of the woods from COVID, he's ready to hit the road for even more presidential campaign rallies. He told Sean Hannity on the Fox commentator's show Thursday that he's healthy enough to begin holding rallies again. He claimed this could happen as soon as Saturday.
"I think I'm going to try doing a rally on Saturday night. If we have enough time to put it together. But we want to do a rally in Florida probably on Saturday night. Might come back and do one in Pennsylvania the following night," he said. CNN's reporting claimed Trump was coughing during the interview, despite claiming he's no longer infected.