Russell Harvard, Deaf Actor in 'Mockingbird,' Breaks Ground in Broadway Casting
The theater is all about artifice; it's in the DNA: The lights are brighter and colored than in real life; the actors' voices are louder than normal—assuming you are not near someone having an all-too-intimate cellphone conversation. Up close, their makeup is often grotesque. Their posture is different: They face toward the audience when it suits them. Even the most well-appointed kitchen-sink drama—the epitome of realism—has that pesky lack of a fourth wall. In fact, members will suspend their disbelief for just about anything. Puppeteers on stage with their hand up a puppet's butt.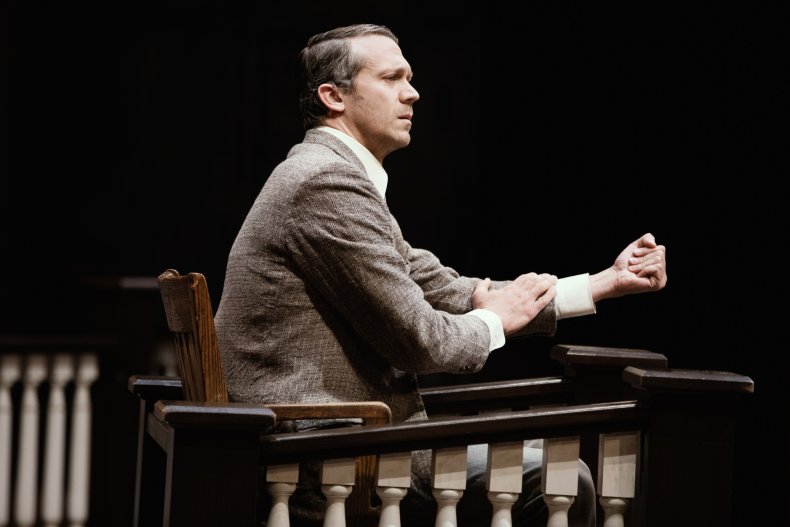 And the audience pretty much accepts that.
Now, it seems they will even accept a deaf person in hearing role.
Russell Harvard, a deaf actor who plays Boo Radley and Link Deas—who are hearing characters—in the current Broadway production of To Kill a Mockingbird, based on the novel by Harper Lee, has been making inroads toward that end in recent years. Last season, he played Cornwall opposite Glenda Jackson in King Lear on Broadway. In these roles, Harvard has had a speaking and signing interpreter with him on stage. As Cornwall, in his most dramatic moments, Harvard even spoke his own lines.
'Hey, Boo!'
Moving Harvard into Mockingbird required no rewriting per se. A few speeches were switched around, Harvard says, "but nothing major. Some lines were cut and pasted to where they needed to go and where they needed to come out."
From an acting standpoint, it was just like preparing for most other roles. "Boo is not simplified," Harvard says. "He is a little on the spectrum, so we assume he is a little autistic. They probably didn't have a word for autistic or autism. So they just labeled him 'crazy.' But he likes to work with his hands a lot. He is very tactile. He made dolls. It wouldn't make sense for him to stand there and be neutral with his hands down. So he's fidgeting with his hands."
As an audience member at Lear, I found an interpreter onstage at first a little disconcerting—but just a little and only for a couple of minutes. I had been given no advance word that anything unusual would be done. That it worked so well speaks to Harvard's ability and his belief in the value of different—I wouldn't use the word disabled loosely here—actors in theater.
First of all, talking with Harvard is a treat for the senses. He will speak and sign to the translator and he will sign, sometimes simply but at other times expansively. You don't always know where to look, but anywhere is probably correct. And signing can be a very pretty language to follow.
Magnificent Obsession
Harvard got the acting bug early, while watching the movie versions of The Wizard of Oz and The Neverending Story. And later he saw his cousin act in a student play: "My cousin, who was deaf, played the Wicked Witch of the West at the deaf school. As a person, she is the opposite of the witch. And I was like: Oh my god! She can play the witch?
"I was enthralled and inspired. I saw her three times, and I was like, Oh yeah, I am down.
"For some reason I have been drawn to villainous characters—maybe in my past life I was a bad person," he says and laughs. "You don't want to be a bad guy in real life but in the stories and movies I've watched it seems like a lot of fun. I was always fascinated by the Wicked Witch of the West even though she frightened me."
Once the obsession took hold, it never let go.
"I wanted to do a Christmas play, [about] Santa Claus lost in Oz—and I did!' he says. "I asked if I could play the witch. And they said, 'No you're a boy, and the witch is a girl.' I said I could be a boy wit—and it worked out.
"We had three sequels: third grade, fourth grade and fifth grade. I finally got the nerve to tell a classmate I wanted to play a female witch. And my father for the first time came and saw the show."
And after the show, Harvard's father went up to Russell and asked, "Why? Why are you playing a girl?"
"Because I want to," he answered.
Usually, parents get a crestfallen look when their child says they want to be an actor or just work in the theater. But Harvard makes it clear that he never really felt like an outcast growing up: "I had a great childhood, school experience. We embraced each other." But still, at least at that time, Harvard was not thinking of a career, which was a good bet given the famously high unemployment rates in the business.
"I never thought I would do I would do it professionally in my life. I had an inkling. But I told myself you know it might not happen. So I should be prepared. I should have a backup plan. I thought I would teach theater."
Harvard was in and out of school, working toward a teaching degree. He worked with preschoolers in Alaska. He decided to go back to school and drove from Alaska to Washington, D.C., and immediately had an audition for There Will Be Blood. And eventually he got the very visible role of H.W., Daniel Day-Lewis' adopted son. Scott Rudin, producer of To Kill a Mockingbird, was the producer for the movie.'
Grand Gestures
Acting in your own language at a high level is difficult enough, but acting in two languages, often simultaneously, poses a host of other complications. For one, American Sign Language has its own syntax. Harvard's parents were deaf, so, like many native speakers—in any language—he did not take grammar lessons in ASL. This can cause some communications problems, not to mention acting problems—actors can't be reading lips and following ASL at all times—so Harvard adjusts depending on the role.
Harvard can hear some things with a hearing aid. Obviously, rehearsal helps a lot, he says, "you get used to it." He hears some actors very well; Ed Harris (Atticus Finch) is "perfectly clear." Some deaf actors, he says, will have cue lights off stage. For Mockingbird. Harvard chose not to memorize the English text, preferring to just go with ASL. In some plays, he will take out his hearing aid entirely, but on this production he is taking the challenge to hear because the audience responds to the English text.
Using a hearing aid, he says, is not for hearing English words, it is for hearing what is necessary in the ambient environment: a sound or a silence that serves as a cue or a motivation the helps him create his performance.
With an all-deaf or mostly deaf cast, the dynamic changes versus show with a heterogeneous mix of actors. "Because ASL is very pictorial," Harvard says, "the audience will hear the line and see the sign and they'll be like, 'Oh, it's very poetic. It's art.'"
The trick in signing, as in speaking, a line is to convey a greater meaning. "You don't just say the line. You translate the meaning and make it [visually] into art." So signs become larger or smaller to match the emotions of the text.
Harvard cites and demonstrates a speech Link has in Mockingbird, his arms and hands gesturing grandly—this creates a visceral effect above and beyond anything that the words can communicate: "Link talks about what happens to [the defendant Tom Robinson], how something happened to his left arm. And I explain how it happened very pictorially, and people see how it happened. ASL is a three-dimensional language, compared to a spoken language."
This, Harvard says, makes a strong case for deaf actors. "I read a quote once: 'If I am making an effort to communicate and you feel like you are having a hard time, then who are you to call me disabled?' It's like the other way around." This theme is explored in plays like Equus and Children of a Lesser God, that seemingly disabled people actually live richer lives than so-called normal people.
Wish List
Harvard actually feels that Children, which featured Phyllis Frelich, a deaf actress, working with John Rubinstein, a hearing actor would be better served if it was done all in sign language. Instead of having James (Rubinstein's hearing character) repeat Sarah's (Frelich) words. Because, he says, watching it as a deaf person, "was so tiring and so challenging. They could take out the lines and put them somewhere else. They could use supertitles. I wish there was more of that."
He goes on to say, "I would love to have an all-deaf cast of Rent. Or like in Spring Awakening having Melchior played by a deaf person" with someone else singing his songs. He would also like to play Frank N. Furter in The Rocky Horror Show: "I would love all the main characters to be played by deaf people and the Transylvanians would be hearing, singing for us. But there is another theater that has the rights to it for now. It's never been done in ASL, not since 1975."
Thunderbolt Enlightening
We are hardly living in the age of enlightenment, but we are seeing all this creative casting. Harvard wonders why not before why now? He guesses, "It's more. It's new. It's refreshing to see a new talent who can simply play the role. It's not different. It's about being unique. It's how you are able to portray the character the best way you can."
And he points out another trailblazer, Ali Stroker, with whom he worked in Spring Awakening: "I saw Oklahoma! And I am friends with Ali Stroker, who's in it, and I never really looked at her as someone who is in a wheelchair. I see her as a beautiful, passionate, spunky person."
This, too, just became a convention, casting someone who on the surface might seem unusual. It was no doubt aided by a great performance and creative direction, but five minutes into the play you get used to it.
"There are times when I am not sure if the audience is lost of if they are following with the new direction we are taking," Harvard says, but they do seem to catch on quickly enough. "So far what I have heard has been good."