Video: Russell Westbrook Mocks Lance Stephenson's Air Guitar Celebration, Twitter Loves It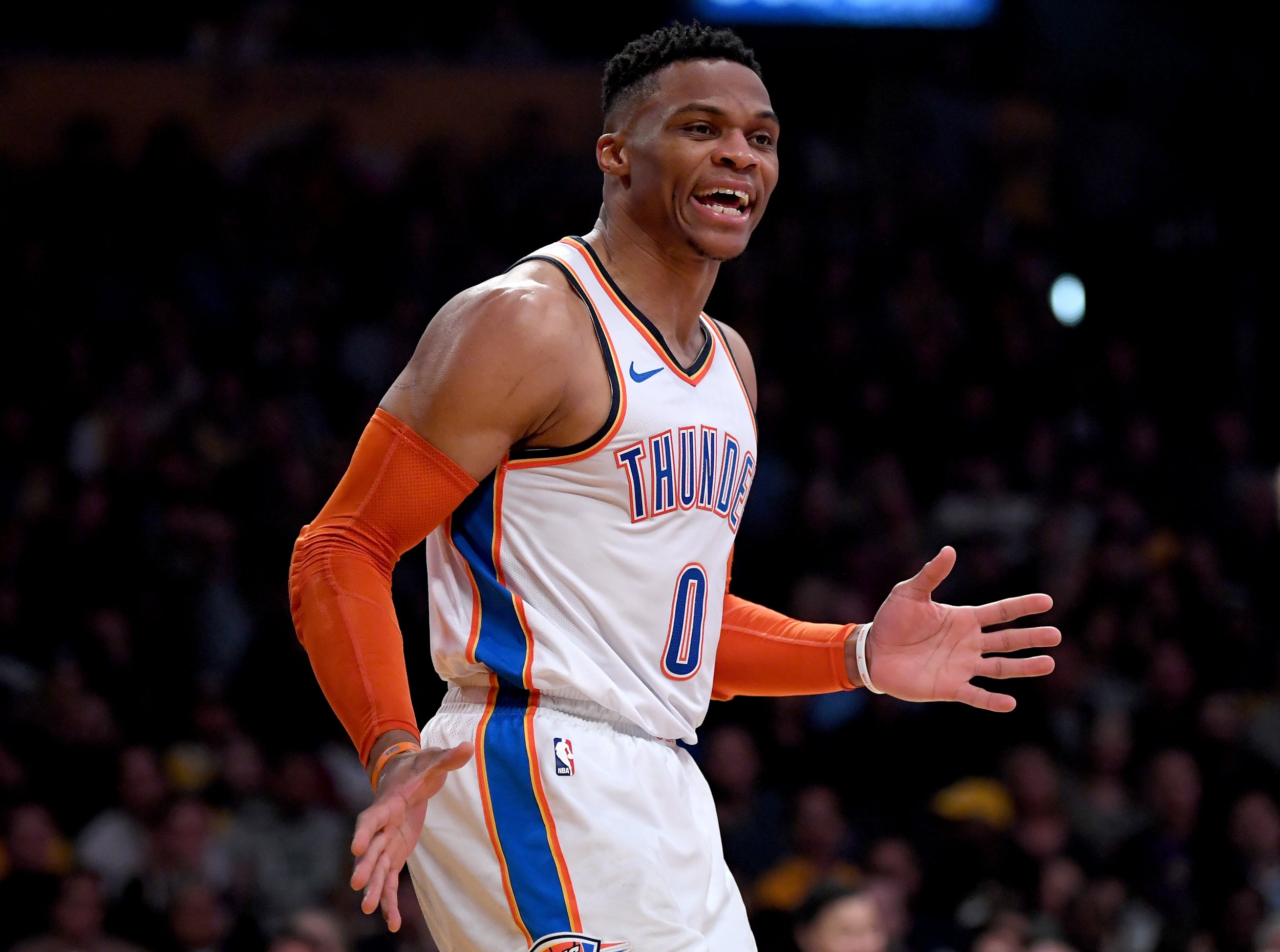 Lance Stephenson's air guitar celebration has become a popular sight across NBA courts this season. On Wednesday night, however, it was the Los Angeles Lakers guard who was on the receiving end of it, as Oklahoma City Thunder star Russell Westbrook gave Stephenson a taste of his own medicine.
An already intense game looked to be reaching boiling point when Westbrook performed the celebration in front of Stephenson late in the second quarter, after Paul George had drained a difficult jumper over the latter's head.
Read more: LeBron James to miss a number of games with groin injury
Westbrook's reaction came after Stephenson had aggressively looked to prevent George from scoring. The duo were teammates in Indianapolis and Stephenson famously criticized George for asking to be traded to Oklahoma in the summer of 2017.
Earlier this season, Stephenson was hit with a technical foul for strumming an imaginary guitar against the Charlotte Hornets, but Westbrook's theatrics were not penalized.
"Was I thinking about it? I wasn't thinking about no damn guitar," Westbrook said after the game. "It was an and-one. Having fun, per usual."
Unfortunately for Stephenson and the Lakers, the Thunder had the final laugh and not just because of Westbrook's celebration. Oklahoma won a tightly-contested game 107-100 at the Staples Center, improving to 24-13 and tightening their grip on third spot in the Western Conference standings.
Westbrook recorded the 115th triple-double of his career, with 14 points, 10 assists and 16 rebounds, despite shooting a horrendous 3-of-20 from the field. The 2017 NBA MVP has five triple-doubles in the last eight games and 11 for the season overall.
The Thunder also received a helping hand from Steven Adams, who scored 14 points and added 15 rebounds, but George was the star of the show. The former Indiana Pacer scored 37 points, going 15-of-29 from the field in 34 minutes.
Stephenson had a very limited impact off the bench, scoring just three points in 21 minutes, on top of six rebounds and four assists.
The Lakers are 1-3 since LeBron James suffered a groin injury against the Golden State Warriors on Christmas Day and have not won consecutive games since they beat the Memphis Grizzlies on December 9 and followed it up with a win over the Miami Heat two days later.
Wednesday night's loss saw the 16-time NBA champions slip to 21-17, currently valid for the eighth spot in the Western Conference.
The Lakers are 1.5 games ahead of the ninth-placed Kings and have the same record as the San Antonio Spurs with the Los Angeles Clippers just 0.5 games ahead of them.