Utah Jazz Fan Banned From Arena Sues Team and Russell Westbrook for $100 Million
A man who was banned from the Vivint Smart Home Arena for life following a June altercation with Russell Westbrook has responded with a $100 million lawsuit, claiming that the player misinterpreted his statements to the press.
Attorneys for Shane Keisel filed the suit Monday in Utah's 4th district court, according to the Salt Lake Tribune. Keisel claims that the confrontation and its aftermath caused him to lose his job and resulted in he and his girlfriend receiving death threats over social media.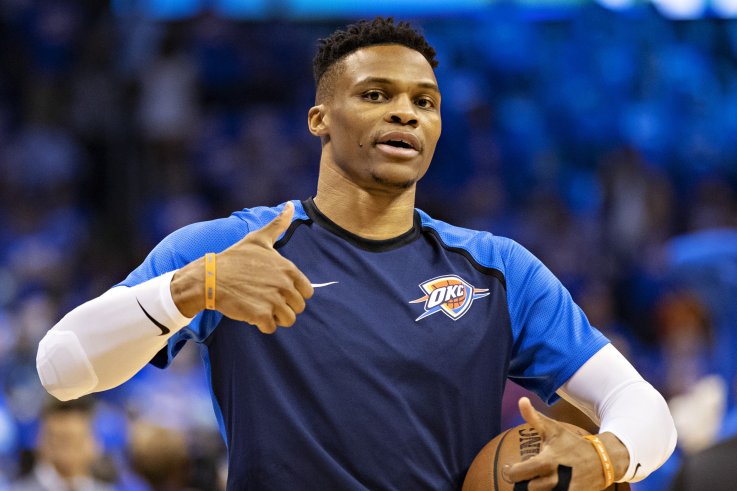 Keisel is asking for $68 million for defamation, intentional infliction of emotional distress and other charges. His girlfriend, Jennifer Huff, is a co-plaintiff in the suit and is asking for $32 million.
The July incident saw Westbrook, who was playing for the Oklahoma City Thunder against the Jazz at the time, head into the stands to confront Keisel and Huff after Keisel heckled him.
Opinions vary on what Keisel said to provoke the player. Westbrook claims that he heard Keisel say "get down on your knees like you used to," while Keisel argues that he told Westbrook to "sit down and ice your knees, bro." The initial statement was not captured on video.
Whatever the case, Westbrook approached Keisel and Huff and verbally threatened them, saying "I swear to god, I'll f*** you up. You and your wife, I'll f*** you up. Promise you on everything I love, I promise you"
After the game, Westbrook released a statement about the incident, saying "To me, that's just completely disrespectful, to me, I think it's racial, and I think it's inappropriate." He also urged teams and stadiums to take the lead in barring toxic fans from attendance.
Westbrook was fined $25,000 for the incident. The Jazz reviewed video footage of the incident, interviewed witnesses and chose to ban Keisel from the arena for life for "excessive and derogatory verbal abuse directed at a player."
The team also launched a "Lead Together" campaign dedicated to improving courtesy and respect in the stands.
Keisel began considering a lawsuit shortly after the incident, according to a March 12 interview on KSL TV.
Deleted tweets from Keisel's Twitter account surfaced shortly after the incident, in which he said that Westbrook needs to "go back where he came from" and "somebody needs to kick his ass."
A Westbrook source told TMZ that "the lawsuit is meritless. The Jazz conducted their own investigation of the guy's conduct at that game and based on their investigation, they decided to ban him from attending any future Jazz games."
Utah Jazz Fan Banned From Arena Sues Team and Russell Westbrook for $100 Million | News