NBA MVP: Watch Russell Westbrook's Best Plays From 2016-17 Season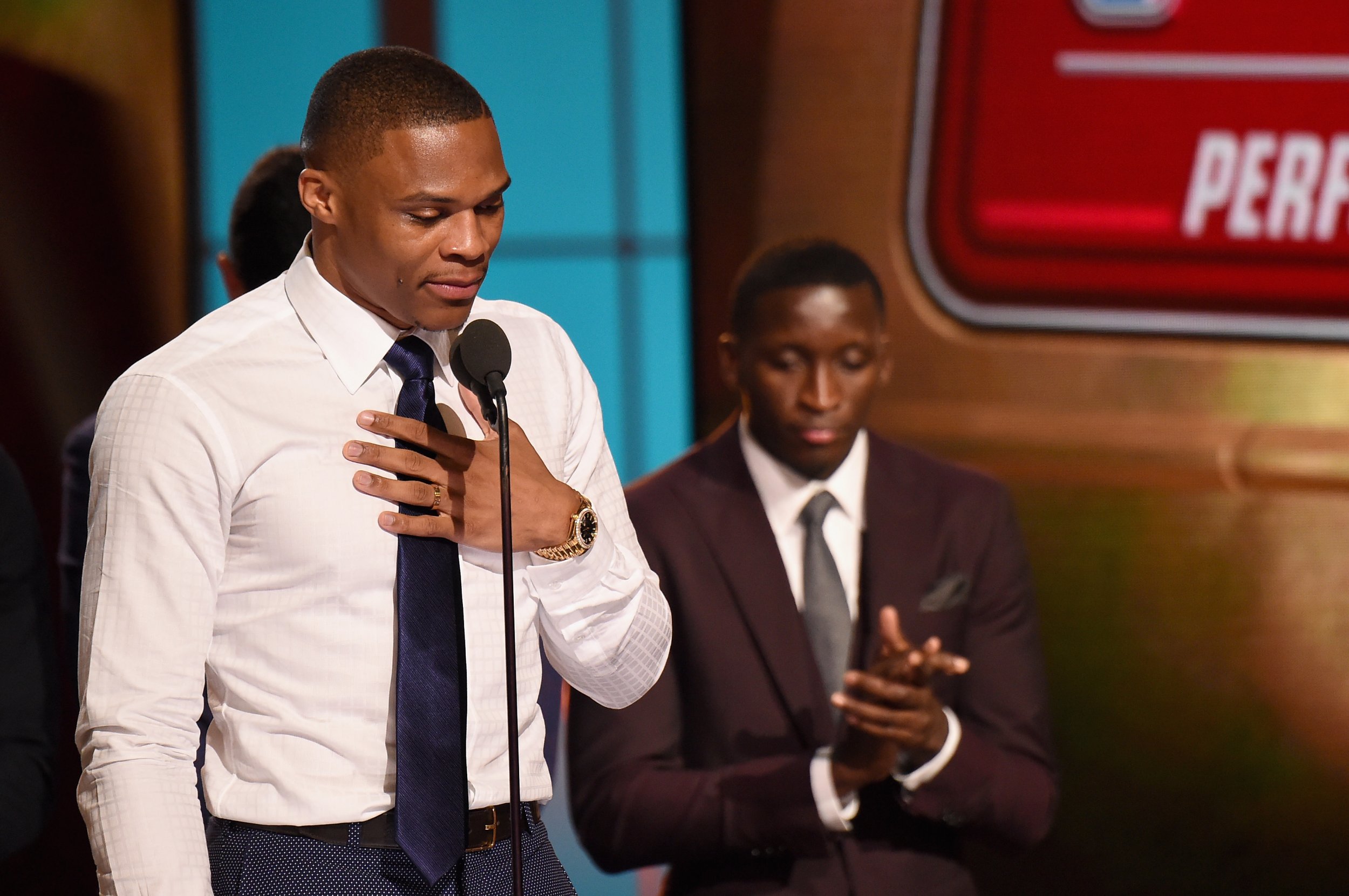 Russell Westbrook did what many thought was impossible in the 2016-17 NBA season and was rewarded Monday night with the league MVP award at the NBA Awards in New York City.
The Oklahoma City Thunder point guard topped the voting by a massive distance. From 101 total votes, Westbrook received 69. James Harden got 22, Kawhi Leonard nine and LeBron James one. Westbrook averaged a triple-double through the season, becoming the second man in NBA history after Oscar Robertson in 1962 to achieve that feat.
"Everybody in Oklahoma City that let me go out and compete at a high level every night," Westbrook said in an emotional acceptance speech, thanking the Thunder's organization. The franchise made the playoffs but lost in the first round, 4-1, to Harden's Houston Rockets.
Shorn of Kevin Durant, who attracted scorn by going to the 73-win Golden State Warriors only to emerge with the championship he craved, Westbrook became the Thunder's offense. In game two of the Western Conference semifinals, he recorded the first 50-point triple-double in NBA history. And the Thunder still dropped the game 115-111.
Westbrook, 28, also hit the 50-point triple-double twice during the regular season, against the Orlando Magic and Denver Nuggets.The question of whether Westbrook can keep producing at a historic rate for the Thunder remains up in the air. He signed a contract extension last summer, but he can opt out of his deal in the summer of 2018. Westbrook can sign a "supermax" extension on July 1 that will make him the league's highest-paid player.
"Man, tonight is so important for me, and obviously with the contract and stuff coming up, it's not really on my mind at the moment honestly," Westbrook said following his MVP award in quotes reported by The Oklahoman.
You can watch the plays that made Westbrook MVP via the video below.