No One But Russell Westbrook Deserves the MVP Award This Season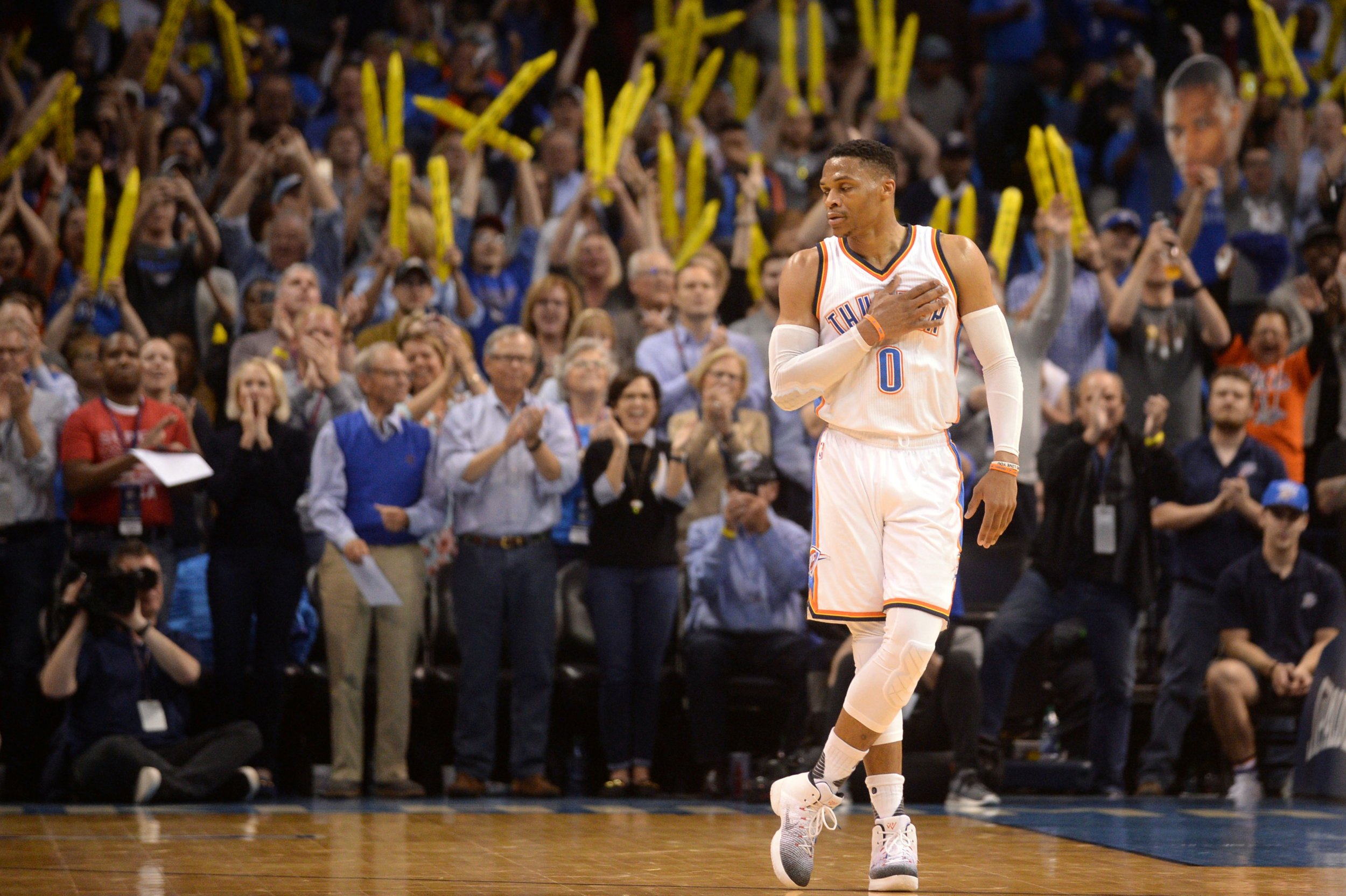 The local time was 10:28 p.m. when Russell Westbrook strode into the visitors' locker room, shirtless but still clad in his blue game trunks, at Talking Stick Resort Arena in downtown Phoenix. The game, Oklahoma City's third in as many cities in the past four nights, had ended more than an hour earlier.
The last of Westbrook's Thunder teammates and the second team bus had departed at least 15 minutes earlier. Oklahoma City, perma-sealed into the sixth slot in the Western Conference playoffs, had given a perfunctory effort in Friday's 120-99 loss to the Suns. Facing a team that had lost 13 in a row and has their conference's worst record, the Thunder trailed by 23 at halftime. Westbrook, the NBA's leading scorer (31.2 points per game), started out 0-for-11 from the field and did not score a field goal until the final minute of the first half.
It was the NBA's presumptive MVP's worst game of the season, and penance was required. While the rest of his team headed off into parts unknown, with a night to kill in Phoenix before a Saturday afternoon flight, Westbrook stayed behind and shot. And shot. And shot. "I just needed to get my mind right," Westbrook, clad in a white T-shirt whose bold black letters read "Under Cover Maniac," told a dozen or so reporters who waited him out. "It's something that goes back to what my dad and I did after games in high school. Overall, it's about getting my shit together."
The ninth-year pro's line on Friday night: 21 points, 12 rebounds and eight assists, all of which were team-highs. Then again, so were his eight turnovers. Westbrook had twisting lay-up attempts swatted into Pinal County and was leveled by a pick set by Suns 7-footer Alex Len. This was a night in which, with his eight assists, he guaranteed that he would average a triple-double for the season, no matter what happened in the Thunder's final three games. That had not been done since the 1961-62 season, when Hall of Famer Oscar Robertson accomplished it. This was also a clunker of a performance. So Westbrook shot. And he shot.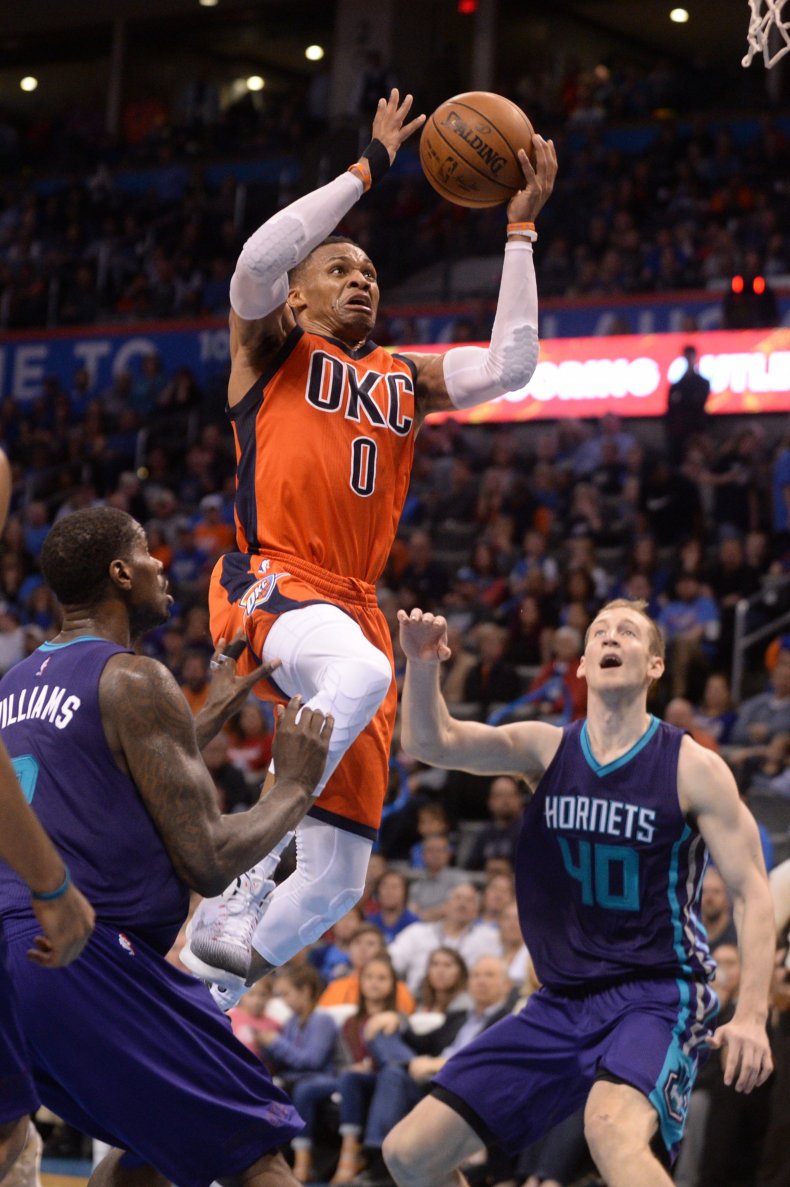 "I just wasn't myself tonight," said the 6-foot-3-inch guard out of UCLA. "I set a standard for myself, and I just did not meet it this evening."
Two days later in Denver, the Russell Westbrook who has ravaged the league all season returned. He posted his 42nd triple double of the season, breaking another record set by Robertson (aka "the Big O") in 1962. With his buzzer-beating, game-winning 40-footer, Westbrook scored his 50th point, accompanied by 16 rebounds and 10 assists, as the Thunder won 106-105 and in the process eliminated the Nuggets from playoff contention.
All of this in a contest that had no bearing on where the Thunder will finish in the playoff chase. They'll open at Houston, facing Westbrook's former teammate and current MVP award nemesis, James Harden.
"I think [your team's record] is the most important thing," Harden said Sunday when asked to weigh in on the MVP debate for likely the 17th time that week. "I thought winning is what this is about—period."
Like Westbrook, Harden is having a career year. The bearded wonder leads the league in assists (11.3 per game) and trails only Westbrook in scoring (29.3). These are peak numbers for Harden, who, like Westbrook, is in the first season of leading his franchises following the exodus of an All-Star 7-footer teammate (Kevin Durant for Westbrook; Dwight Howard for Harden) and flourishing. It will be disappointing if Harden fails to win the Maurice Podoloff Trophy, alias the "most valuable player" award, later this spring. It would be heresy if Westbrook does not.
For some reason, no shortage of sports pundits and Twitter litigators have maintained the pretense that the question of who should be named NBA MVP remains undecided. It does not, or at least it should not. Westbrook has been both the league's most valuable and its most outstanding player this season. He excels on both ends of the floor. In terms of numbers, he is in the top six in the NBA in points, assists, rebounds and steals. No one else is in the top 10 in all four of those categories.
In terms of what he means to the Thunder, Westbrook (of course) leads them in those four categories, as well as averaging twice as many points as Oklahoma City's second-leading scorer, Victor Oladipo. "I'm biased, but absolutely he's the MVP," says Thunder coach Billy Donovan. "You only see Russ in games. I get to see what he does in practice every day, how he leads this team."
Related: Sub-six-footers are headlining basketball
If we were to take Harden's argument completely to heart, then Stephen Curry would be earning his third consecutive MVP award this spring. Curry has been the best player on a Golden State Warriors team that once again will have the NBA's top record (66-14 currently), and for the second season in a row, he has eclipsed 300 three-pointers, a feat no one else has accomplished. If Harden was not being an absolutist, then Westbrook out-distances him in almost every meaningful metric. He'd likely have more assists than Harden if his teammates were more accomplished shooters: The Thunder are last in the NBA in three-point field goal percentage (.327).
Only if Harden were pulling a Trump—don't take me literally, just take me in a way that translates to "I should win, no matter what"—would he earn the Podoloff Trophy, though that strategy seems to be working for people of late. What should also matter, though, besides a team's record or a player's statistics, is what we are witnessing. During Oklahoma City's game against the Milwaukee Bucks last Tuesday, ESPN analyst Jeff Van Gundy noted that he has never seen a player who night in and night out gives such a maximum effort. Is that hyperbole? Only to those who do not watch Westbrook play.
The fans know. The Suns sold out their arena on Friday evening as spectators cheered every notch Westbrook made toward a triple double. In the game's waning minutes, as Phoenix led by more than 20, fans were on their feet in hopes of seeing Westbrook collect his elusive ninth and 10th assists of the night. When the Suns fouled a Thunder player to whom Westbrook had just passed the ball, the venue erupted in boos. Two nights later, when Westbrook buried the 40-footer that would eliminate the hometown Nuggets, the Pepsi Center went bonkers. It's more fun to witness history, a future Hall of Famer capping off an epic season, than it is to watch a sub-.500 team crawl toward a first-round berth against the Warriors.
The Podoloff Trophy is not an appreciation of the NBA's best player, or the figure who would be selected first overall if the league suddenly made everyone a free agent. Former Sun Steve Nash twice won the award, and very few astute NBA observers, if any, would say that the 6-foot-2-inch point guard was more talented than contemporaries Tim Duncan of the San Antonio Spurs or Kobe Bryant of the Los Angeles Lakers or LeBron James of the Cleveland Cavaliers. Nash won those two MVPs because he had better seasons than those guys.
Let's not count on the NBA or the voters of this award—a panel of sportscasters and writers who cover the league—to get this right, though. Two years ago, James had a singularly phenomenal NBA Finals, leading all players on either his Cavs or the Warriors in scoring, rebounding and assists, and by a healthy margin. However, despite a herculean effort by a man with Hercules's physique, the Cavs lost...and so a panel of nine media members handed the Bill Russell award, as it is known, to Golden State's Andre Iguodala.
One year later, in Game 7 of the NBA Finals between these two franchises, James swooped out of nowhere to block Iguodala's lay-up with the score knotted 89-89 in the final two minutes, the signature play of the series. It did not erase the previous June's injustice, but it did remind fans what a mockery the voters had made of the award. (James won it last year.)
Ever since Kevin Durant opted to sign with the Warriors last summer, Westbrook, the Sundance to his Butch Cassidy, has pursued greatness with a near-demonic passion. Already a fantastic player—don't forget that Westbrook was the reigning two-time NBA All-Star Game MVP—the Los Angeles native has played 80 games with a Rock of Gibraltar-sized chip on his shoulder, and we fans have been the benefactors. There have been 15 50-point games this season, and Westbrook has four of them (Harden, with the next-most, has two).
In a year in which Westbrook lost his sidekick of eight seasons, Durant, and—with that flight—most likely any chance of advancing to the NBA Finals for the foreseeable future, it would be a shame if he lost out in the MVP voting. Then again, who knows? When the Big O averaged a triple double in 1962, he finished second in MVP voting...to a man named Russell. Bill Russell.