Paul George, Russell Westbrook Make NBA History as Thunder Beat Trail Blazers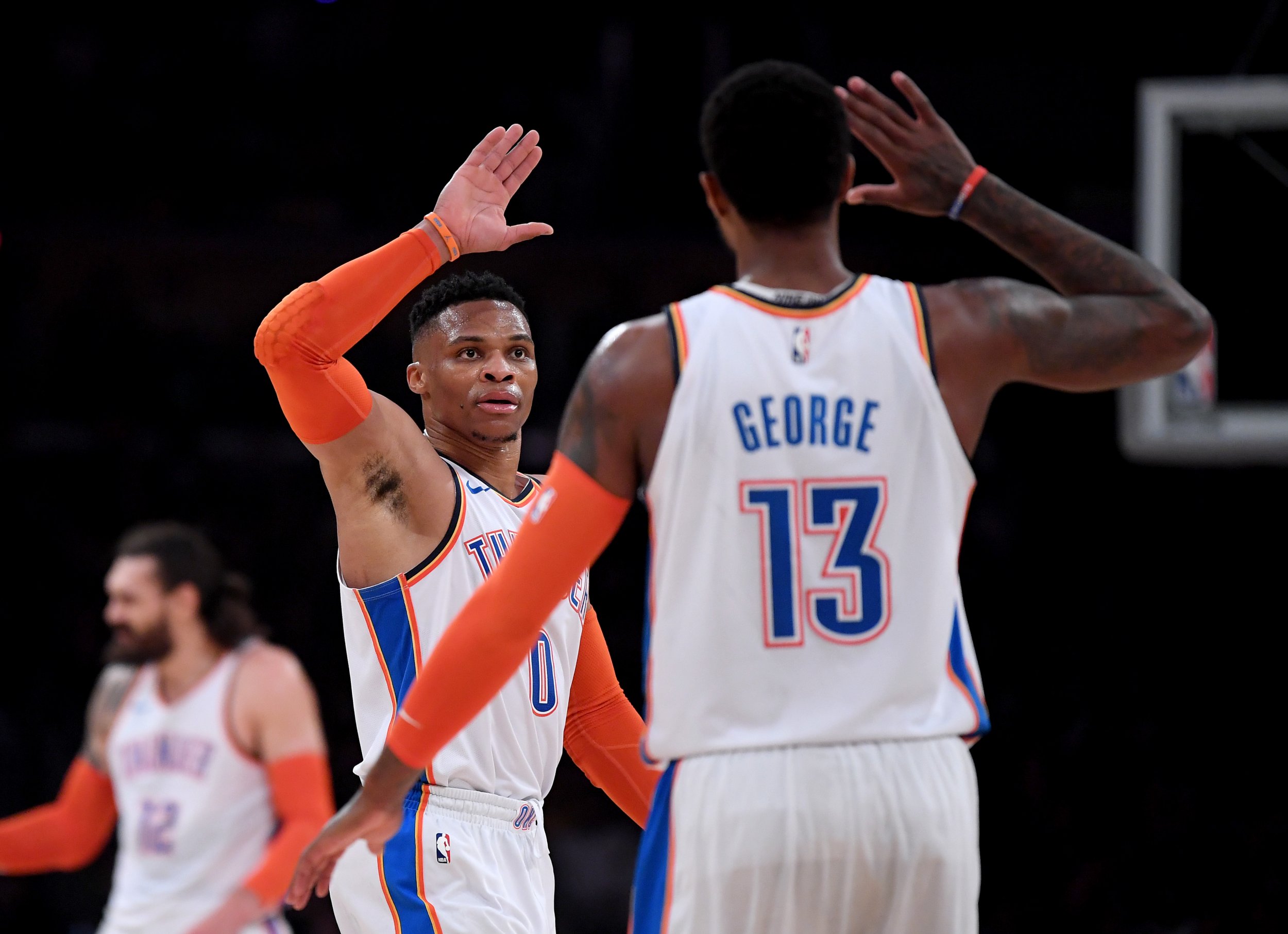 Russell Westbrook and Paul George made NBA history on Monday night, as they both recorded triple-doubles in Oklahoma City's win over the Portland Trail Blazers.
The MVP of the 2017 season finished with 21 points, 11 assists and 14 rebounds, while George erupted for 47 points, 10 assists and 12 rebounds as the Thunder beat Portland 120-111 on home court.
The figures make George and Westbrook the first teammates in NBA history to record triple-doubles in the same game with both players scoring at least 20 points in the process.
Westbrook has now recorded a triple-double in the last 10 straight games, breaking Wilt Chamberlain's record of nine straight triple doubles that had stood since 1968.
The Thunder star described the achievement as an "unbelievable moment" and insisted that even after a decade in the NBA, the thrill of playing in the league remained as intense as ever.
"I know what I'm capable of doing, and I just go out and compete and whatever happens, happens, man," he was quoted as saying by ESPN.
"I never even dreamed of playing in the NBA or standing here talking to you guys. So, each moment is a blessing for me. Each time I get to walk into this locker room and see my name up there, it's a blessing for me.
"Just to be able to wake and be able to have a job, have a jersey, have a name on your back, because to me that's a blessing itself and something I never even dreamed about as a kid."
Westbrook has now recorded 23 triple-doubles this season but his record-breaking effort looked unlikely at one stage on Monday night, as he only had five assists to his name with eight minutes left in the game.
He eventually reached the mark, before hitting a three-pointer off an assist from George, which gave his teammate the third triple-double of his career.
The six-time All-Star admitted he had not realized the landmark was just one assist away.
"We talked about it," George, who is averaging 39.7 points per game this month, told the Associated Press.
"I was clueless at that moment. But he told me the situation. So, it's cool to be on the other end of the triple-double."
Despite the combined efforts of Westbrook and George, the Thunder were pushed all the way by the Trail Blazers, who stormed back from a 19-point deficit at halftime to get within five points at the beginning of the fourth quarter.
The Thunder eventually held on to secure a fourth consecutive win, which improved their record for the season to 37-19 and strengthened their grip onto third place in the Western Conference rankings.
The Trail Blazers are one step behind Oklahoma with a 33-23 record and have now lost two games in a row.