Russell Westbrook Ties NBA Record Unachievable by Magic, Bird, LeBron or Other Greats
Russell Westbrook has become the king of triple-doubles in the NBA this season. He needs just one more to become the league's all-time career leader in the total teammate feat.
Westbrook scored 33 points, grabbed 19 rebounds and dished out 15 assists on Saturday to give him 181 career triple-doubles, tying him with Hall of Famer Oscar Robertson. Westbrook has dropped triple-doubles this season in sleep. One more snoozer will give him the league's all-time mark.
The Washington Wizards needed every bit of Westbrook's numbers in the 133-132 overtime win over the Indiana Pacers on Saturday. Westbrook can break the all-time mark by Robertson on Monday as Washington plays at the Atlanta Hawks.
Here are the top 10 triple-double leaders in NBA history:
181 - Oscar Robertson
181 - Russell Westbrook
138 - Magic Johnson
107 - Jason Kidd
99 - LeBron James
78 - Wilt Chamberlain
59 - Larry Bird
58 - James Harden
56 - Nikola Jokic
43 - Fat Lever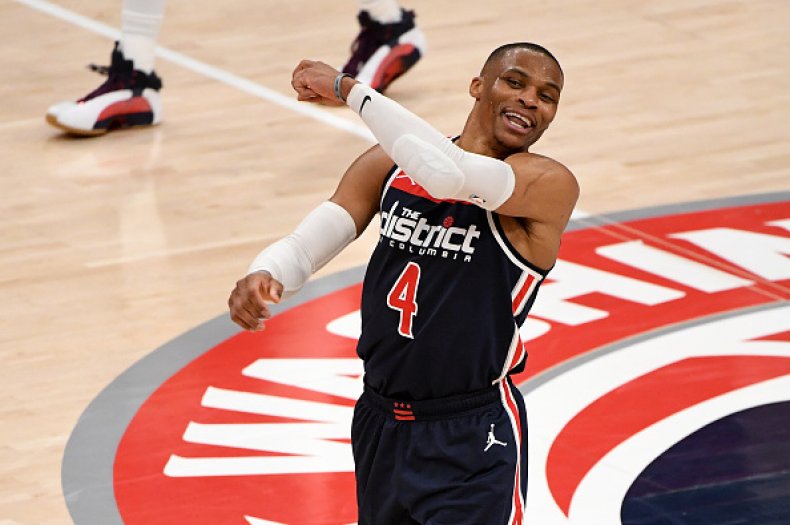 Westbrook, 32, already owns two triple-double honors in the league. In April of this year, he had 14, which is the most in history by any player in one month. In the 2016-17 season, Westbrook broke the single-season record with 42.
If Westbrook doesn't score another point, grab another rebound or make another assist this regular season, he'll still average a triple-double for the 2020-21 season, which will be the fourth time he's done it in his career.
Robertson cemented his career mark in the 1961-62 season.
The last time a major career milestone was broken in the NBA was 2011, when Ray Allen passed Reggie Miller on the league's all-time list as leader for career 3-pointers made.
Westbrook and the Wizards (32-36) are on pace to make the 2020-21 playoffs. The Wizards are currently in ninth place in the NBA's Eastern Conference. The NBA has implemented a new playoff rule this season that allows the top 10 teams per conference—instead of 8—to qualify for the playoffs. The teams seeded 7-10 will have a "play-in" to determine who gets the final two seeds in each conference's playoff brackets.
Only three teams in the Eastern Conference—Philadelphia 76ers, Brooklyn Nets and Milwaukee Bucks—have clinched playoff spots so far. In the Western Conference, the first five playoff spots have already been clinched by the Utah Jazz, Phoenix Suns, Los Angeles Clippers, Denver Nuggets and Dallas Mavericks.