Russell Westbrook Trade Grades: Who Are the Winners of the Deal?
Less than a month after telling the Houston Rockets he wanted to be traded, Russell Westbrook has got his wish. On Wednesday night, the Rockets traded the nine-time All-Star to the Washington Wizards in exchange for five-time All-Star John Wall and a lottery-protected first-round pick in the 2023 NBA Draft.
The trade brings Westbrook's spell in Houston to an end after just one season, while Wall leaves Washington after 10 years with the franchise, which selected him with the first overall pick in the 2010 NBA Draft. Both Westbrook and Wall had grown disgruntled with their organizations and rumors of a blockbuster trade had initially surfaced in November, only to stall over the last couple of weeks. ESPN reported negotiations eventually resumed earlier this week, with both franchises swiftly reaching an agreement.
Whether the deal will be satisfying for either party, however, remains to be seen. After a brilliant start to the regular season, Westbrook badly struggled as the NBA regular season resumed in Orlando following a four-month hiatus because of the coronavirus pandemic. Wall, meanwhile, has missed the last two seasons due to severe injuries to his Achilles tendon and knee.
From a financial standpoint, both players come with a heavy burden. Westbrook has $133 million left on his contract over the next three seasons, with a player option for the final year. Wall, meanwhile, is owed $132 million over the next three seasons.
Both the Rockets and Wizards will hope the trade can convince their two stars—James Harden and Bradley Beal—to commit their futures to the franchises. Harden has turned down a two-year extension worth $103 million and reportedly wants to join the Brooklyn Nets, while Beal can become a free agent next summer.
With that in mind, here's a look at which team comes out of the trade better.
Washington Wizards
There are no clear winners to be found in this trade, largely becomes it is essentially a like-for-like swap in many aspects—chief among them, Westbrook and Wall's playing style and their onerous contracts.
At the same time, however, it's hard to dispute Washington has got the better end of the deal.
At 32 years of age, peak Westbrook may no longer appear on the court, but Washington would be more than happy to have the player who averaged just over 31 points per game while shooting 52 percent from the field over a 24-game stretch before the coronavirus pandemic halted the NBA season—he finished the regular season with an average of 27.2 points, 7 assist and 7.9 rebounds while shooting a career-best 47.2 percent from the field.
Conversely, Washington could rue the trade for years to come if it gets the post-lockdown Westbrook, who averaged 17.9 points and 4.6 assists, while shooting 42.1 percent from the floor in the playoffs after being hampered by a quadricep injury.
Beal is less of a ball-dominant player than Harden is and Westbrook should see plenty of possessions in Washington. At the same time, last season Beal averaged more field goals per 100 possessions than Harden and Westbrook's wish to go back to the "floor-general" role he held during his 11 seasons with the Oklahoma City Thunder may remain unfulfilled.
Developing chemistry between Westbrook and Beal will be Wizards head coach Scott Brooks' biggest task this season and could be crucial to the franchise's hopes of convincing the latter to commit to a long-term deal—Beal can become a free agent in 2021, despite signing a contract extension last year.
From a financial standpoint the deal doesn't move the needle for the Wizards, given Westbrook's and Wall's deals are very similar. That means Washington continues to have little room for manoeuvre, with Westbrook getting over $40 million next season, while Beal is owed $34 million and the Wizards have just signed Davis Bertans to a five-year deal worth $80 million.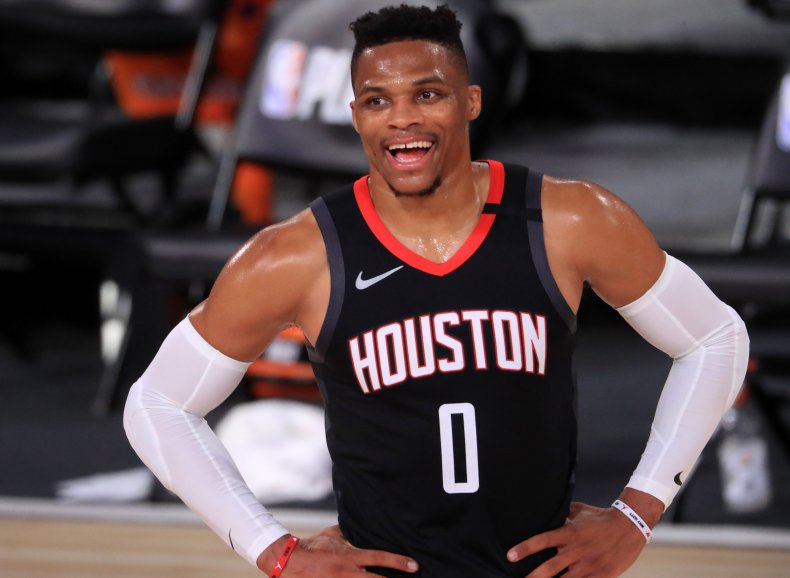 Houston Rockets
The trade comes with two major question marks for the Rockets. The first is whether acquiring Wall will be enough to convince Harden to commit his future to the franchise, much in the same way the Wizards will have to find out whether Beal will be happy to extend his stay in the nation's capital following Westbrook's arrival.
Harden reportedly wants out of Houston but the Rockets have made it clear that the Brooklyn Nets, Philadelphia 76ers or any other potential suitors would have to pay a hefty price to trade for the eight-time All-Star. The second major question that needs answering as far as the Rocket are concerned regards Wall's fitness. While the five-time All-Star is two years younger than Westbrook, he hasn't played a game since December 26, 2018 and has missed the last two seasons with injuries to his Achilles tendon and knee.
That is hardly a good omen for a guard who makes of speed and dynamism his greatest assets. While ESPN reported that Wall has rediscovered a great deal of form in the offseason, even at full-fitness the first overall pick of the 2010 NBA Draft is an inferior player to Westbrook, with whom he shares all the traits that made it hard for the latter to coexist with Harden on the court. Like Westbrook, Wall wants to have the ball in his hands, a luxury a team built around Harden is unlikely to afford him.
The silver lining for Houston is the first-round pick, although the fact it's lottery-protected somewhat blunts that particular positive.