What Is Russell Wilson's Net Worth? Ciara's Husband Becomes Highest Paid Player in the NFL After New Seahawks Contract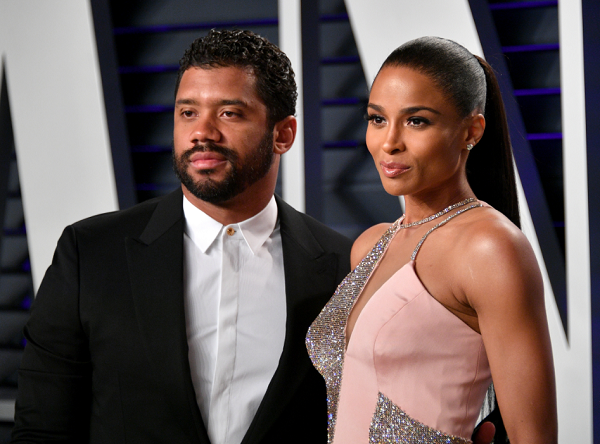 Russell Wilson just became the highest-paid player in the NFL. The star quarterback reached an agreement with the Seattle Seahawks, the team he's been with since 2012, and signed a new contract with the team for the next four years, according to ESPN. The extension comes with a $140 salary over the next four years—about $35 million per season—along with a $65 million signing bonus.
Wilson announced the news in a Twitter video early on Tuesday morning. "Hey Seattle, we got a deal," Wilson said while snuggled up next to his wife, singer Ciara. "Go Hawks. But I'ma see y'all in the morning. Time for y'all to go to bed."
The 30-year-old's extended contract beats out Aaron Rogers, who was formerly the highest-paid player in the NFL thanks to his annual average of $33.5 million per season with the Green Bay Packers, secured in 2018. Wilson's deal also includes the highest signing bonus ever, beating out Rodgers' $57.5 million bonus last year.
Wilson's new contract will surely have an effect on his net worth. Before signing the deal, Forbes had the quarterback estimated to be worth some $42 million in 2016 due to his NFL salary in addition to endorsement deals with brands like Microsoft, Nike, Bose and Braun.
When the football player first joined the Seahawks, he was averaging a $2 million salary for his first three seasons, however, Wilson was offered a handsome raise when he signed a four-year contract for $87.6 million with a $31 million signing bonus in 2015, following his Super Bowl XLVIII victory. Wilson was expected to earn the final $17 million in 2019 for his four-year deal signed in 2015.
Wilson received an outpour of praise on social media for sealing the deal with Seattle, which will keep him contracted to the team through the 2023 season. His wife, with whom he shares a daughter, was one of the first to congratulate him.
"Soooo proud of my love @DangeRussWilson. So excited Seattle is home! God is so good. The hardest working man I know! You inspire me so much! #GoHawks @Seahawks," Ciara wrote on Twitter on Tuesday.