Seattle Seahawks quarterback Russell Wilson has pulled off a feat no other quarterback has done in NFL history. Not Montana, Manning, Favre, Unitas, Mahomes or any other decorated signal caller in the game's 101 years.
Not Troy Aikman, Terry Bradshaw, Steve Young, John Elway, or any of the greatest signal callers in history.
In their 38-31 win over the Dallas Cowboys on Sunday night, Wilson threw five touchdown passes. That wasn't the record, but it was Wilson's 14th touchdown pass through the first three games of the season. No quarterback had ever thrown for 14 passes in the first three games of a season.
Wilson passed the record of Patrick Mahomes, who threw 13 touchdown passes in the first three games of 2018, a year in which Mahommes went on to win the league's MVP award.
Wilson needed every bit of them in the win, in which the Seahawks built a comfortable lead, and then needed a comeback of their own to win the game.
Furthermore, Wilson became only the fifth quarterback to throw four touchdowns or more in three-consecutive games in NFL history. Here are the others:
5 games — Peyton Manning (2004)
4 games — Dan Marino (1984)
3 games — Russell Wilson (2020)
3 games — Patrick Mahomes (2018)
3 games — Drew Brees (2011)
Note: Manning, Marino and Mahomes won the NFL's MVP award in the years they accomplished it. Aaron Rodgers won the MVP in 2011 ahead of Drew Brees.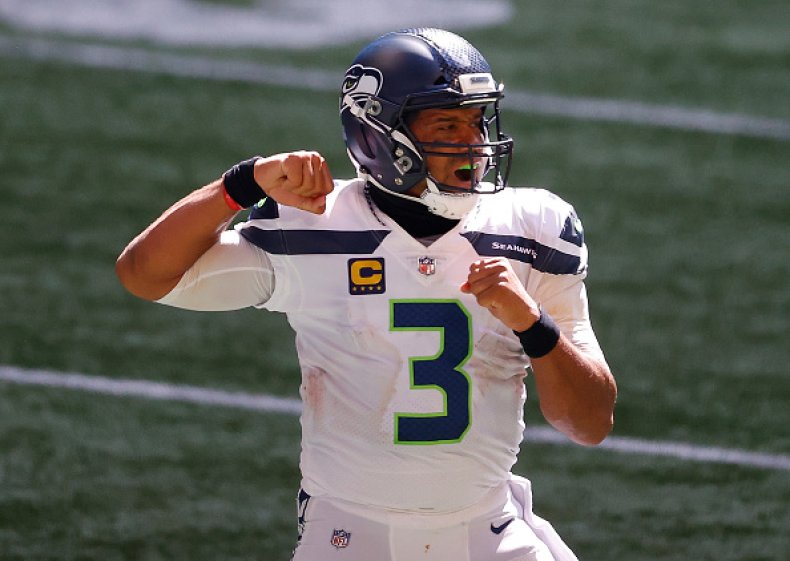 The Seattle Seahawks have improved to 3-0 on the season, and they now stand alone in first place in the NFC West after losses by the Arizona Cardinals and Los Angeles Rams. The Seahawks have a one-game advantage over all teams in their division, and they are tied with only the Chicago Bears for the best record in the NFC.
Seattle built a comfortable 30-15 lead over the Cowboys, but Dallas mounted a comeback and took a 31-30 lead in the fourth quarter. Wilson connected with D.K. Metcalf to give the Seahawks a 36-31 lead, and then Wilson tossed a pass to give the Seahawks their permanent lead.
The Cowboys pushed the ball downfield to give them a chance for a last-chance win, but a desperation pass by Dallas quarterback Dak Prescott was intercepted in the end zone.
Wilson threw three touchdown passes to Tyler Lockett in the first half, and then one each to Jacob Hollister and Metcalf.
Seattle takes its undefeated record on the road to play the Miami Dolphins on Sunday. The Cowboys will return home to play the Cleveland Browns. Both of these games will be at 1 p.m. ET on Sunday.
Uncommon Knowledge
Newsweek is committed to challenging conventional wisdom and finding connections in the search for common ground.
Newsweek is committed to challenging conventional wisdom and finding connections in the search for common ground.
About the writer
Scott McDonald is a Newsweek deputy night editor based in Cape Coral, Florida. His focus is assigning and writing stories across all topics, from news to politics, business, weather, sports and international news. Scott joined Newsweek in 2018 after a lengthy career of print journalism in Texas, including The Dallas Morning News, where he was a sportswriter, and he's a voter for the Heisman Trophy. He has been a newspaper editor-in-chief and also a newspaper publisher. He is a graduate of The University of Texas at Austin. You can get in touch with Scott by emailing s.mcdonald@newsweek.com. Languages: English