Russian 2016 Election Influence Tried to Suppress Votes of Bernie Sanders Supporters, African-Americans, Report Finds
A new report has found that the 2016 election influence campaign carried out by Russia particularly targeted African-American voters, as well as supporters of Senator Bernie Sanders in an effort to suppress the votes of those who'd likely support than Democratic nominee Hillary Clinton.
Citing a report it obtained that was commissioned by the Senate Intelligence Committee, The New York Times reported that the group that ran the influence campaign—the Internet Research Agency (IRA)—looked to exploit racial divisions and had more of an impact on Instagram than was originally thought.
"The most prolific IRA efforts on Facebook and Instagram specifically targeted black American communities and appear to have been focused on developing black audiences and recruiting black Americans as assets," the New Knowledge report obtained by the Times noted, according to the paper.
The goal was not really to push black voters toward now-President Donald Trump—it was to stop certain people from voting. Wrote the Times on Monday:
"While the right-wing pages promoted Mr. Trump's candidacy, the left-wing pages scorned Mrs. Clinton while promoting Senator Bernie Sanders of Vermont and Jill Stein, the Green Party candidate. The voter suppression effort was focused particularly on Sanders supporters and African-Americans, urging them to shun Mrs. Clinton in the general election and either vote for Ms. Stein or stay home."
The report noted that some 30 pages created by the Internet Research Agency that targeted African American voters garnered some 1.2 million followers, while 25 pages targeting far-right voters had 1.4 million followers.
A separate report for the Senate from Oxford University's Computational Propaganda Project and analysis firm Graphika similarly found that the influence campaign from Russia focused on "key interest groups for the purpose of targeting messages," according to The Washington Post on Sunday.
"What is clear is that all of the messaging clearly sought to benefit the Republican Party—and specifically Donald Trump," the report stated, as reported by the Post. "Trump is mentioned most in campaigns targeting conservatives and right-wing voters, where the messaging encouraged these groups to support his campaign. The main groups that could challenge Trump were then provided messaging that sought to confuse, distract and ultimately discourage members from voting."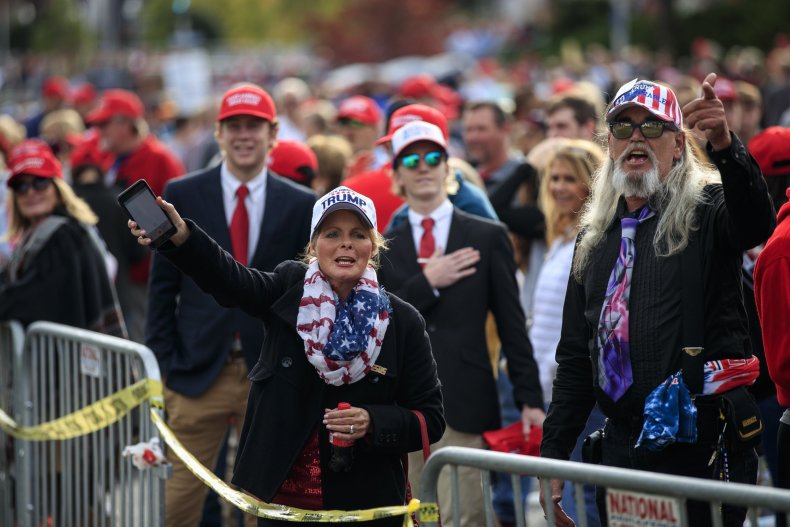 Trump, of course, went on to win the 2016 election—and it's difficult to know how much of an effect these efforts on social media might have had.
The investigation from special counsel Robert Mueller that's looking into Russia's tampering in the 2016 election is ongoing and has resulted in indictments of at least 33 people and three companies.
Despite charges and guilty pleas from members of his campaign, Trump has repeatedly called the special counsel's investigation one big hoax.
"The Russian Witch Hunt Hoax, started as the 'insurance policy' long before I even got elected, is very bad for our Country," Trump tweeted over the weekend, in just one message in a mini-missive against the investigation. "They are Entrapping people for misstatements, lies or unrelated things that took place many years ago. Nothing to do with Collusion. A Democrat Scam!"