Russia 2018: World Cup Schedule in Full
The wait is finally over. The moment soccer fans across the world have been waiting for over the last four years is here. The 2018 World Cup begins tomorrow, when Russia host Saudi Arabia in the opening game.
The tournament's first big game sees Portugal play Spain on June 15, while Lionel Messi makes his 2018 World Cup debut a day later and Brazil and defending champions Germany begin their campaigns on June 17.
All 64 games will be broadcasted across Fox Sports and Telemundo platforms, in English and Spanish. To ensure you don't miss any of the action, Newsweek has compiled a day-by-day World Cup guide.
All times are EDT.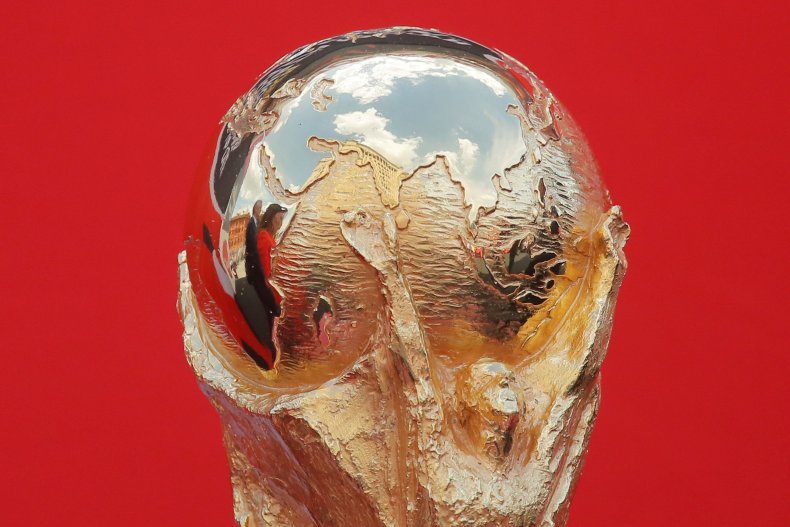 Thursday, June 14
Group A—Russia vs. Saudi Arabia, 11 a.m.—FOX, Telemundo
Friday, June 15
Group A—Egypt vs. Uruguay, 8 a.m.—Fox Sports 1, Telemundo
Group B—Morocco vs. Iran, 11 a.m.—FOX, Telemundo
Group B—Portugal vs. Spain, 2 p.m.—FOX, Telemundo
Saturday, June 16
Group C—France vs. Australia, 6 a.m. —Fox Sports 1, Telemundo
Group D—Argentina vs. Iceland, 9 a.m .—FOX, Telemundo
Group C—Peru vs. Denmark, 12 p.m. —Fox Sports 1, Telemundo
Group D—Croatia vs. Nigeria, 3 p.m .—Fox Sports 1, Telemundo
Sunday, June 17
Group E—Costa Rica vs. Serbia, 8 a.m.—FOX, Telemundo
Group F—Germany vs. Mexico, 11 a.m.—Fox Sports 1, Telemundo
Group E—Brazil vs. Switzerland, 2 p.m.—Fox Sports 1, Telemundo
Monday, June 18
Group F—Sweden vs. South Korea, 8 a.m .—Fox Sports 1, Telemundo
Group G—Belgium vs. Panama, 11 a.m.—Fox Sports 1, Telemundo
Group G—Tunisia vs. England, 2 p.m.—Fox Sports 1, Telemundo
Tuesday, June 19
Group H—Colombia vs. Japan, 8 a.m .—Fox Sports1, Telemundo
Group H—Poland vs. Senegal, 11 a.m.—FOX, Telemundo
Group A—Russia vs. Egypt, 2 p.m.—FOX, Telemundo
Wednesday, June 20
Group B—Portugal vs. Morocco, 8 a.m.—Fox Sports 1, Telemundo
Group A—Uruguay vs. Saudi Arabia, 11 a.m.—FOX, Telemundo
Group B—Iran vs. Spain, 2p.m.—FOX, Telemundo,
Thursday, June 21
Group C—Denmark vs. Australia, 8 a.m.—Fox Sports 1, Telemundo,
Group C—France vs. Peru, 11 a.m.—FOX, Telemundo,
Group D—Argentina vs. Croatia, 2 p.m.—FOX, Telemundo
Friday, June 22
Group E—Brazil vs. Costa Rica, 8 a.m.—Fox Sports 1, Telemundo
Group D—Nigeria vs. Iceland, 11 a.m.—FOX, Telemundo,
Group E—Serbia vs. Switzerland, 2 p.m.—FOX, Telemundo
Saturday, June 23
Group G—Belgium vs. Tunisia, 8 a.m.—FOX, Telemundo
Group F—South Korea vs. Mexico, 11 a.m.—FOX, Telemundo
Group F—Germany vs. Sweden, 2 p.m.—FOX, Telemundo
Sunday, June 24
Group G—England vs. Panama, 8 a.m.—Fox Sports 1, Telemundo
Group H—Japan vs. Senegal, 11 a.m.—FOX, Telemundo
Group H—Poland vs. Colombia, 2 p.m.—FOX, Telemundo
Monday, June 25
Group A—Uruguay vs. Russia, 10 a.m.—FOX, Telemundo or NBC Universo
Group A—Saudi Arabia vs. Egypt, 10 a.m.—Fox Sports 1, Telemundo or NBC Universo
Group B—Iran vs. Portugal, 2 p.m.—FOX, Telemundo or NBC Universo
Group B—Spain vs. Morocco, 2 p.m.—Fox Sports 1, Telemundo or NBC Universo
Tuesday, June 26
Group C—Denmark vs. France, 10 a.m.—FOX, Telemundo or NBC Universo
Group C—Australia vs. Peru, 10 a.m.—Fox Sports 1, Telemundo or NBC Universo
Group D—Nigeria vs. Argentina, 2 p.m.—FOX, Telemundo or NBC Universo
Group D—Iceland vs. Croatia, 2 p.m.—Fox Sports 1, Telemundo or NBC Universo
Wednesday, June 27
Group F—Mexico vs. Sweden, 10 a.m.—FOX, Telemundo or NBC Universo
Group F—South Korea vs. Germany, 10 a.m.—Fox Sports 1, Telemundo or NBC Universo
Group E—Serbia vs. Brazil, 2 p.m.—FOX, Telemundo or NBC Universo
Group E—Switzerland vs. Costa Rica, 2 p.m.—Fox Sports 1, Telemundo or NBC Universo
Thursday, June 28
Group H—Japan vs. Poland, 10 a.m.—Fox Sports 1, Telemundo or NBC Universo,
Group H—Senegal vs. Colombia, 10 a.m.—FOX, Telemundo or NBC Universo
Group G—Panama vs. Tunisia, 2 p.m.—Fox Sports 1, Telemundo or NBC Universo
Group G—England vs. Belgium, 2 p.m.—FOX, Telemundo or NBC Universo,
Round of 16
Saturday, June 30
Game 1—Winner Group C vs Runner-up Group D, 10 a.m.—FOX, Telemundo
Game 2—Winner Group A vs Runner-up Group B, 2 p.m.—FOX, Telemundo
Sunday, July 1
Game 3—Winner Group B vs Runner-up Group A, 10 a.m.—FOX, Telemundo
Game 4—Winner Group D vs Runner-up Group C, 2 p.m.—FOX, Telemundo
Monday, July 2
Game 5—Winner Group E vs Runner-up Group F, 10 a.m.—Fox Sports 1, Telemundo
Game 6—Winner Group G vs Runner-up Group H, 2 p.m.—FOX, Telemundo
Tuesday, July 3
Game 7—Winner Group F vs Runner-up Group E, 10 a.m.—Fox Sports 1, Telemundo
Game 8—Winner Group H vs Runner-up Group G, 2 p.m.—FOX, Telemundo
Quarterfinals
Friday, July 6
QF1—Winner Game 1 vs Winner Game 2, 10 a.m.—Fox Sports 1, Telemundo
QF2—Winner Game 5 vs Winner Game 6, 2 p.m.—Fox Sports 1, Telemundo
Saturday, July 7
QF3—Winner Game 7 vs Winner Game 8, 10 a.m.—FOX, Telemundo
QF4—Winner Game 3 vs Winner Game 4, 2 p.m.—FOX, Telemundo
Semifinals
Tuesday, July 10
SF1—Winner QF1 vs Winner QF2, 2 p.m.—FOX, Telemundo
Wednesday, July 11
SF2—Winner QF3 vs Winner QF4, 2 p.m.—FOX, Telemundo
Third-place playoff
Saturday, July 14
Loser SF1 vs Loser SF2, 10 a.m.—FOX, Telemundo
Final
Sunday, July 15
Winner SF1 vs Winner SF2, 11 a.m.—FOX, Telemundo