Russia 2018 World Cup: Which Country Has the Best Fans?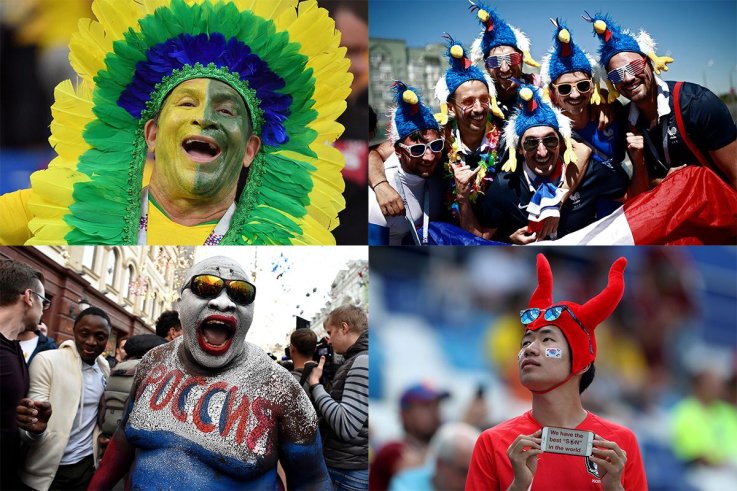 The FIFA 2018 World Cup is well underway, and fans have descended on Russia to cheer on their team. As expected, extravagant handmade costumes can be found throughout the stands as spectators express their national pride through the medium of fashion.
Each nation has its own distinct style of expressing this sporting patriotism. This year, Argentinian fans have understandably centered their fandom on star player Lionel Messi, portraying him with increasingly creative methods.
Alongside the full-arm tattoos, there has been an astounding effort from a Serbian hairdresser in creating Messi hair art, as well as attempts to incorporate Messi into the iconography of Argentina's national Catholic faith. One fan has Photoshopped Messi onto the body of Christ, eyes closed in rapture at an impending sporting victory.
Other South American nations are embracing their indigenous heritage through costume. Aztec patterns and traditional headdresses can be seen adorning Mexican fans this year. Some Peruvian supporters turned up in colorful indigenous dress.
Iranian fans have used the event to tap into a political cause. We spotted a hand-made sign addressing Iranian women's ongoing fight to be allowed into soccer matches in their home country. In Russia this year, Iranian women are very much present in the stands, cheering on their team draped in the colors of the Iranian flag.
England's classic soccer supporter look—shaved head, patriotic tattoos, moderate-to-severe sunburn—is still alive and well. African nations are bringing some creative soccer fashion, including an incredible Senegalese totem pole-style hat.
We've collected the best fan moments capturing the fevered excitement of this years' World Cup. But only one country can have the most dedicated, creative fans—we've listed them in order in which they've dressed to impress.