Ukraine's security services said Russia was meddling in the country's upcoming elections, which will take place in late March.
Speaking to reporters on Thursday, security chief Viktor Konenko announced that Russia was working to sway the vote in favor of specific candidates using citizens of Ukraine who were working on behalf of Russia. Russia offered these individuals financial bribes to vote and campaign for specific candidates in an attempt to change more than half a million votes, he said. He did not specify which of the 44 candidates currently running for president of Ukaine Russia was rooting for.
Ukraine's current president, Petro Poroshenko, is one of the front-runners, together with longtime opposition leader Yulia Tymoshenko. Some analysts have speculated that Russian President Vladimir Putin may be more comfortable working with Tymoshenko because the two had been in politics for roughly the same amount of time and knew what to expect from one another.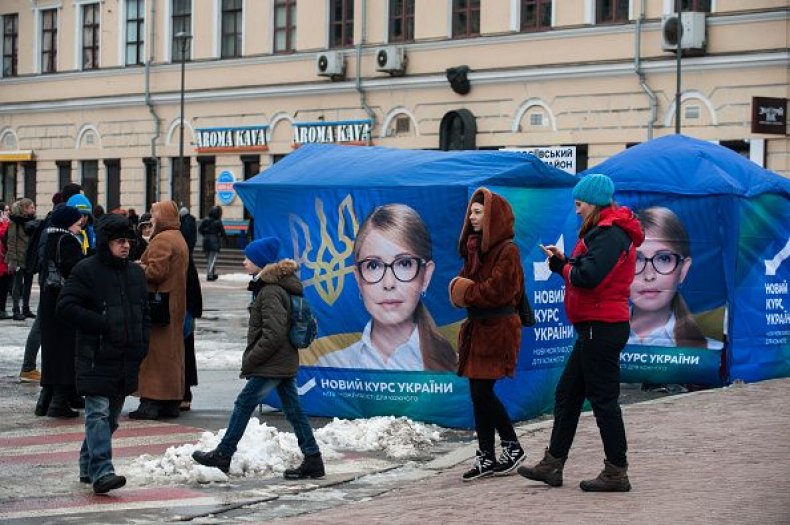 Ukraine has had an exceptionally tense relationship with its neighbor, Russia, ever since a pro-Western social movement ousted the pro-Russian president Viktor Yanukovych in 2014. Poroshenko was elected shortly after the Euromaidan movement began, exactly five years ago this week. Under Poroshenko's tenure, Russia annexed the Crimean Peninsula from Ukraine, a move the international community considered illegal, and has helped prop up pro-Russian separatist movements with parallel governments in the eastern part of Ukraine known as the Donbas.
In a move that will likely rile Russian President Vladimir Putin, Poroshenko recently signed a constitutional amendment committing Ukraine to joining the European Union and NATO.
The front-runner in Ukraine's most recent polls, however, is neither Poroshenko nor Tymoshenko. Instead, comedian, actor and political novice Volodymyr Zelenskiy leads in the polls. Some analysts said that an electoral victory for Zelenskiy would freeze some of the progress that Ukraine had made toward Western integration, which was still a long way off.
"Whatever his supporters' motivations, electing Zelenskiy would be a disaster for Ukraine. He appears to be a decent person, and few of his publicly expressed views are offensive or egregiously stupid," Alexander Motyl, a professor of political science at Rutgers University-Newark, wrote for the Atlantic Council.
"But the bottom line is that he is completely inexperienced as a politician and policymaker. His only encounter with anything resembling the world of policy has come through playing a reformist president on television. That's just not enough at such a critical juncture in Ukraine's—and the world's—history," Motyl said.
"Zelenskiy's victory would almost immediately have the following deleterious consequences for Ukraine. First, Ukraine's relations with the West will atrophy as Zelenskiy tries to figure out just which Western institutions and policymakers are of greatest importance to his country."
The accusations of Russian election meddling were made following several years of investigations into Russian election meddling in the U.S. The intelligence community had determined that Russia used a variety of tactics, including online influence and disinformation campaigns, to sway the outcome of the 2016 presidential election to Donald Trump.