Russia Accuses Trump Administration of Using War Threats and Blackmail to Stop Offensive in Syria
Russian officials lashed out at Washington Tuesday for threatening to bomb Syria if the Assad government uses chemical weapons during a planned offensive in the province of Idlib.
On Monday, President Donald Trump's national security adviser John Bolton said that the U.S. would hit the Middle Eastern country harder than it ever had before. "We've tried to convey the message in recent days that if there's a third use of chemical weapons, the response will be much stronger," Bolton said during a speech on Monday in Washington.
"I can say we've been in consultations with the British and the French, who have joined us in the second strike, and they also agree that another use of chemical weapons will result in a much stronger response," he added.
Last week, Trump also warned that the planned offensive would spark a severe humanitarian crisis. "President Bashar al-Assad of Syria must not recklessly attack Idlib Province. The Russians and Iranians would be making a grave humanitarian mistake to take part in this potential human tragedy," he tweeted. "Hundreds of thousands of people could be killed. Don't let that happen!"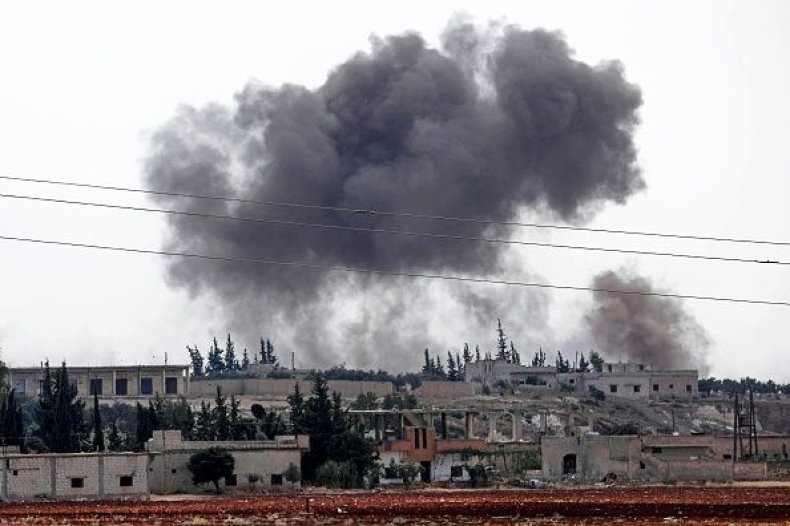 The province of Idlib is the last rebel stronghold in Syria, but is also home to an estimated 3 million people, most of whom are civilians who fled from other parts of the country to seek safety. Russia and Iran are supporting Syria's plans to launch strikes on the province, and Moscow has also started some preliminary bombing in the region. During a press conference on Tuesday, Russian Deputy Foreign Minister Sergei Ryabkov criticized Bolton's threat to retaliate against the use of chemical weapons during the fighting.
"This is absolutely the policy of threats and blackmail," Ryabkov told reporters, stressing the importance of carrying out the attack on Idlib in order to root out terrorists. He also claimed that some terrorist groups in Syria are supported by the U.S., but nevertheless noted that the U.S. military and Russian forces continue to have secure channels open in Syria to prevent any clashes.
The international community banned the use of chemical and biological weapons after World War I, but Syria's government has been suspected of using them against civilians in rebel-held territories on several occasions during the seven-year war, a claim President Bashar al-Assad denies. U.S. intelligence services, however, assert that Syria's government plans to use chlorine when it retakes Idlib. The United Nations has already accused Assad's forces of using chlorine and sarin gas on approximately two dozen occasions throughout the duration of the war.
Russia helped oversee a 2013 deal that was meant to have destroyed all of Syria's chemical weapons, but chemical attacks against civilians continue to be carried out even after 1,400 tons of chemical weapons were destroyed.