Russia Accuses Trump of Making Kemerovo Mall Fire 'More Painful'
Russia's ambassador to the U.S. accused the White House of making the Kemerovo mall fire in which dozens of children died "more painful" by announcing the expulsion of 60 Russian diplomats in the aftermath of the tragedy.
Ambassador Anatoly Antonov said that "on the day of the tragedy in Kemerovo," Russia saw "emotional deafness, indifference and callousness," from Washington officials, reported Russian news agency Tass.
"They just decided to make it more painful," Antonov said in a statement to the press. "At the time when ordinary Americans, together with us in our grief, send us condolences."
The fire at the Zimnyaya Vishnya ("Winter Cherry") shopping mall in Kemerovo, Siberia, killed at least 64 people, including 41 children, on the afternoon of Sunday March 25. Many more were injured.
A 100-strong investigative team is on the scene to find out how the fire started and why there were so many casualties. There are reports of escape routes being blocked and fire alarms switched off as the blaze took hold.
"Rest assured, all those responsible will be punished," Russian President Vladimir Putin said during a visit to a local hospital where fire victims are being treated.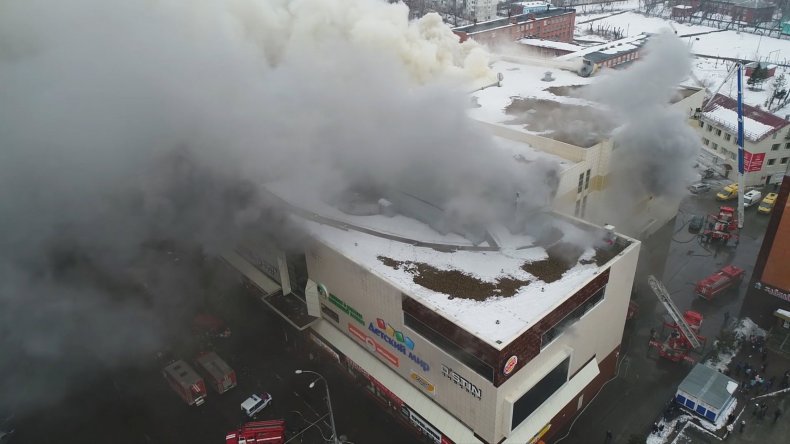 On March 26, President Donald Trump approved the expulsion of 60 Russian diplomats and spies from America and the closure of Russia's consulate in Seattle in response to the poisoning of Sergei Skripal and his daughter Yulia with a nerve agent in the U.K. town of Salisbury.
The U.S., U.K. and other NATO allies have accused Russia of perpetrating the chemical attack.
Skripal, a former colonel in Russian military intelligence, was convicted in 2006 of being a double agent for the British. He was sentenced to 13 years in a Russian prison but settled in the U.K. after being released in a 2010 spy swap deal.
"The United States takes this action in conjunction with our NATO allies and partners around the world in response to Russia's use of a military-grade chemical weapon on the soil of the United Kingdom, the latest in its ongoing pattern of destabilizing activities around the world," a White House spokesperson said, announcing the explusions.
"Today's actions make the United States safer by reducing Russia's ability to spy on Americans and to conduct covert operations that threaten America's national security. With these steps, the United States and our allies and partners make clear to Russia that its actions have consequences.
"The United States stands ready to cooperate to build a better relationship with Russia, but this can only happen with a change in the Russian government's behavior."