Russia-Africa Summit: How Putin Is Challenging the U.S. And China in New Continental Race
Russian President Vladimir Putin will this week welcome dozens of African leaders to a new summit in the Black Sea resort of Sochi, representing a significant milestone in Russia's ongoing outreach project to the continent.
The two-day Russia-Africa Summit and Economic Forum will bring African leaders to Sochi, where Putin will be hoping to gain an edge on the other powers vying for influence and commercial opportunities in Africa, including the U.S. and China.
Africa has massive economic and political potential. Around 60 percent of the continent's population—which is growing rapidly—is under the age of 25, offering a vast pool of workers even if many are not yet highly skilled. The continent has abundant natural resources and since 2000 its combined GDP has grown by 5.1 percent per year on average.
Poverty, inequality, poor infrastructure, political instability and climate change all still hobble Africa's potential. Nonetheless, the world's economic powerhouses are being drawn to African nations. They are bringing with them huge investment that has prompted some to term this era a new "scramble" for Africa.
Among them is Russia, though its footprint on the continent is thus far much smaller than those of its rivals. This week's summit is part of its efforts to shift the balance more in its favor. In an interview with state news agency Tass published this weekend, Putin said the summit would focus on "African solutions to African problems."
The Kremlin has sought to portray Russia as a more sympathetic partner for African nations compared with the U.S. and China—two of the leading foreign investment giants.
Russia has positioned itself as an alternative to China's massive and intimidating economic clout. Beijing has pumped billions into the continent in recent decades, the sheer scale of its African strategy leaving some leaders wary about the extent of its ambitions.
With Western nations, Russia has sought to play on African concerns of neo-colonialism and political coercion. Less restrained by public opinion and concerns for human rights or transparency, Russia has also courted authoritarian regimes that face condemnation from the U.S. and Europe.
Russia is unable to compete with either nation continent-wide, but this has not precluded Moscow from nurturing potentially lucrative networks and opportunities across Africa.
Alex Vines—the head of the Africa program at the Chatham House think tank—told Newsweek that this week's summit is part of "a serious tilt by the Kremlin at re-engagement in Africa" and represents "the public launch of a two-year-old strategy."
However, Paul Stronski—a senior fellow for the Carnegie Endowment for International Peace think tank's Russia and Eurasia Program—suggested the summit's prime value is on the public relations front.
"What Russia is trying to do with this summit is to try to sort of convey that it is an important geopolitical player on the continent and geo-economic player on the continent," Stronski told Newsweek.
Stronski added that the Russian government is "very big" into high-profile events of this kind, and that Putin is known for "opening up the red carpet to show the world and show everyone around him that he's a global leader."
But the reality is that while Russia has a strong presence in a handful of states, its influence is "really quite small," Stronski said.
The Kremlin has signed multiple economic and security deals, but Stronski said the follow-through has been limited. "There's a lot of noise going on about Russia and Africa and they're certainly trying to present themselves as a big player and an important player," he explained.
"But they are not Europe. They're not the United States. They're not China...Russia is playing catch up."
The global perception of Russia has shifted in recent years. Before its annexation of Crimea and intervention in Syria, many observers considered Russia a struggling former superpower, even if that power retained a vast arsenal of nuclear weapons and a potent military.
Its aggressive foreign policy has shifted that image, though the resurgent world power is still underpinned by a relatively small economy dependent on natural resources. These economic constraints mean the Kremlin is unable to consistently compete with richer nations on Africa's commercial battlefield.
Nonetheless, Russia's "debt-for-development swap programs"—as Putin described them—offers some economic leverage. These are even more attractive given Russia's laissez-faire attitude to governance, something Western nations are stricter on.
The president told Tass that the initiatives are not "contingent upon...preconditions" that limit a nation's "trade and economic preferences." He also criticized "an array of Western countries" for "resorting to pressure, intimidation and blackmail of sovereign African governments."
"Clear niches for Russian advance"
But Russia is not engaging with African nations out of pure altruism. The continent offers Russia many political, economic and strategic opportunities.
During the Cold War, the U.S. and Soviet Union were heavily engaged in Africa, attempting to win its various leaders to their ideological side.
After the Soviet Union collapsed, Moscow could no longer afford the money, time or effort needed to maintain its African partnerships. Busy with civil and economic chaos at home, Russia turned inwards.
Putin's Russia is now attempting to claw back at least some of its diplomatic influence on the continent. Though Vines noted Russia is not the Soviet Union, "nevertheless, in this era of multipolarity there are clear niches for Russian advance in Africa," he suggested.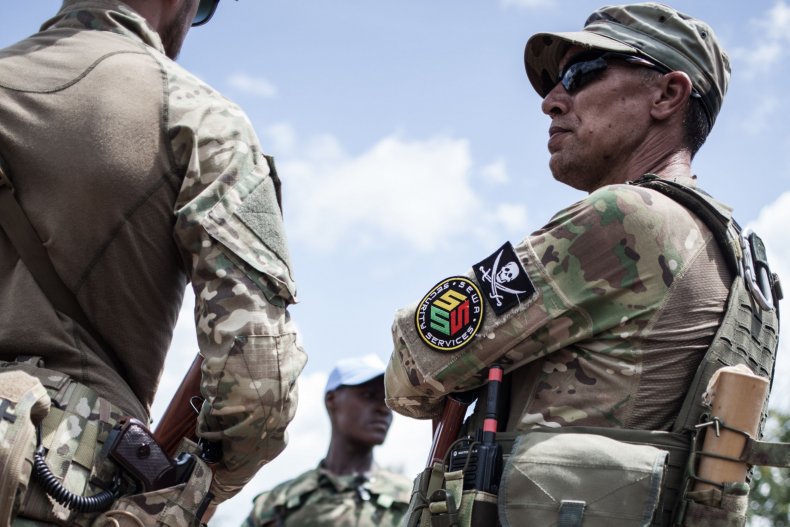 Anywhere Russia can undermine its rivals offers Moscow an opportunity, and Africa's 54 nations offer Putin valuable leverage on the global stage. These nations account for around a quarter of all votes at the United Nations, making Africa a pathway for Russia to circumvent American and European efforts to apply sanctions and restrict Moscow's foreign policy.
As Vines suggested, one of Russia's ultimate goals in African is "more votes in international fora for Russia, or at least abstentions."
Many nations are plowing money into African in search of valuable natural resources and commercial markets. Though Russia has lagged behind its competitors, Vines noted that "new markets for defense, extractives mining and nuclear" power are all of interest to the Russians.
But trade turnover between Russia and African remains small, though Russian imports from the continent jumped 97 percent and exports back jumped 45 percent between 2007 and 2017. China, India, the U.S., Germany, the U.K. and Japan all have more significant trade with Africa. Putin might be looking to grow this figure, but Russia remains a relatively small economic player.
That said, Russian military equipment remains ubiquitous across the continent. Cheap arms flooded Africa during the Cold War when Soviet military advisers traveled there to assist friendly regimes.
This has left a Russian legacy in Africa's arsenals and martial culture, one the Kremlin remains keen and able to exploit. From 2009 to 2018, $1.83 billion worth of Russian weaponry was sold to African nations, according to the Stockholm International Peace Research Institute.
"Russian arms are generally pretty good and they're cheap, and people don't ask questions when they sell them," Stronski said. He noted this was one of the areas in which Russia can make significant inroads.
Russia military advisers—and mercenaries—are also once again treading the continent. The Wagner Group mercenary organization, for example, is confirmed or believed to have deployed to the CAR, Mozambique, Madagascar, Sudan and Libya in recent years.
Whether working for African governments or helping secure Russian interests in those countries, their presence is evidence of Moscow's intensified focus on Africa.
Putin's opportunism
The U.S. is keeping a wary eye on the Russians. Vines said the two nations will likely compete in regions of African where there are energy interests, for example Exxon Mobil's large investment in natural gas in northern Mozambique where Russian mercenaries are also deployed.
Counter-terrorism considerations and political machinations will color U.S.-Russian relations in Africa. Washington will be watching Moscow's support for authoritarians seeking to fortify and expand their power—for example its support of Guinea President Alpha Conde's efforts to extend his term in office.
The U.S. will also continue resisting the expanding Russian military footprint on the continent, for example lobbying Djibouti to block Russian forces sharing China's military base there, Vines said.
But for all its activity, Russia is not the U.S.'s major concern. In December, then-National Security Advisor John Bolton set out an African strategy that mostly concerned China. Though Russia was mentioned, Beijing was the focus.
"China seems to have a vision as part of its global vision for building infrastructure and creating, diplomatic ties through investment. Russia seems to be much more ad hoc," Stronski explained.
The fact remains that Russia is not able to compete with richer and more established powers in Africa. Russian foreign policy in recent decades has been about maximizing gain from low-cost investments.
Rather than seeking imperial revival achieved via a genius master plan that only he can see, many argue that ruthless opportunism best characterizes Putin's approach.
"There's certainly Russian opportunism going on here," Stronski said. "Everybody seems to be focusing on Africa. To be a player, you want to be in Africa."
North Africa feeds into Russia's larger strategies for the Middle East and Mediterranean, where Stronski said Moscow will certainly remain an influential player. But elsewhere on the continent, Russia "might not have the staying power," he suggested.
Nonetheless, with Europe and the U.S. tangled in their own domestic political webs, "there's certainly a lot of a lot of opportunity for Russia," Stronski added. "But I'm not sure how much of a long-term vision Russia has."