Russia Agrees With Trump's Perspective on Sending Tanks to Ukraine
The Kremlin is echoing former President Donald Trump's concerns about the United States sending more than two dozen tanks to Ukraine.
President Joe Biden this week announced that he will send an estimated 31 Abrams M1 tanks to help Ukraine in its fight against Russia, which launched an invasion 11 months ago. It came on the heels of German officials saying they would provide Leopard 2 tanks. Poland is also sending Leopard 2 combat vehicles, while the U.K. this month announced it will send Challenger 2 tanks.
Biden's announcement drew strong rebukes from a faction of Republicans, including Representative Marjorie Taylor Greene and Trump.
"FIRST COME THE TANKS, THEN COME THE NUKES," Trump wrote Thursday on Truth Social. "Get this crazy war ended, NOW. So easy to do!"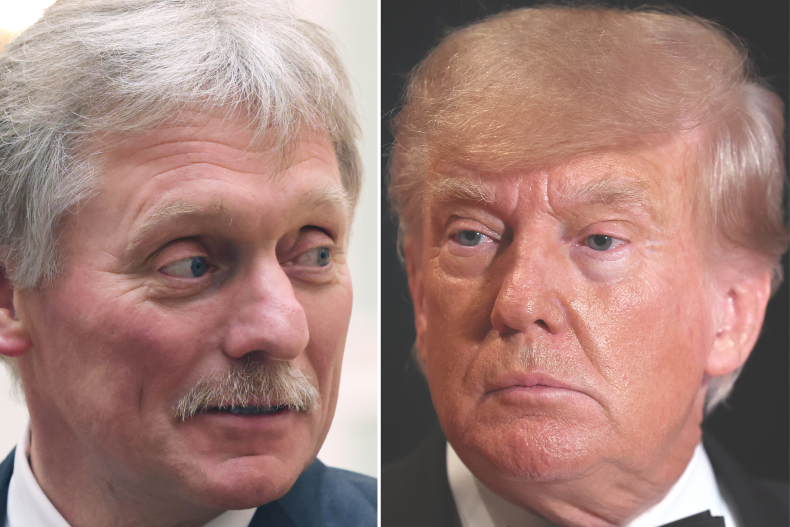 He posted again on Friday, writing, "A major disaster is brewing!"
His words apparently reached the Kremlin, as spokesperson Dmitry Peskov invoked Trump when saying on Friday that Western tanks being supplied to Ukraine are escalating tensions.
"Tensions are rising particularly due to the decisions that are made, first and foremost, in Washington and in European capitals under Washington's pressure," Peskov told reporters, according to Russian media outlet Tass.
"It is about the supplies of weapons, tanks and other things, and ongoing discussions that now concern aircraft. In this regard, tensions are mounting."
It represented a slight change in tone compared to one day earlier, when Peskov reportedly told reporters that the supplying of tanks by NATO countries was "a failure in terms of technological aspects" in addition to "a clear overestimation of the potential that this will add to the Armed Forces of Ukraine."
Russia's ambassador to Germany Sergei Nechayev referred to the decision to send Ukraine tanks as an "extremely dangerous decision [that] takes the conflict to a new level. He called it a "permanent escalation."
Russian Ambassador to the U.S. Anatoly Antonov said it was "another blatant provocation against the Russian Federation."
Maria Popova, associate professor of political science at McGill University, told Newsweek that Russia previously issued warnings about escalation yet no "meaningful signs of steps towards it" have occurred.
"The latest admonitions ring quite hollow at this point," Popova said. "Trump, deliberately or not, is helping Russia rattle the nuclear sabre. He has made similar pro-Russian pronouncements from the beginning of the war, so I don't think this most recent statement sends any new or particularly strong message.
"It adds to the pile of evidence that if he were to return to the presidency, Ukraine, Europe and NATO would all be threatened by a pro-Russian shift in U.S. policy."
Erik Herron, political science professor at West Virginia University, told Newsweek that Trump's nuclear warnings match warnings emanating from Moscow, even though no evidence has come forward of Russia preparing to deploy its nuclear forces.
"The other part of President Trump's post, claiming that a resolution to the war is 'easy,' is consistent with previous comments he has made about negotiations," Herron said. "But, it does not reflect reality. Ukraine is committed to returning to pre-2014 boundaries, while Russia has made additional claims on sovereign Ukrainian territory. These positions leave no real room for a negotiated settlement."
Trump's statements carry weight and "matter," Herron added, especially as he seeks to return to the Oval Office.
"Some members of Congress are aligned with the former president on this policy issue and their reluctance to help Ukraine in its fight for freedom may influence decisions that come out of the House," he said.
Pentagon deputy spokesperson Sabrina Singh dismissed Russian officials' statements.
"I feel like I've heard that talking point before from them, whether it was the Javelins that we were giving or the HIMARS and then the Patriot," Singh told reporters. "Everything seems, I guess, to be an 'escalation.' I don't view it as that.
"This is a war that Russia started, invading a sovereign state. What is escalatory is them continuing this war each and every day....[Russian President] Vladimir Putin could make the decision tomorrow to end it."
Former NATO Supreme Allied Commander James Stavridis said the sending of tanks could "pivot" the war in Ukraine's favor—a perspective not shared by all.
"NATO tanks will be useful because they are less vulnerable and have better fire control; they can spot and hit targets at longer distances than Russian tanks," Mark Cancian, a retired U.S. military officer at the Center for Strategic and International Studies, told Newsweek. "However, the numbers will be relatively small even if many countries contribute, compared with the 800 or so tanks that Ukraine already has.
"There is no such thing as a 'game changer' or 'silver bullet.' Ukrainian victory will be built by the cumulative effect of upgraded equipment across the board and increased training."
Newsweek reached out to Trump 2024 officials and the Kremlin for comment.