Meghan McCain Enraged by Alexei Navalny Photos: 'Damn Putin to Absolute Hell'
Russian opposition leader Alexei Navalny has described himself as a "creepy skeleton" in his first public appearance since ending his hunger strike.
Navalny, who went without food for 24 days until last Friday, appeared in court by video link on Thursday and took aim at President Vladimir Putin in an emotional address. He added: "I weighed this much in 7th grade."
The images of the emaciated, shaven-headed 44-year-old provoked a strong reaction from Meghan McCain, host of The View and daughter of the late Arizona senator John McCain.
She tweeted: "This is what the ramifications of real fascism look like despite how easily that word is thrown around so cavalierly in our land of the free.
"This is what standing up to tyranny looks like. Damn Putin to absolute hell. Free @navalny!"
McCain's father spearheaded the Magnitsky Act, named after a Russian anti-corruption lawyer who died in custody. The legislation punishes Russian officials for human rights abuses. Similar laws have been passed in other countries.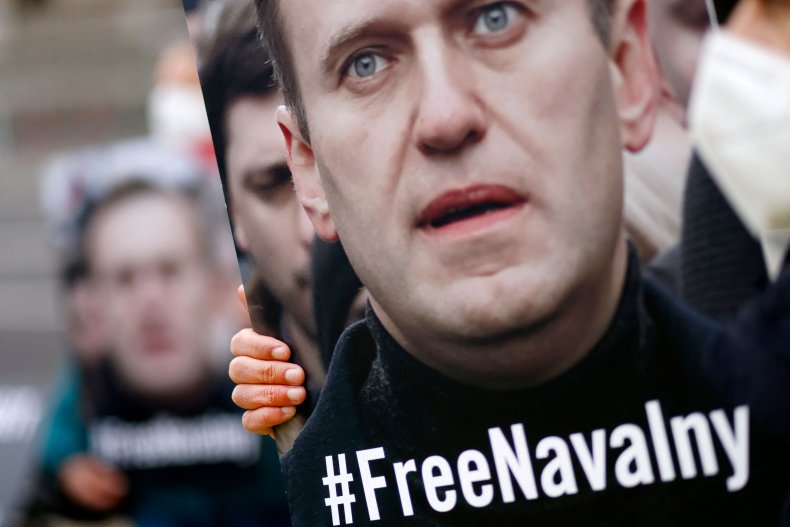 Navalny's courtroom appearance was to appeal a conviction he claims is politically motivated. The opposition leader was fined in February for defaming a World War II veteran who had backed a "reset" of presidential term limits that could keep Putin in power for even longer.
He used his platform to condemn the president, employing the imagery of the folk tale The Emperor's New Clothes. "Your king is naked," he told the judge, "and it's not just one boy yelling about it. Millions of people are yelling about it."
Describing "20 years of his fruitless rule," Navalny said Russia under Putin continued "to slide into poverty." After his speech, the judge rejected his appeal.
The hearing came as Navalny's regional political network was disbanded ahead of a Moscow city court ruling that is expected to label the group and two other organizations linked to him as "extremist."
Rights groups claim that the targeting of Navalny's regional network, Anti-Corruption Foundation and Citizens' Rights Defense Foundation is an attempt to silence opposition in the country, Radio Free Europe reported.
Leonid Volkov, former co-ordinator of the regional network, said an "extremist designation would mean his staff risked imprisonment. In a post on the encrypted messaging app Telegram, Volkov issued an optimistic message to supporters, saying: "Are we giving up? Of course not."
He pointed to the network of "tough" politicians who were spread across Russia's regions thanks to the organization's work over the past four years, which he said "has been worth it."
"You and I have sown the seeds of freedom throughout Russia and they will sprout," Volkov wrote.
The graphic below provided by Statista shows the length of time Putin has been in power.