Russia Ambassador Vows U.S. M1 Abrams Tanks 'Will Be Destroyed' in Ukraine
Amid reports of U.S. officials confirming that President Joe Biden's administration would imminently announce the decision to supply Ukraine with up to 30 M1A2 Abrams, Russia's ambassador in Washington, D.C. told Newsweek that the advanced tanks would be destroyed alongside other Western military aid.
The reports appeared Tuesday in a number of U.S. and U.K. outlets, citing unnamed U.S. officials who said that the White House could announce the move as early as Wednesday.
Russian ambassador to the U.S. Anatoly Antonov saw the move as part of a longstanding pattern that has emerged since the beginning of the war exactly 11 months ago.
"Throughout the Ukrainian crisis, the administration repeatedly used the technique of publishing information in the media on the eve of significant deliveries of weapons and equipment to the Kiev regime," Antonov told Newsweek.
The senior Russian diplomat, who just hours earlier met with new U.S. ambassador to Russia Lynne Tracy in Washington, D.C., ahead of her departure to Moscow, argued that the latest delivery would mark yet another escalation in U.S. support for its Ukrainian partner.
"An analysis of the entire sequence of Washington's actions shows that the Americans are constantly raising the "bar" of military assistance to their puppet government," Antonov said. "This is especially clear when the Russian armed forces gain new victories and confidently liberate the territory of Russia from the Nazi threat."
Ukrainian President Volodymyr Zelensky, who is Jewish, and his top officials have consistently rejected any association with Nazism or that Kyiv's aspirations to join the U.S.-led NATO military alliance posed any threat to Russia. Moscow, however, has portrayed the conflict as one of both ideology and national security as NATO expanded its military presence in the former Soviet sphere of influence in Eastern Europe and began aiding Ukraine militarily after unrest first emerged in 2014 with a pro-West uprising in Kyiv.
Antonov asserted that Russia would eliminate all of the Western bloc's weapons in Ukraine, to include the state-of-the-art U.S. tank.
"If a decision to transfer to Kiev M1 Abrams is made," the Russian envoy said, "American tanks without any doubt will be destroyed as all other samples of NATO military equipment."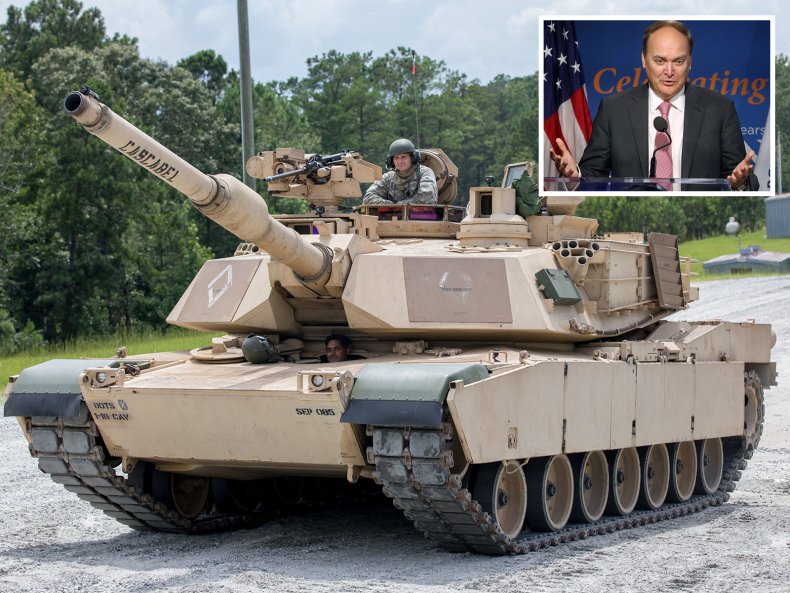 Zelensky did not immediately react to the news, which happened to emerge early morning on his birthday local time, and his officials have yet to weigh in either.
The Ukrainian leader and his administration have, however, continuously appealed for greater support from NATO and Zelensky issued a personal plea for tanks, air defense systems, artillery and other weapons via video link to a gathering of 50 defense ministers at Ramstein Air Base in Germany on Friday.
"I could thank you hundreds of times, and it would be absolutely just and fair, given all that we have already done," Zelensky said at the time.
"But hundreds of thanks are not hundreds of tanks," he added. "All of us can use thousands of words in discussions, but I cannot put words instead of the guns that are needed against Russian artillery or instead of the anti-aircraft missiles that are needed to protect people from Russian airstrikes."
Virtually addressing a National Association of State Chambers meeting in Boca Raton, Florida on Monday, Zelensky said "we are looking closely at Abrams" to further support Ukraine's effort to resist what he called a "predatory war" being waged by Russia.
The transfer of M1A2 Abrams tanks would mark a significant step in Washington's growing support for Kyiv, which was already set to receive another U.S. armored combat vehicle, the Bradley Fighting Vehicle, and the Patriot surface-to-air missile system. Ukrainian forces have also put to use other U.S. military equipment such as the M142 High Mobility Artillery Rocket System (HIMAR) and FIM-92 Stinger man-portable air defense system among other weapons.
Also on Tuesday, German newspaper Der Spiegel reported that Chancellor Olaf Scholz was set to approve the transfer of Leopard 2 tanks to Ukraine after initially suggesting that he would not do so unless Washington green-lit the supply of M1A2 Abrams to Kyiv. Fellow NATO ally Poland also requested permission from Germany to send some of its own Leopard 2 tanks to neighboring Ukraine on Tuesday as Norwegian newspaper Dagens Næringsliv reported that Norway may consider following suit.
Earlier this month, the U.K. also approved the transfer of Challenger II tanks to Ukraine.
The potential influx of Western main battle tanks could mark a substantial gain for Ukraine as Russian forces, including fighters from the Wagner private military group, made modest advances in the battle for Bakhmut, in Ukraine's eastern Donbas region. The Donbas provinces of Donetsk and Luhansk, partially controlled by pro-Moscow separatists since 2014, were annexed alongside the provinces of Kherson and Zaporizhzhia by Russia in a referendum held last September without international recognition.
As Ukrainian troops fight to recapture these territories, Zelensky has also vowed to retake the southern Crimean Peninsula, annexed by Russia in an earlier internationally disputed referendum held in 2014.
Both State Department spokesperson Ned Price and White House National Security Council spokesperson John Kirby told reporters last week that U.S. security assistance was intended to allow Ukraine to recapture all of its territory and that "Crimea is Ukraine," signaling that the strategic peninsula home to Russia's Black Sea Fleet could be targeted by U.S. equipment.
The growing aid from Ukraine's partners, with the U.S. at the helm, has led Russian officials to argue that NATO was already a party to the conflict, the goal of which they have asserted was to weaken Russia.
"Obviously, Washington is deliberately trying to inflict strategic defeat on us," Antonov said. "It gives 'green light' to use of American assistance for attacks on the Crimea. It covers crimes committed by radicals against population of Donbass, Zaporozhye and Kherson regions."
"A growing number of officials and experts in America admit: it is all about U.S. 'proxy-war' with our country," he added.
And while the decision to send M1A2 Abrams tanks would likely be celebrated in Kyiv, Moscow saw the move as proof that the war was about more than just Ukraine.
"If the United States decides to supply tanks, it will be impossible to justify such step using arguments about 'defensive weapons,'" Antonov said. "This would be another blatant provocation against the Russian Federation."
"No one should have illusions about who is real aggressor in the current conflict," he added.
Newsweek has reached out to the U.S. Department of Defense, the U.S. Department of State and the Ukrainian Ministry of Foreign Affairs for comment.