Russia and Syria Denying Chemical Attack Investigators Access to Douma: U.K. Officials
Updated | Russia and Syria were accused by Britain of denying investigators from the Organisation for the Prohibition of Chemical Weapons (OPCW) immediate access to the Syrian city of Douma, where the Bashar al-Assad regime is suspected of carrying out a chemical weapons attack on civilians, killing dozens.
The OPCW, an independent international body, is currently in Damascus on a mission to establish what happened in Douma after reports emerged from the area on April 7 of people killed and injured by toxic chemicals during shelling by the Assad regime's forces.
The Assad regime denied carrying out a chemical attack, and Russia, which is supporting the Syrian government in the civil war, claimed there was no evidence of it taking place after its own investigators went to the scene.
The U.K. delegation to the OPCW accused the Russian and Syrian governments of hindering the independent investigation into what happened in Douma.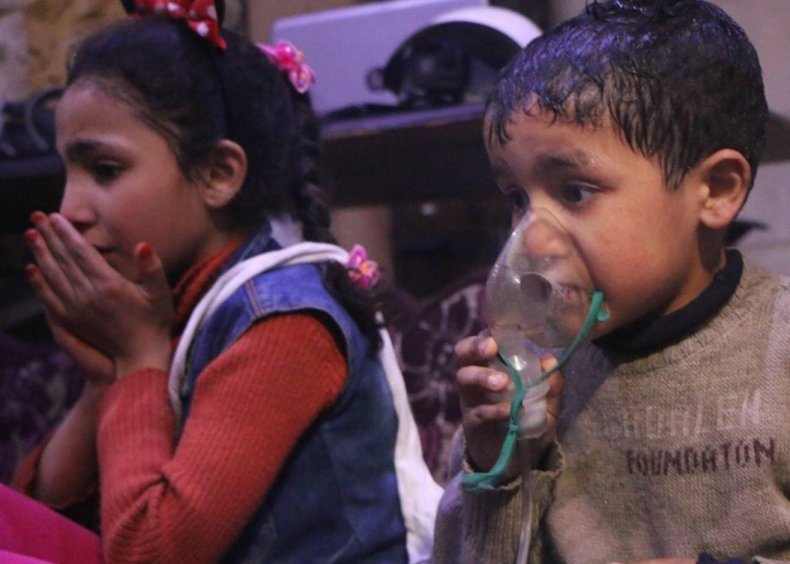 "OPCW arrived on Saturday," tweeted the U.K. delegation. "Russia & Syria have not yet allowed access to Douma. Unfettered access essential. Russia & Syria must cooperate."
The U.K. delegation tweeted after a briefing by the OPCW director-general, Ahmet Üzümcü, of the body's executive council on the current status of the fact-finding mission in Syria.
A spokesperson for the OPCW said the organization hoped to soon release the director-general's remarks in full.
The Russian foreign ministry and the Syrian government did not respond to a request for comment.
Russian Deputy Foreign Minister Sergei Ryabkov said OPCW investigators were not allowed to access the attack site in Douma because they did not have a U.N. permit to do so, reported Associated Press.
The World Health Organization said its partners around Douma, just northeast of Damascus, reported at least 500 people presenting themselves to medical facilities and displaying symptoms of exposure to toxic chemicals after the latest attack. A further 43 people who had died in the shelling showed similar signs.
Distressing images and video from the aftermath showed dead bodies, including those of children, foaming at the mouth.
The U.S., U.K. and France blamed the Assad regime for the attack and carried out joint strikes on Syria in response to Douma, designed to degrade the regime's chemical weapons facilities and deter similar uses of banned weapons in the future.
The attack echoed a 2017 chemical attack in the town of Khan Sheikhoun, which killed dozens of civilians, attributed to the Assad regime by the U.N. The U.S. carried out missile strikes on the Syrian airfield from which the chemical attack was launched.
This article was updated to include comments by Russian Deputy Foreign Minister Sergei Ryabkov.