Russia and Turkey Remain Defiant in Fighter Jet Row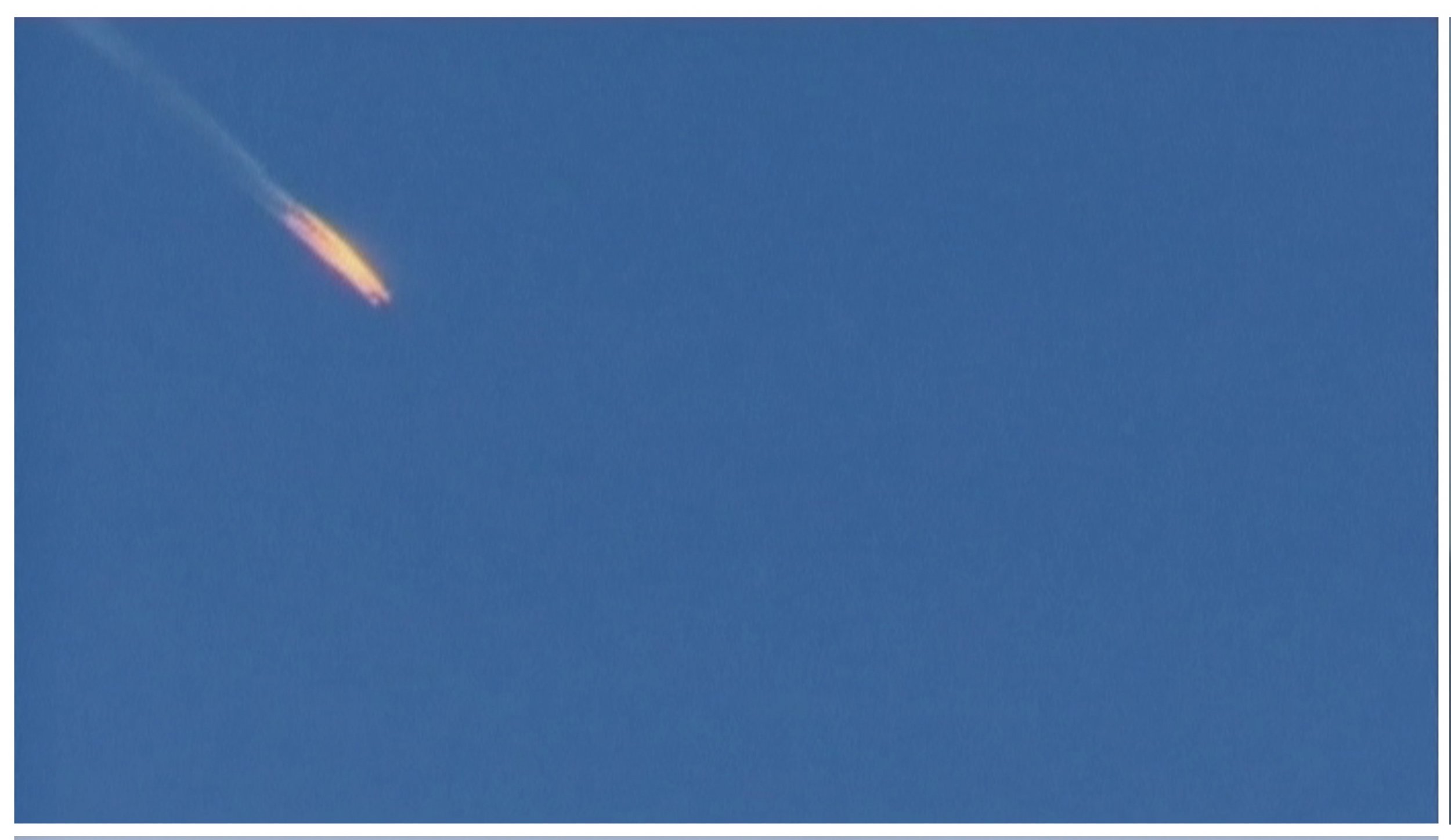 Russia sent an advanced missile system to Syria on Wednesday to protect its jets operating there and pledged its air force would keep flying missions near Turkish air space, sounding a defiant note after Turkey shot down a Russian fighter jet.
Underscoring the message, Russian forces launched a heavy bombardment against insurgent-held areas in Latakia on Wednesday, near where the jet was downed, rebels and a monitoring group said.
The downing of the jet on Tuesday was one of the most serious publicly acknowledged clashes between a NATO member and Russia for half a century, and further complicated international efforts to battle Islamic State militants in Syria.
President Tayyip Erdogan made no apology, saying his nation had simply been defending its own security and the "rights of our brothers in Syria". He made clear Turkish policy would not change.
Russian officials expressed fury over Turkey's action and spoke of retaliatory measures that were likely to include curbing travel by Russian tourists to Turkish resorts and some restrictions on trade.
Russian Foreign Minister Sergei Lavrov described it as a planned act and said it would impact efforts toward a political solution in Syria. Moscow would "seriously reconsider" its relations with Ankara, he said.
Jets believed to be Russian also hit a depot for trucks waiting to go through a major rebel-controlled border crossing with Turkey, Bab al-Salam, the head of the crossing said.
Syrian jets have struck the area before, but if confirmed to have been carried out by Russia, it would be one of Moscow's closest air strikes to Turkish soil, targeting a humanitarian corridor into rebel-held Syria and a lifeline for ordinary Syrians crossing to Turkey.
But the Russian response was also carefully calibrated, indicating Moscow did not want to jeopardize its main objective in the region: to rally international support for its view on how the conflict in Syria should be resolved.
"We have no intention of fighting a war with Turkey," Lavrov said. Erdogan also said Ankara had no intention of escalating tensions with Russia.
Speaking on a trip to the Ural mountains city of Nizhny Tagil, Russian President Vladimir Putin ordered the despatch of an advanced weapons system to Russia's Khmeimim air base in Syria's Latakia province.
"I hope that this, along with other measures that we are taking, will be enough to ensure (the safety) of our flights," Putin told reporters, in an apparent warning to Turkey not to try to shoot down any more Russian planes.
Kremlin spokesman Dmitry Peskov said Russia was forced to fly missions close to the Turkish border because that was where the militants tended to be located. Russian operations would continue, he said.
MUTUAL RECRIMINATION
Turkey said the downed jet had encroached on Turkish air space and was warned repeatedly to change course, but Russian officials have said the plane was at no time over Turkey.
The crew ejected, and one pilot was shot dead by rebels as he parachuted to the ground. A Russian marine sent to recover the crew was also killed in an attack by rebels.
The surviving pilot was quoted by Russian agencies as saying the crew "knew the region like the back of their hand", that they did not fly over Turkish air space, and that there were no visual or radio warnings from Turkey.
At a business event in Istanbul, Erdogan said Turkey had made a "huge effort" to prevent such incidents but that the limits of its patience had been tested after repeatedly warning Russia about air space incursions in recent weeks.
"Nobody should expect us to remain silent against the constant violation of our border security, the ignoring of our sovereign rights," Erdogan said.
Turkey has been angered by Russian air strikes in Syria, particularly those near its border targeting Turkmens, who are Syrians of Turkish descent. Erdogan dismissed Moscow's assertions that it is in Syria to combat Islamic State.
"The Daesh terrorist organization does not have a presence in this region of Latakia and the north where Turkmens are based. Let's not fool ourselves," he said, using an Arabic acronym for Islamic State.
He also took a swipe at Russian support for Syrian President Bashar al-Assad, whose removal from power Turkey sees as critical to any hopes for lasting piece.
"To side with someone who spreads state terrorism, to give consent to brutality is brutality itself," he said.
Russia questioned Turkey's relationship with Islamic State.
Prime Minister Dmitry Medvedev alleged Turkish officials were benefiting from Islamic State oil sales. Lavrov said it was no secret that "terrorists" use Turkish territory.
Senior Turkish officials vehemently denied in any way supporting the radical Islamist group. The government says it is doing its best to combat cross-border fuel smuggling and has been able to curb the trade.
"Our position on Islamic State is perfectly clear," a senior official said, pointing out Turkey was a key member of the U.S.-led coalition against Islamic State and had suffered attacks by the militants itself.
TRADE TIES
Russia made clear it could target Turkey economically.
"The direct consequences could lead to our refusal to take part in a whole raft of important joint projects and Turkish companies losing their positions on the Russian market," Medvedev said in a statement.
Russia is a major exporter of grain and energy to Turkey, and sends over four million tourists each year to Turkish resorts, second only to the number of German tourists.
The Russian government has already said it will discourage Russian tourists from traveling to Turkey, though the immediate impact will be limited because Turkey is now in the off-season.
Shares in Turkish firms including Enka Insaat (ENKAI.IS), which has construction projects in Russia and two power plants in Turkey using Russian gas, and brewer Anadolu Efes (AEFES.IS), which has six breweries in Russia and controls around 14 percent of the market, fell immediately after the jet was downed.
But while Russia may mothball deals with Turkish firms and curb imports of Turkish goods, it is unlikely to let the fallout affect energy exports that are the core of their economic relationship.
"Erdogan is a tough character, and quite emotional, and if Russia pushes too far in terms of retaliatory action, I think there will inevitably be a counter reaction from Turkey (like) tit-for-tat trade sanctions, perhaps extending to things like the Russia nuclear deal," said Nomura strategist Timothy Ash.
"But I think there is also a clear understanding that any such action is damaging for both sides, and unwelcome. The ball is in Russia's court now," he wrote in a note.