Russia announced on Thursday the deployment of over 140 combat and supply ships, over 50 aircraft, 1,000 pieces of military equipment, and 10,000 military servicemen.
The Russian Defense Ministry said the Russian Navy will have a series of exercises in all zones of responsibility from January to February, according to the Russian news agency TASS.
"In accordance with a plan for training the Russian armed forces in 2022 a series of naval exercises will be held in January-February in all zones of the fleets' responsibility under the general guidance of the commander-in-chief of the Russian Navy, Admiral Nikolay Yevmenov," the news release says, TASS reported.
"The exercises will encompass seas washing Russia and also World Ocean areas of key importance. There will be some exercises in the Mediterranean and Northern seas and the Sea of Okhotsk, in the Northeastern Atlantic and in the Pacific," the Defense Ministry said, according to TASS.
Six amphibious assault ships from the Baltic and Northern fleets left the port of Baltiysk on January 15 to go to an area designated for an upcoming exercise, TASS reported.
A day before, there were reports of six Russian amphibious warfare vessels from the Northern and Baltic fleets passing through the English Channel, according to The Drive. Some expect the vessels to eventually reach the Black Sea.
TASS reported that the six vessels are now crossing the Northern Sea.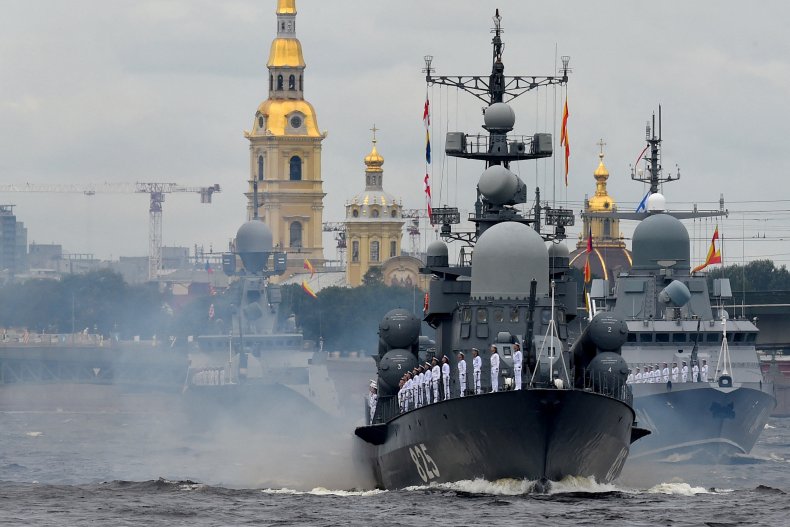 The announcement of the exercises comes after President Joe Biden made comments Wednesday suggesting that a "minor incursion" from Russia into Ukrainian territory may result in a more measured response from the United States and allies, according to The Associated Press.
"It's one thing if it's a minor incursion and we end up having to fight about what to do and not do," Biden told reporters during an East Room news conference, CNN reported. "But if they actually do what they're capable of doing with the forces amassed on the border, it is going to be a disaster for Russia if they further invade Ukraine."
Biden said he drew the line at "Russian forces crossing the border, killing Ukrainian fighters," when later asked to clarify his meaning of "minor incursion," according to CNN.
On Thursday, Biden made new comments regarding a Russian invasion into Ukraine, AP reported.
"I've been absolutely clear with President Putin," Biden said, according to AP. "He has no misunderstanding: Any, any assembled Russian units move across the Ukrainian border, that is an invasion."
He added that should an invasion occur, it would be met with a "severe and coordinated economic response," AP reported.