Is Russia Arming the Afghan Taliban? 'Idle Gossip' from U.S., Embassy Claims
Russia has blasted recent accusations from a top U.S. military commander who said the country was supplying weapons to the Taliban as "idle gossip."
Officials from Russia's embassy in Kabul hit back against the claim on Sunday. "Once again, we insist that such statements are absolutely baseless and appeal to officials not to talk nonsense," it said in a brief statement, Reuters reported.
On March 23, General John Nicholson, head of U.S. forces operating in Afghanistan, told the BBC that Russia had direct ties to the Taliban militant group, claiming that the country had conducted "terrorism exercises" on the Afghan border with Tajikistan. It is alleged that the military would leave behind equipment—including night vision goggles and machine guns— to later be smuggled across the border.
"We see a narrative that's being used that grossly exaggerates the number of [Islamic State militant group (ISIS)] fighters here," the commander told BBC News. "This narrative then is used as a justification for the Russians to legitimise the actions of Taliban and provide some degree of support to the Taliban.
"We've had stories written by the Taliban that have appeared in the media about financial support provided by the enemy. We've had weapons brought to this headquarters and given to us by Afghan leaders and said, this was given by the Russians to the Taliban," he added. "We know that the Russians are involved.
"[There is] a misinformation campaign which will be familiar to anyone who has observed Russian behaviour elsewhere around the world."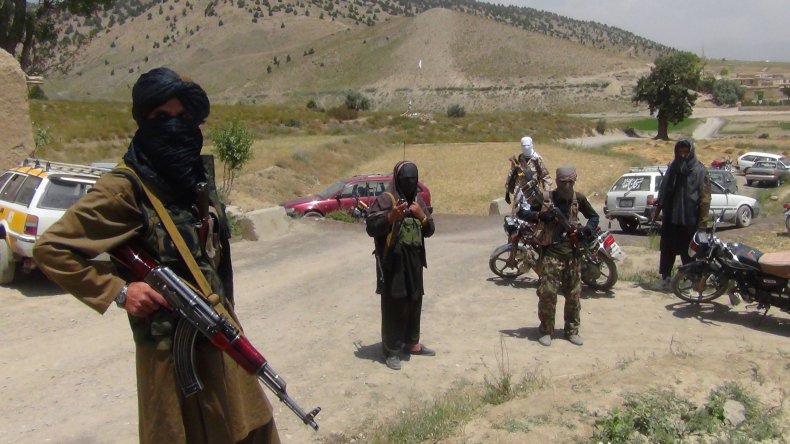 Earlier this month, during a trip to Kabul, defense secretary Jim Mattis said that the Pentagon was seeking a peace process with the Taliban leadership. As reported, he said: "It may not be that the whole Taliban comes over in one fell swoop. I think that would be a bridge too far right now to expect, but there are elements of the Taliban clearly interested in talking to the Afghan government."
In November last year, NATO announced that it was sending an additional 3,000 troops into the region "to help the Afghans break the stalemate" with Taliban forces. Three months prior, president Donald Trump announced plans to boost the number of soldiers in Afghanistan by around 4,000 to aid the long-running campaign.
The U.S. already had roughly 11,000 troops there.
The latest conflict has spanned three presidencies. In the 1980s, an expensive CIA-led program funded militant Islamic groups in Afghanistan in attempt to, as the New York Times reported at the time, "drive the Soviet Army from their country."