Russia Arrests Over 4,000 for Anti-War Protest, Most Since Ukraine War Began
More than 4,000 people are currently being detained in Russia for protesting against the country's military operations in Ukraine.
According to OVD-Info, a media organization that monitors human rights and political persecutions in Russia, as of Sunday morning at least 4,366 people are being detained across 55 cities.
"Each police department may have more detainees than published lists. We publish only the names of those people whom we know for certain and whose names we can publish," OVD-Info states on its website, according to a translation.
Sunday's detainee count marks a sharp uptick from reported numbers in recent days, and marks the highest daily count recorded by the organization so far since the war in Ukraine began. OVD-Info said on March 2 that at least 851 people had been detained for protests, while on March 4 and 5 the number was 80 and 82 respectively. On February 27, Russia also saw a higher number with 2,857 detainees, while 1,985 individuals were detained on February 24. Since then, OVD-Info reports nearly 13,000 people have been detained at "anti-war actions" in Russia.
Yulia Zhivtsova, who has been participating in protests, told NPR that she is worried about the risk of demonstrating, but said that "on the other hand, the situation has changed dramatically over the past few years."
"So now, unfortunately, you can't say that you are safe if you don't speak out. Unfortunately, now, it's kind of a lottery. And you can get detained somewhere near the protests if you're not participating in them for real," she said. "So there's no point, like keeping silence."
She described the Russian invasion of Ukraine as a "very bad dream."
"From what I've learned at school, when I was a child, we were always taught that Kyiv was the mother of all Russian cities. That's what we study in our history books. So it's quite a horrible thing to realize that one day you wake up, and your tanks are going into Kyiv," Zhivtsova told NPR.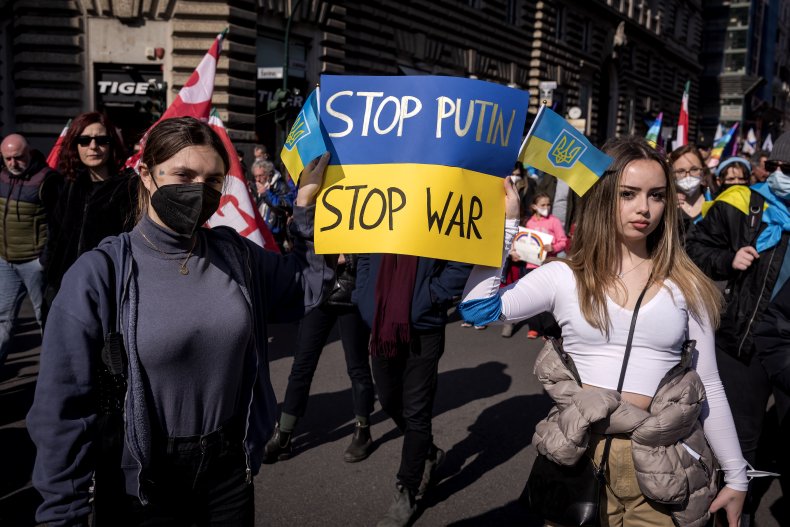 Last week, Russia's parliament passed a law that criminalizes the distribution of "fake news" about the Russian military. The move led to several news organizations including Bloomberg, CNN and the BBC to suspend their on-the-ground reporting in Russia.
"We have with great regret decided to temporarily suspend our news gathering inside Russia," Bloomberg Editor-in-Chief John Micklethwait said Friday, according to Bloomberg News. "The change to the criminal code, which seems designed to turn any independent reporter into a criminal purely by association, makes it impossible to continue any semblance of normal journalism inside the country."