Russian forces fighting in Ukraine have lost 16 artillery systems in the past 24 hours, Kyiv said Thursday. A further three MLRS, or multiple launch rocket systems, were taken out over the previous day, the General Staff of the Armed Forces added.
Writing on Facebook, the General Staff said in its daily update that Russia has lost a total of 2,962 artillery systems since the start of full-scale war in February 2022.
On Wednesday, the Russian defense ministry said Ukraine had lost several howitzers, as well as updating the Kremlin count of reported Ukrainian losses to 4,717 field artillery cannons and mortars since February 24, 2022. On Tuesday, Russian defense minister, Sergei Shoigu, said that in the past month Russia had destroyed 225 field artillery pieces and mortars used by Ukraine's armed forces.
Newsweek could not independently verify Ukraine's and Russia's count, and has contacted the Russian defense ministry for comment via email.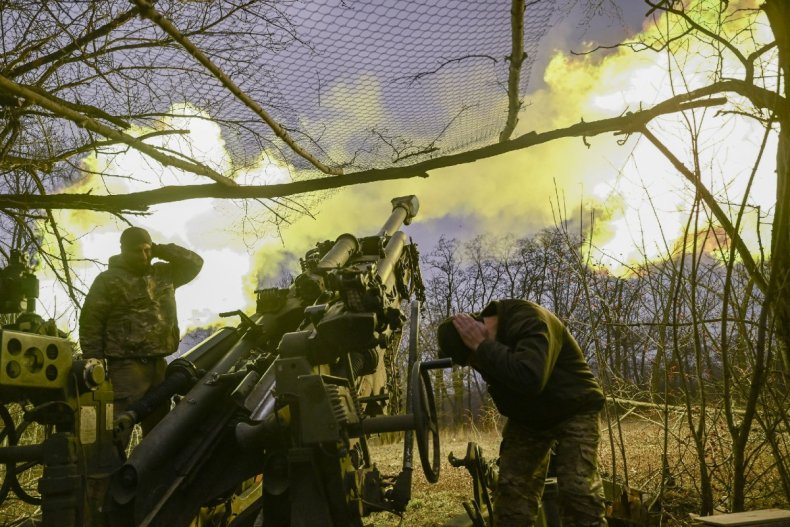 Artillery supplies and associated ammunition are key to both sides waging mechanized war, which is playing out across Ukraine's battlefields.
"The war in Ukraine has become an artillery war," the Center for Strategic and International Studies said in January.
On Wednesday, the U.S.-based Institute for the Study of War think tank said Russian artillery fire had continued in several regions of Ukraine, including the southern Kherson region and contested Luhansk Oblast.
In early April the think tank said that Russian forces were using artillery to compensate for their "degraded offensive capabilities." A "high demand" for artillery shells suggested Moscow's troops were "still heavily relying on artillery to offset key shortcomings," including weak targeting skills and a lack of air power use in Ukraine.
Artillery and shells have also been key concerns from Kyiv, which has repeatedly called for further supplies for its war effort.
The U.S. has included artillery and shells in its tranches of military aid to Ukraine. On Wednesday, the Defense Department announced a new $300 million wave of security assistance, which included more ammunition supplies for the 38 High Mobility Artillery Rocket Systems (HIMARS) sent to Ukraine by the U.S.
The package will also furnish Ukraine with additional artillery and mortar rounds, the Defense Department said. Current U.S. military aid to Ukraine includes several types of howitzers, artillery rounds and mortar systems.
In early March, European Union foreign policy chief, Josep Borrell, said that for Ukrainian forces to win, Kyiv's Western backers "must deliver more artillery ammunition and deliver it faster." The EU then agreed to send one million artillery rounds to Ukraine over the coming year at a cost of €2 billion ($2.2 billion).
This coincided with an assessment from the British defense ministry, which suggested Moscow was engaging in operations with "less support from artillery fire because Russia is short of munitions."