Russia, Assad, Iran and Hezbollah to Begin Offensive Against Rebels in Aleppo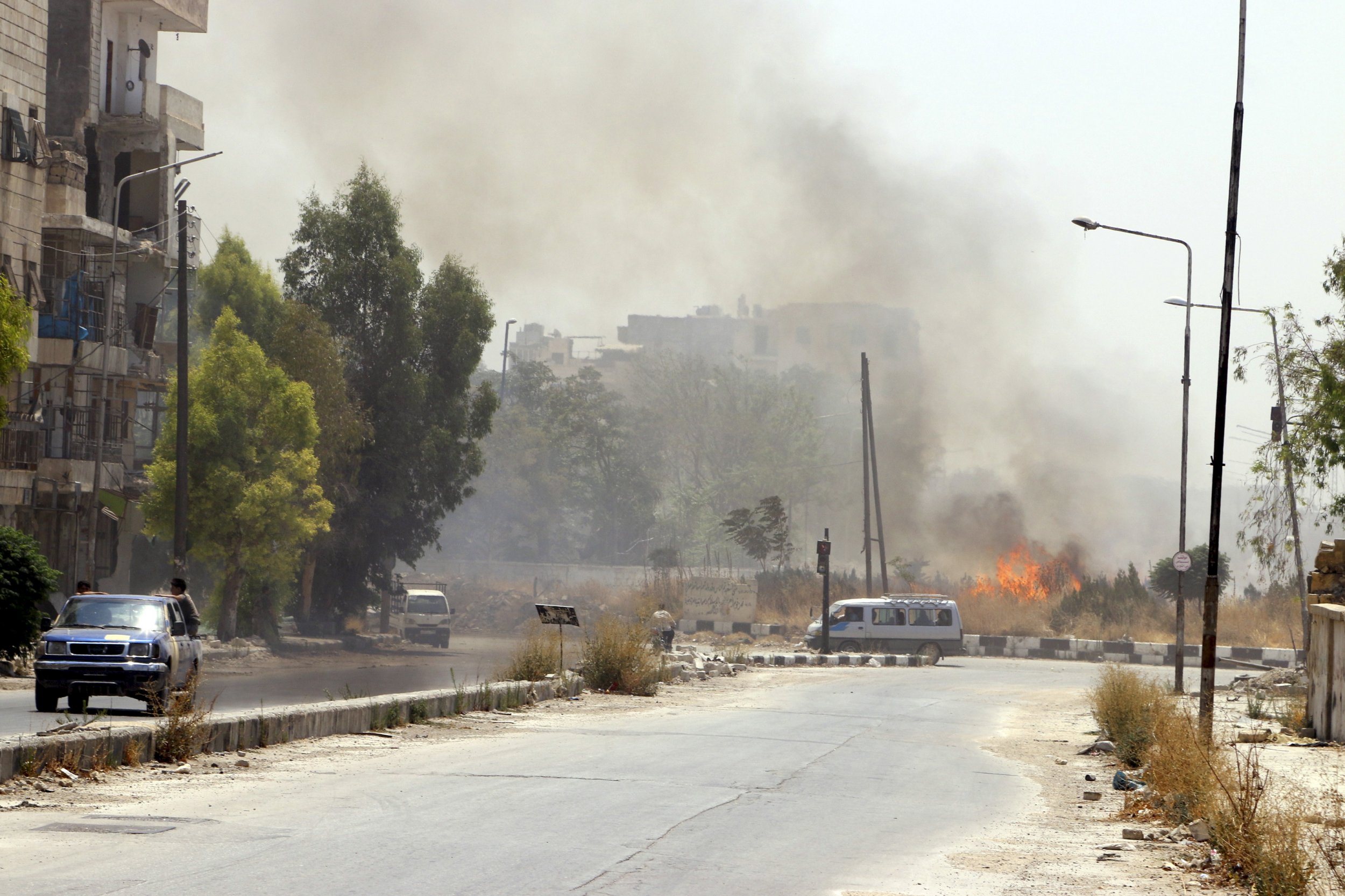 Syria's army along with Iranian and Hezbollah allies will soon launch a ground attack supported by Russian air strikes against insurgents in the Aleppo area, two senior regional officials told Reuters on Tuesday.
Control of Aleppo city and the surrounding province in the area near the Turkish border is divided among the Syrian government, insurgent groups fighting Assad and the Islamic State group that controls some rural areas near the city.
"The big battle preparations in that area are clear," said one of the officials familiar with the plans. "There is a large mobilization of the Syrian army ... elite Hezbollah fighters, and thousands of Iranians who arrived in stages in recent days."
Islamic State and other insurgents, including groups backed by Assad's foreign enemies, have been fighting each other north of the city in an area of territory where Turkey and the United States have been laying plans to crush Islamic State, which controls large swathes of Syria and Iraq.
The offensive, which both officials said would begin soon, would expand on a ground attack by the same alliance last week that is targeting rebels in Hama province farther west. The officials, speaking on condition of anonymity, said thousands of Iranian troops had arrived to take part in the offensives in support of Syrian President Bashar al-Assad.
Earlier on Tuesday, rebel commanders said Syrian insurgents were deploying extensive supplies of anti-tank missiles provided by their foreign backers to counter ground attacks by the Syrian army and its allies, supported by heavy Russian air strikes.
With support from Russian air strikes, which began on Sept. 30, and help from Lebanon's Hezbollah and Iranian soldiers, the Syrian army is trying to drive insurgents from western areas crucial to Assad's survival, and has recaptured a number of towns in the provinces of Hama and Latakia.
Russia's two-week-old air campaign has bolstered Assad and left the United States struggling to adjust its military support program for Assad's opponents.
The United States and Russia are conducting separate air campaigns in Syria, which they have said are targeting Islamic State.
But Washington has said Moscow's campaign has mainly targeted other insurgent groups including those that have fought Islamic State. Russia has denied the allegation.
In an audio message on Tuesday, Islamic State, which controls large swathes of Syria and Iraq, urged Muslims to launch a "holy war" against Russians and Americans.
"Islamic youth everywhere, ignite jihad against the Russians and the Americans in their crusaders' war against Muslims," said Islamic State spokesman Abu Mohammad al-Adnani.
The United States and Russia are due to hold another round of military talks on Wednesday as the two Cold War adversaries seek to avoid an inadvertent clash during their bombing campaigns over Syria.
"Our talks there are very professional, they're very constructive, and I expect them to lead in very short order to an agreement," U.S. Defense Secretary Ash Carter told a news briefing.
The U.S. military said on Tuesday that two U.S. and two Russian aircraft had "entered the same battle space" over Syria on Saturday, getting within miles (kilometers) of each other.
BATTLE FOR KAFR NABUDA
The Syrian Observatory for Human Rights, a British-based group tracking the war, said a battle was under way for control of the town of Kafr Nabuda in Hama province, which the army said it captured on Monday. At least 25 fighters on the government's side were killed, it said.
The town marks the western edge of the defensive line along which the rebels have stationed a dozen anti-tank missile launch platforms, said Ahmed al-Seoud, head of the 13th Division, a foreign-backed faction fighting under the umbrella of the Free Syrian Army.
"They are highly effective. They are breaking the Russian-Iranian and Syrian army," he said. "The situation in terms of ammunition and weapons with the Syrian opposition is excellent."
Foreign states opposed to Assad have supplied the TOW guided missiles to a number of rebel groups via an operations room in Turkey, one of the states in the region that wants Assad gone.
The Observatory's director, Rami Abdulrahman, said the rebels were using significant numbers of TOWs. "It increased in the last days, and it has proven its effectiveness," he said.
The rebels are hoping for more military support from Arab states, notably Saudi Arabia, which has warned Russia its intervention will escalate the war and inspire more foreign fighters to go to Syria to fight.
An alliance of insurgents targeted by Russian air strikes said on Tuesday it was starting an operation to recapture Hama.
The Army of Conquest, which captured most of the neighboring Idlib province in May, includes al Qaeda's Syria wing, Nusra Front, the Islamist Ahrar al-Sham faction and groups including Chechen and central Asian fighters. But it will struggle to advance in the face of the Russian air strikes and Syrian army assault, Abdulrahman said.
Both sides have sent reinforcements to the area. Hezbollah has redeployed all its fighters in Syria to take part in the battle in the northwest, according to sources familiar with political and military developments in Syria.
Abdulrahman said insurgents sent to Kafr Nabuda - many of them from jihadist groups - had helped prevent the army from recapturing the town.
RUSSIAN EMBASSY ATTACK
Two shells landed near the Russian Embassy in Damascus on Tuesday, while a small pro-Moscow demonstration was taking place, but there were no reports of casualties or damage to the embassy building.
Interfax news agency said Russia's air force carried out 88 sorties in the last 24 hours, one of the biggest totals of its campaign.
Syria's foreign ministry said on Tuesday that Europe was trying to misrepresent the Russian intervention, which it said had "demonstrated the credibility and determination of the Russian and Syrian leadership to combat terrorism".
A ministry source quoted by state media said the Russian campaign came in response to a formal Syrian request - unlike air strikes carried out by U.S.-led coalition - "and these joint efforts will find the appropriate circumstances to launch the political path to solve the crisis in Syria".