Russia Slams U.S. Response to 'Terrorist Strike' on Black Sea Fleet
A Russian official has criticized the U.S. over its response to what it called a "terrorist attack" on its Black Sea Fleet.
Russian ambassador to the U.S. Anatoly Antonov spoke after a drone attack at the Black Sea port in Sevastopol in annexed Crimea on Saturday.
Ukraine has not claimed responsibility for the attack but U.S. President Joe Biden criticized Moscow's subsequent decision to halt the arrangement that allows grain to be transported from Ukraine, called it "purely outrageous" and saying it would increase starvation.
Russia said it would stop shipments of grain from leaving Ukraine, one of the world's largest producers. The termination of the U.N.-brokered deal is set to lead to a deepening food crisis across the globe.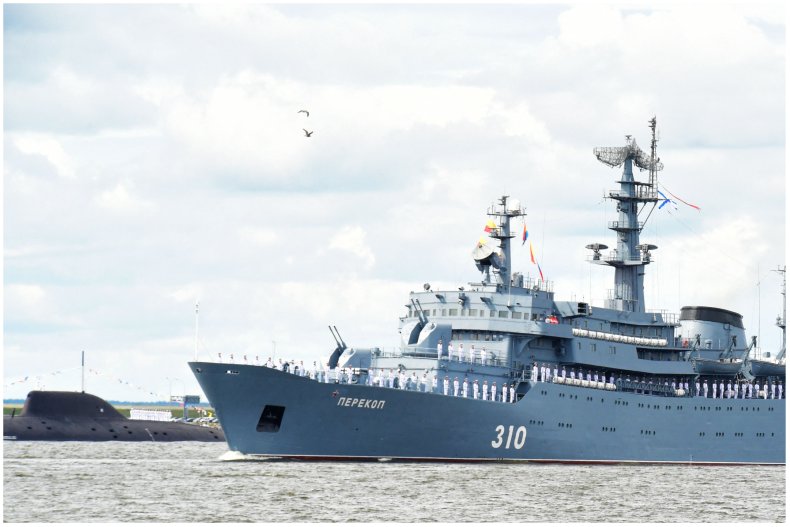 According to the Russian state-backed outlet TASS, Antonov said: "We note the complete disregard for the identified signs of the involvement of the British military specialists in organizing today."
He added: "The situation has escalated even more. But the United States does not intend to notice this. Again, everything has been reduced to false accusations of our country in the aggravation of the world food problem.
"In the context of attacks and provocations against Russian military and merchant ships involved in the Black Sea Initiative, we can not continue working without paying attention to security issues.
"It is unfair to condemn Russia in suspending the implementation of the deal. This happened due to the reckless actions of the Ukrainian authorities."
Russia has claimed one of its ships was hit and that all drones were shot down, but Ukrainian outlet Pravda reported three ships in the fleet were damaged. Newsweek has not been able to verify the claims.
Ukrainian President Volodymyr Zelensky called the Russian decision to accuse Ukraine of being behind the attack and then to suspend grain transportation as being "rather predictable," according to the BBC.
Previously there have been explosions in Crimea that Ukraine has not taken responsibility for, including the Kerch bridge and at Saky air base close to Novofedorovka beach.
Russia has stepped up its rhetoric on apparent terrorist attacks, including on Saturday when it accused the U.K. of being behind explosions that affected the Nord Stream 1 and 2 natural gas pipelines.
The U.K. Ministry of Defense branded the allegation as "false claims on an epic scale."
Newsweek has contacted the Kremlin for comment.