Russian-Backed Crimea PM Endorses Putin as 'President for Life'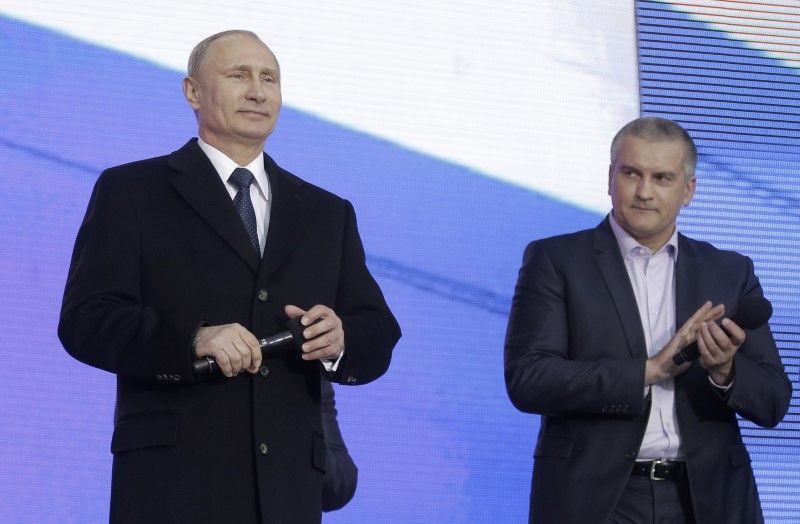 The Russian-backed prime minister of Crimea said on Saturday that Vladimir Putin should be made president of Russia for life and that the Soviet Union would never have collapsed had Putin been in charge.
Sergei Aksyonov, marking the third anniversary of the day he signed off on Russia's annexation of the Ukrainian peninsula, said Russia needed continuous strong leadership to contend with multiple external threats.
"If our president Vladimir Vladimirovich (Putin) was in charge of things when the Soviet Union existed, the Soviet Union would not have fallen apart," said Aksyonov, who said a few days ago that Russia needed a monarchic style of government.
"Vladimir Vladimirovich must be president for life," Aksyonov told the Rossiya 24 channel.
Putin, 64, has dominated the Russian political landscape for the past 17 years. He has not said whether he will run for a fourth presidential term next year, but is expected to do so.
Aksyonov's comments coincided with celebrations in Moscow marking what Russia regards as its legitimate integration of Crimea, a move condemned by the United States and the EU which imposed punitive sanctions on Moscow that remain in place.
Kiev, which is embroiled in a low-level conflict with pro-Russian separatists in eastern Ukraine, says it wants Crimea back.