Russia-Backed Rebels Say Moscow Doesn't Want War But Will Defend Them
Concerns of a potential Russian invasion of Ukraine escalated Friday as pro-Moscow separatists told civilians to evacuate the breakaway republic of Donetsk in eastern Ukraine following recent clashes.
But Russian officials have repeatedly denied any plans to invade, and this narrative was supported by Johan Bäckman, an adjunct professor at the University of Helsinki and official representative to Finland of the self-proclaimed Donetsk People's Republic and Luhansk People's Republic, both located in the Donbas region near the Russian border.
"Russia is doing everything to stop any possible war," Bäckman told Newsweek. "Russia is a country of peace, not war. Russians do not want and do not need any kind of war. As before, Russia's position is defensive."
But he argued that, in the event of a conflict, "Russia will and has always protected her citizens by all means."
Neither the Donetsk nor Luhansk administrations have received international recognition since declaring independence eight years ago as Kyiv underwent a political uprising that brought to power a government seeking closer ties to the West. But this could change as Russian lawmakers voted to give President Vladimir Putin the choice to endorse the rebels' independence, a move that Ukraine said would essentially kill the beleaguered Minsk Agreements signed between Kyiv and the separatists in the early stages of the conflict.
As Ukraine's war first erupted in 2014, Moscow passed legislation to support the annexation of another Ukrainian territory, the Crimean Peninsula, which held a referendum in support of the move despite backlash from Kyiv and its Western backers.
White House national security adviser Jake Sullivan warned that Russia could seek to annex Donbas as well despite much of the region still under the control of Ukraine. And the recent dueling accusations of ceasefire violations, paired with reports of an explosion at Donetsk's capital, have only elevated concerns that a conflict was imminent.
But Bäckman said the escalation was business as usual for a region still consumed by a war that has killed around 14,000 people.
"Unfortunately there have been clashes almost on daily basis in Donbas since 2014," Backman told Newsweek. "So what is happening now, is nothing new, unfortunately."
At the same time, he accused the Ukrainian military of "illegally occupying up to 70% of the territories of DPR and LPR," calling this the "core of the problem," and suggested they withdraw immediately.
"It is my recommendation that Ukraine withdraws her troops from the territory of DPR and LPR as soon as possible and stop any military action against the civil population, and also, starts to follow the Minsk agreements," Bäckman said.
Bäckman also called on Ukraine to "chose the same neutral attitude as Finland," which has opted to stay out of NATO.
But Finland too has rejected the separatists' side of the story and Pasi Rajala, a press counsellor at Helsinki's embassy in Washington, told Newsweek that "Mr Bäckman is in no way affiliated with the Finnish Government and is no representative of Finland—we obviously support Ukraine's territorial integrity and consider occupation of Crimea and Ukraine's Eastern territories illegal."
Rajala said that Bäckman was "of course free to express his views even when they are against our government policies" but emphasized "his affiliation with the Kremlin" and pointed out recent legal troubles such as Bäckman being "convicted of illegal stalking and harassment of a journalist who had written about Russia's information operations."
Bächman rejects the criminal allegations as "politically motivated" and said he was "not employed by Russia" but "an independent Finnish scholar."
As the legal drama played out in the Nordic nation, tensions appeared to only intensify in the heart of Eastern Europe.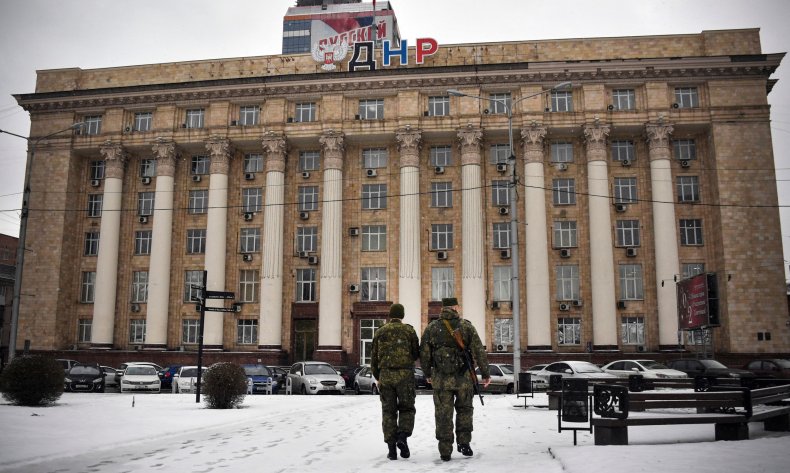 The White House and the State Department called last week for all U.S. citizens to leave Ukraine in anticipation of a Russian military attack. That call was then expanded to include Russia's ally Belarus, where a large contingent of Russian troops continue to conduct exercises set to end Sunday, as the Winter Olympics Games wrapped up in Beijing, as well as the neighboring country of Moldova and its own Russia-backed breakaway state of Transnistria.
Bearing a Soviet-era hammer and sickle on its official flag, Transnistria, also called Pridnestrovie and officially known as the Pridnestrovian Moldavian Republic, has its roots in an autonomous Soviet province that refused to join the newly independent Republic of Moldova as the USSR collapsed. A subsequent war saw both Russian and Ukrainian fighters joining the ranks of Transnistrian rebels and a ceasefire was reached in 1992, leaving no lasting settlement some three decades later.
Galtsev Pavel Yuryevich, acting head of the Transnistrian Foreign Ministry's Public Communications Department told Newsweek that the State Department's claim of impending danger to those in the self-proclaimed state was "unfounded" and "does nothing but spread panic."
"At the same time," he added, "we currently have no data on American citizens who have actually left Pridnestrovie after this Department of State's message."
With Russian troops already amassed along most of Ukraine's borders, including to the west in Russia, to the south in Crimea and to the north in Belarus, Kyiv has raised concerns that Russian forces in Transnistria could open yet another front in the southwest if a conflict erupted.
But Yuryevich dismissed the notion that the tiny separatist state of between 350,000-450,000 could present a serious challenge to Ukraine.
"The current military doctrine of Pridnestrovie is defensive in nature," Yuryevich said. "To date, the PMR armed forces are fulfilling their regular tasks. We have no military preparations, nor do we declare mobilization. With all the desire, it is impossible to see any signs that Pridnestrovie is preparing for some kind of conflict."
"Even if judged only from a military point of view," he added, "a simple comparison of the population and the size of the territories makes any talks about Pridnestrovie's possible threat to Ukraine ironic and ridiculous."
As such, he called the claims "far from reality."
But in line with a recent uptick of Russian military exercises surrounding Ukraine, Russian troops stationed in Transnistria as peacekeepers have held a series of drills over the past month including live-fire maneuvers that have exacerbated Ukraine's worries.
Yuryevich too challenged this assumption, saying "there have been years-long attempts to speculate on this topic."
"However, these speculations become meaningless when we look at the facts: for three decades, Russian military personnel in Pridnestrovie have been performing the tasks that are connected solely with ensuring sustainable peace and security," he argued.
Among these tasks, he pointed out, was guarding the Cobasna ammunition depot, considered by many to be the largest ammunition storage site in Eastern Europe.
Yuryevich called the Russian peacekeeping presence "legal and legitimate, since it is recorded in and regulated by the fundamental documents on the Moldovan-Pridnestrovian conflict settlement" and stated the deployment "is also supported by the population of Pridnestrovie and Moldova."
Since coming to office in December 2020, however, Moldovian President Maia Sandu has repeatedly called for the withdrawal of the roughly 1,400-1,500 Russian troops in Transnistria. The U.S. and NATO have issued similar appeals.
But Yuryevich said Ukraine too was kept in the loop of Russia's peacekeeping activities, which he said amounted to "a fairly small contingent whose size and technical equipment simply cannot provide it with an offensive potential." And he pointed out that Kyiv itself has also contributed 10 personnel to the mission.
"We have never posed a threat to anyone, especially our eastern neighbor with whom we share historical, ethno-cultural, trade and economic ties," Yuryevich said. "One-third of the Pridnestrovian population are ethnic Ukrainians, more than one hundred thousand residents of Pridnestrovie are citizens of Ukraine."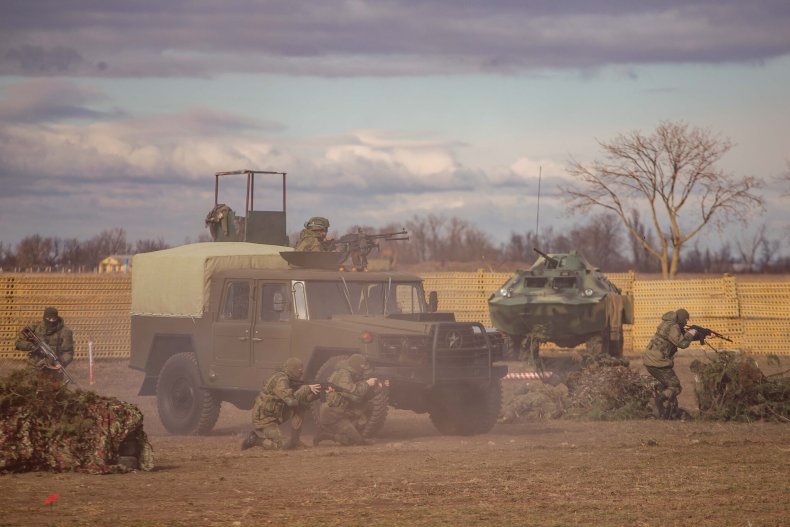 But such remarks are unlikely to assuage fears in Kyiv, which is struggling to deal with even warnings of a potential Russian military attack. Following U.S. allegations that Russia may fabricate an attack or act of sabotage as a pretext to invade its neighbor, Ukrainian Foreign Minister Dmytro Kuleba took to Twitter in an attempt to dispel any rumors.
"We categorically refute Russian disinformation reports on Ukraine's alleged offensive operations or acts of sabotage in chemical production facilities," Kuleba said. "Ukraine does not conduct or plan any such actions in the Donbas. We are fully committed to diplomatic conflict resolution only."
And in the wake of the Donetsk evacuations and blast, he appeared convinced that a conspiracy was already unfolding in his country's restive east as he retweeted the words of Latvian Foreign Minister Edgar Rinkevics.
"Seems that false flag operation has been launched by #Russia in #Donbass #Ukraine, propaganda channels in Russia getting hysteric," Rinkevics wrote. "I commend #Ukraine for the restraint but it is time for the West to help Ukraine to counter Russian aggression not only in words but also in deeds."
White House Press Secretary Jen Psaki noted Kyiv's apparent restraint as well during a press conference Friday and said the U.S. had "conveyed in many ways" to Ukraine that retaliation would not be helpful to the situation.
The White House also on Friday assigned blame to Russia for a recent series of cyberattacks that reportedly struck Ukrainian state institutions days earlier. The accusations came as Washington and Moscow remained at odds over the latter's push to reshape Europe's security order in order to roll back NATO's eastward expansion and its military activities near Russia's borders.
In the latest development, Moscow released its reply to a U.S. counterproposal to Russian demands. But a day after a U.S. official confirmed to Newsweek that the letter was received by Washington's ambassador to Russia, John Sullivan, Psaki declined to discuss whether U.S. President Joe Biden had read the response yet after three reporters' questions.
She confirmed, however, that U.S. Secretary of State Antony Blinken was still on track to meet with Russian Foreign Minister Sergey Lavrov next week in the event no invasion occurred in the next few days as the Biden administration has suggested.
Russian Foreign Ministry spokesperson Maria Zakharova also predicted that talks would go on even as "the military and political situation in Europe continues to deteriorate."
"We expect that negotiations on them will continue," she added. "We will insist that NATO stop its provocative policy of enlargement, refuse to deploy strike weapons, which threaten us, near our borders, and return the configuration of the alliance's forces to the positions of 1997."
Back in Washington, asked why U.S. officials were still pursuing diplomacy if they felt Russia was preparing military action, Psaki said, "We hope we're wrong."
Shortly after, Biden told reporters that he was "convinced" Putin had made the decision to invade Ukraine but he qualified the assessment by saying "diplomacy is always a possibility."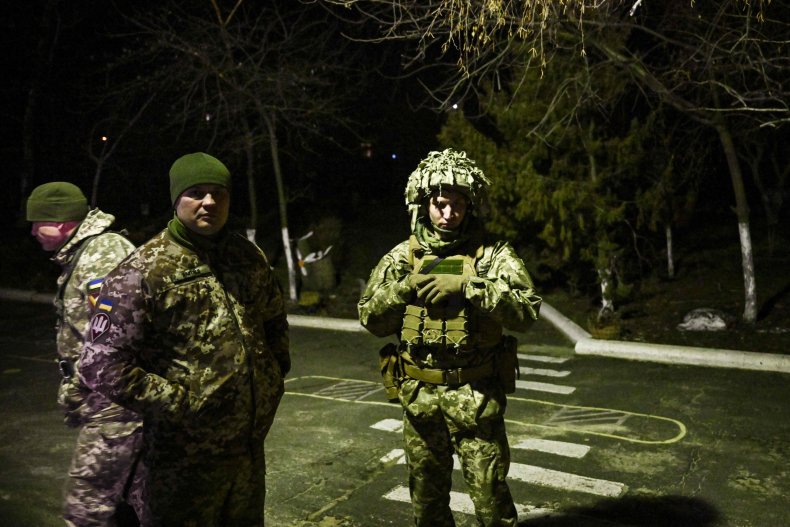 This article has been updated to include comment from Finland's embassy in Washington, D.C. and additional comment from unrecognized Donetsk and Luhansk People's Republic representative Johan Bäckman.