Russia-Backed Television Network Airs Tucker Carlson's Pro-Putin Monologue
Fox News host Tucker Carlson's ongoing defense of Russia has now made its way to that country with a state-backed television network airing a snippet of Carlson's monologue about Russian President Vladimir Putin.
The monologue, in which Carlson, the host of Tucker Carlson Tonight, questions why Americans should dislike Putin, aired this week on RT, an international television network controlled and funded by the Russian government. The channel is often considered a major source of Russian propaganda.
Carlson's monologue was shown on RT on Wednesday with Russian subtitles. In addition to the cable broadcast, an article on Carlson's speech was also posted on RT's website.
"Democrats in Washington have told you you have a patriotic duty to hate Vladimir Putin," Carlson said during the speech. "Anything less than hatred of Putin is treason...hating Putin has become the central purpose of America's foreign policy."
"Very soon, that hatred of Vladimir Putin could bring the United States into a conflict in Eastern Europe," Carlson continued. "Before that happens, it might be worth asking yourself...why do I hate Putin so much?"
"Has Putin ever called me a racist? Has he threatened to get me fired for disagreeing with him?" Carlson rhetorically asked. "Has he shipped every middle-class job in my town to Russia? Did he manufacture a worldwide pandemic?"
"Vladimir Putin didn't do any of that, so why does permanent Washington hate him so much?" Carlson asked.
"But Joe Biden likes Ukraine, so Putin bad, war good," Carlson said.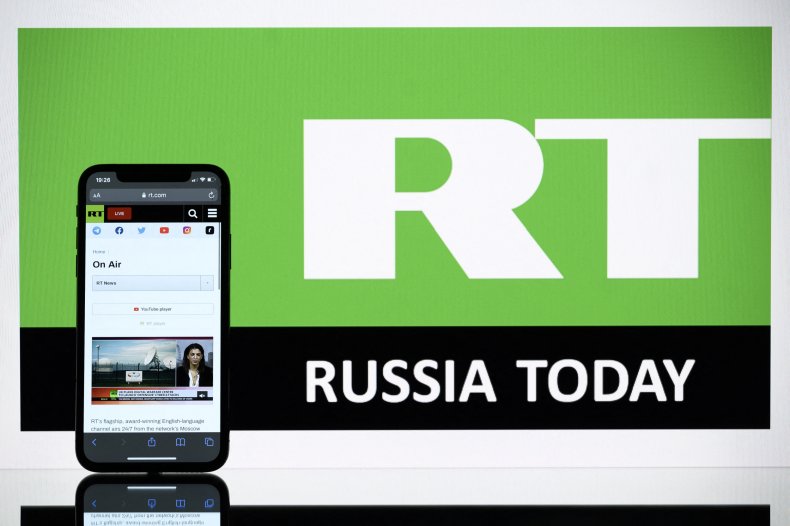 After RT aired Carlson's monologue, the speech was picked up by a number of other Russian news services.
Deadline Hollywood reported that another Russian state news agency, Sputnik News, referenced Carlson's speech in an article on their website titled "Tucker Carlson Slams Biden for Focusing on Putin, Ukraine Instead of US Domestic Problems."
The article asserted that economic sanctions imposed by President Joe Biden in retaliation for the Russian invasion would "entail negative consequences for the American people."
Carlson's speech mirrored previous sentiments that he has expressed regarding Russia and Putin. On Wednesday evening, as the invasion of Ukraine began, Carlson called that country "a pure client state of the United States State Department."
While a number of other Fox News hosts, including Laura Ingraham and Sean Hannity, similarly questioned the United States' role in the Russia-Ukraine conflict, Fox News national security correspondent Jennifer Griffin pushed back on the assertion that the violence in Ukraine was the fault of President Biden.
"How we got to this point is a long story, and it predates the Biden administration," Griffin said on the Monday episode of Hannity's self-titled show. "It includes mistakes made by every U.S. president since the Soviet Union fell apart."
Newsweek has reached out to Fox News for comment.