Russian Navy Head Boasts Baltic Fleet Will Get Six New Warships Amid Nato Tensions
The head of Russia's Navy has issued a patriotic message, invoking historic victories in the Baltic Sea—currently the site of ongoing tensions between his country and NATO—and emphasizing that the Russian Baltic Fleet will be bolstered by six new warships.
To mark Baltic Fleet Day, Navy Commander-in-Chief Nikolai Yevmenov said, in a message published on Russia's defense ministry website, that the fleet established under Peter the Great more than 300 years ago had "won many brilliant victories over the enemy, who tried to push the Russian state off the Baltic coast."
Last summer, the Russian Navy undertook naval exercises in the Baltic Sea, involving dozens of warships and more than 10,000 troops in an operation dubbed "Ocean Shield."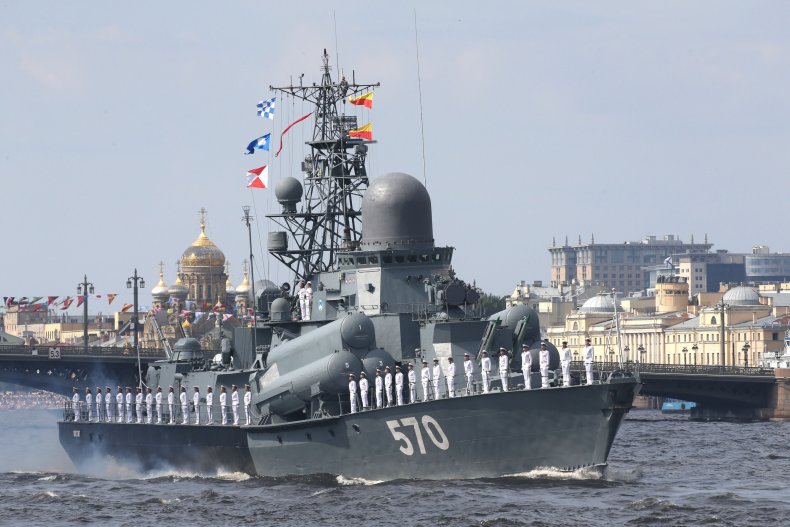 In February, Russia objected to NATO's planned Defender-Europe 20 military exercises across Germany, Poland and the Baltic states, which have since been scaled down due to COVID-19.
Yevmenov said the Baltic Fleet today "is a developing fleet, capable of reliably fulfilling the tasks of preventing threats from maritime destinations in its operational area of ​​responsibility."
He mentioned that the fleet would be boosted by six of the Karakurt-class corvettes from Project 22800 and that four of them will be equipped with the Pantsir-M anti-aircraft systems.
"The first such ship will be the Odintsovo small missile ship, on which tests of the Pantsir complex will soon take place," he said.
The plan to increase the number of ships was first mooted over a decade ago as part of Russia's plans to recapitalize its Navy. The Karakurt class of ships is expected to come into active service under the current procurement cycle, before 2027, to replace aging hardware.
They can host short-range and medium-range systems that have anti-ship capabilities, land-attack capabilities and short-range defense capabilities, depending on the mission.
Mathieu Boulegue, senior research fellow for the London-based think tank Chatham House's Russia and Eurasia program, said the platforms have to be understood in the wider context of additional systems, notably coastal defense platform and multi-layering of electronic warfare capabilities.
"This is not about messaging NATO that we have new standoff capabilities, it is just internal messaging telling the Russian Navy that everything is going according to plan," he told Newsweek.
He said Russia was aiming "to replace aging capabilities with new, smaller, faster, more able systems. Regardless of NATO, regardless of China, regardless of worldwide competition, this is just a snapshot of military procurement between Russia and Russia itself.
"Procurement alone needs to be dissociated from the slow day-to-day context of NATO-Russia competition.
"It is more like a patriotic message or a chest-thumping message for the army itself," he added.