Putin Ally Says Belarus Will Join Ukraine War on This Condition
Belarusian President Alexander Lukashenko's comments he would only order his troops to fight with Russia following an attack on Belarusian territory is intended as a signal to both the West and the Kremlin, an expert has told Newsweek.
Lukashenko is propped up in power by Vladimir Putin following disputed elections in 2020 but has so far avoided direct involvement in his ally's war, although Belarus has been used as a staging post for Russian aggression in Ukraine.
But on Thursday, Lukashenko said at a press conference, "I am ready to fight together with the Russians from the territory of Belarus only under one circumstance—if at least one soldier from there comes to the territory of Belarus to kill my people."
"If they commit aggression against Belarus, the answer will be most cruel," he said, according to Belarusian state-owned news agency BelTA, adding that in such a scenario, "the war will take on a completely different character."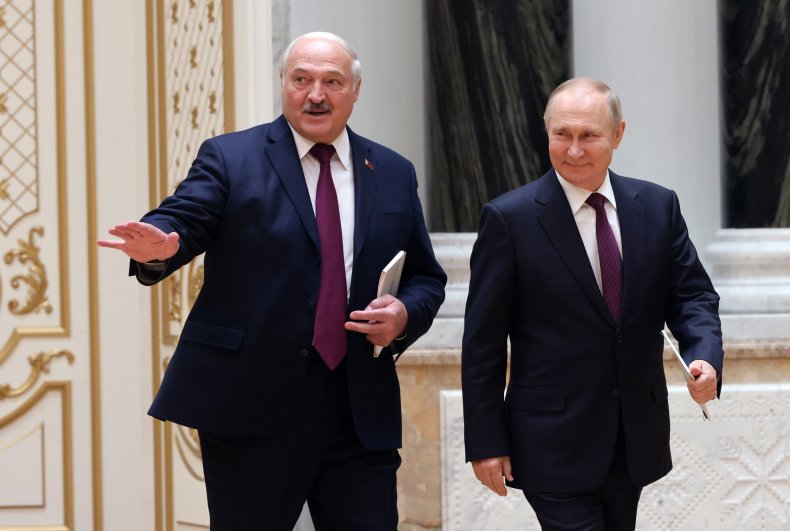 Lukashenko also said, "we know what war is and we don't want war," and that Russia is "our ally, legally, morally and politically."
Minsk journalist and non-resident fellow at the Atlantic Council think tank, Hanna Liubakova, said it was no accident that Lukashenko made the comments to foreign journalists in Minsk ahead of a meeting with Putin.
She told Newsweek the press conference was "an attempt to send a signal to the West that he has nothing to do with any escalation on the front and further involvement of Belarus in the war."
"He wants to present himself as a victim of circumstances," she said, even though since the start of the war, the Belarusian president "never hid his readiness to help Russia to win."
Lukashenko's comments were also a signal to the Kremlin "that he remains loyal and committed to supporting Russia in this war in every way possible," Liubakova added.
Since the start of the war, Lukashenko had tried "to show that there is a direct threat to Belarus from the West and Ukraine and that Russian troops will protect Belarus," she said.
"That's why he announced the need to station a joint Russia-Belarus group of forces. It is his usual attempt to present Belarus [as being] surrounded by enemies and him defending the country from danger."
Putin staged his initial attack on Kyiv from Belarus at the start of the war and thousands of Russian troops are on Belarusian territory where drills have taken place. This has sparked concerns about whether the country, which borders Ukraine and Russia, will be used for a further Kremlin offensive.
Tensions have been mounting at the Belarusian border with Ukraine and Minsk has claimed, sometimes without evidence, that Ukrainian drones and missiles have entered its territory.
Lukashenko is still expected to provide airfields, territory intelligence and other support for Putin, but Kyiv and military analysts have cast doubt on the likelihood of a more direct imminent involvement of Minsk in the war, nor are there signs of Moscow's readiness to attack Ukraine from the north.
The prospect of Minsk's military participation in the war against Ukraine is highly unpopular in Belarus, which also does not have enough combat-ready troops.
Newsweek reached out to the Russian and Ukrainian defense ministries for comment.