Russia, Belarus to Play War Games Near Ukraine Border Amid Worries of Pending Invasion
Russia is preparing to send more troops to Belarus near the Ukrainian border for drills next month amid concern over a pending invasion.
Russia's Deputy Defense Minister Alexander Fomin said the drills were part of a joint response with Belarus to practice against external threats, according to the Associated Press. He said the exercises were to practice concentrating the military potential in western Russia.
"A situation may arise when forces and means of the regional group of forces will be insufficient to ensure reliable security of the union state, and we must be ready to strengthen it," Fomin said during a meeting with foreign military officials.
Although Fomin did not provide details about the number of troops involved in this joint practice, it is estimated there are roughly 100,000 troops and heavy weapons near Ukraine, which the West fears could signal a pending invasion. The AP reported that the country will take through February 9 to fully deploy weapons and personnel for the Allied Resolve 2022 drills, which are expected to take place February 10-20.
While Russia denies any plans to attack Ukraine, Washington and its allies rejected Moscow's demands that NATO holds off on expanding or placing troops in any ex-Soviet nation, including Ukraine, during last week's meetings in Geneva.
The U.S. and its allies have continued to request Russia to call back its troops. Still, Russian's top diplomat and foreign minister, Sergey Lavrov, said the country wouldn't accept the demands, emphasizing that every country does military training.
"We aren't threatening anyone, but we are hearing threats to us," Lavrov said to the Associated Press. "We will decide how to react depending on what specific steps our partners will take."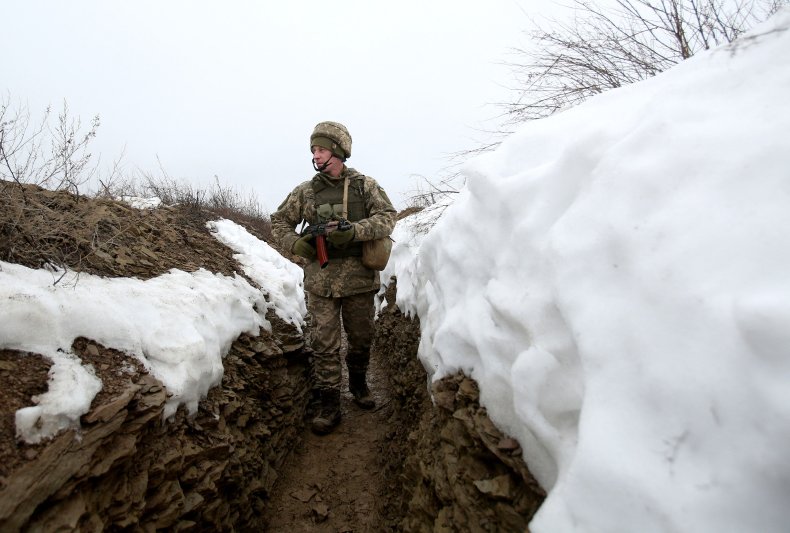 According to a statement released by the U.S. Department of State, U.S. Secretary of State Antony Blinken is set to travel to Ukraine and Germany this week. After last week's talks with Moscow failed to reduce tensions over Ukraine, he will also meet with Ukrainian President Volodymyr Zelenskyy and Foreign Minister Dmytro Kuleba. The Secretary will also discuss contingency plans with the U.S. Embassy should Russia further escalate the situation.
"The trip follows extensive diplomacy with our European Allies and partners about a united approach to address the threat Russia poses to Ukraine and our joint efforts to encourage it to choose diplomacy and de-escalation in the interests of security and stability," State Department spokesperson Ned Price said in the statement.
According to the State Department, Blinken spoke with Lavrov over the phone, stressing the importance of de-escalating the tensions between Russia and Ukraine.
Lavrov denied allegations of Russia's pending invasion calling it "total disinformation."
However, German Foreign Minister Annalena Baerbock told reporters she has a hard time not seeing the deployment of Russian troops as a threat.
Baerbock further emphasized that the West is prepared to continue discussions with Russia to help reduce tensions amid the Ukrainian border.
"We are prepared to have a serious dialogue with Russia because diplomacy is the only way to defuse this highly dangerous situation at the moment," she said.