Russia May Use Belarus Unrest to Boost Security Against West, Officials Say
Russia may be preparing to establish a lasting security presence in neighboring Belarus on the pretext of stabilizing the restive Eastern European country in a move that concerns the United States and its allies in the region, two U.S. officials told Newsweek.
Facing mass protests in the wake of an election mired with fraud accusations from opposition movements and the West, Belarusian President Alexander Lukashenko has consulted Russian President Vladimir Putin for assistance in restoring order in his country, which borders Russia and the U.S.-led NATO Western military alliance states of Latvia, Lithuania and Poland. Moscow, recalling the fall of friendly governments of other post-Soviet states, is keeping a close eye on the situation and one senior U.S. intelligence official laid out the reasoning for a potential Russian intervention.
"Belarus is not a NATO country, the organization has no authority to react," the official, who spoke on the condition of anonymity, told Newsweek. "There is also a strong precedent for Russia using disinformation blaming Western powers for unrest."
The official also cited the "COVID-19 crisis worldwide," meaning "military readiness is degraded due to the pandemic."
"I mean the stars are aligned. The best timing to inject 'order' is when a society is in chaos, especially given the power vacuum," the official added. "Also, I think the Kremlin might hook up a fake 'referendum' given the disputed election."
A senior Pentagon official who also asked not to be named echoed the same points to Newsweek, noting that the impact of the novel coronavirus on the Russian armed forces had been limited. "While the Russian military had some degraded readiness, they've demonstrated through exercises, some ongoing, that their capability remains effective and prepared," the second official said.
When it comes to Belarus, the official "could see them sending in security forces to help secure vital infrastructure."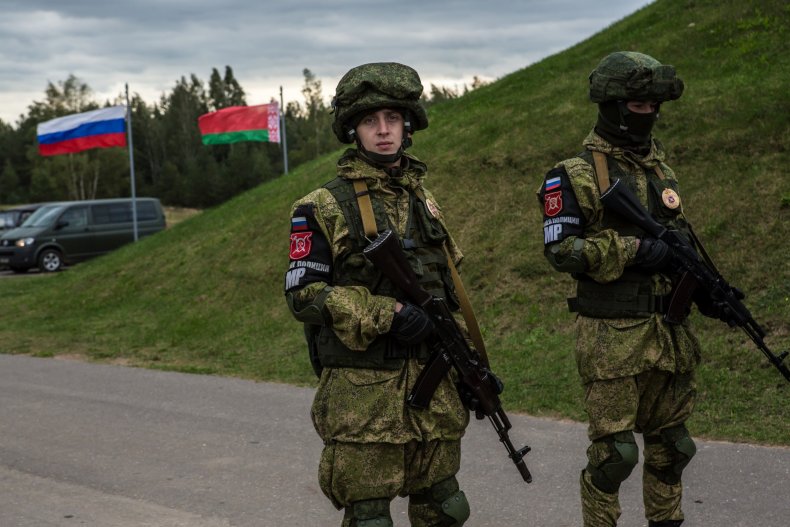 In a readout provided by the Kremlin of Putin and Lukashenko's Sunday phone call, the "the Russian side reaffirmed its readiness to render the necessary assistance to resolve the challenges facing Belarus" through their Union State Treaty and the Collective Security Treaty Organization that also includes fellow former USSR nations Armenia, Kazakhstan, Kyrgyzstan and Tajikistan, "if necessary."
A readout shared by the Belarusian president's office said Lukashenko agreed to accept Russian backing in the event of "an external threat."
Lukashenko, who has been in power since independence some 26 years ago, has since sent troops to the western border for military exercises involving air drills, anti-aircraft training, armored movement and other maneuvers. He's ordered the armed forces to remain on high alert, accusing NATO of building up its own forces in the region.
Reached for comment, a NATO spokesperson referred Newsweek to Secretary-General Jens Stoltenberg's conversation Tuesday with Polish President Andrzej Duda.
"The two leaders agreed that Minsk must demonstrate full respect for fundamental rights, including freedom of speech and the right to peaceful protest," a NATO readout read. "They further agreed that the Alliance should remain vigilant and strictly defensive, prepared to deter any aggression against NATO Allies."
"The Secretary-General stressed that NATO does not pose a threat to Belarus, and has no military buildup in the region. All Allies support a sovereign and independent Belarus," it added.
President Donald Trump recently signed a deal to send more redeploy troops from Germany to Poland, a plan that drew ire from the Kremlin. Secretary of State Mike Pompeo has since toured European capitals and discussed how "to help as best we can the Belarusian people achieve sovereignty and freedom" as he told reporters alongside the Polish prime minister on Saturday in comments further eliciting suspicion from Moscow.
Russian Foreign Minister Sergey Lavrov said Wednesday during an interview with Russia TV that he "worried about the attempt to use the internal difficulties that Belarus, the Belarusian people and the leadership are now facing in order to intervene in these events and processes from the outside."
"Not just to interfere, but in order to impose on the Belarusians the procedures that external players consider beneficial for themselves," he said in comments sent to Newsweek by the Russian Foreign Ministry. "Nobody hides that it is about geopolitics, about the struggle for the post-Soviet space. We saw this struggle in the previous stages of the development of the situation after the Soviet Union ceased to exist. The last example, of course, is Ukraine."
A 2014 massive uprising in Ukraine toppled a government with friendly ties to Moscow, prompting a Russian intervention in the strategic Crimean Peninsula, later annexed as part of an internationally-disputed referendum. Ukraine and Western nations like the U.S. have also accused Russia of actively backing an Eastern separatist insurgency that persists to this day.
The situation spurred a deterioration in Russia's ties with the West, leading NATO to bolster its forward presence with multinational battle groups in Poland and the Baltic states of Estonia, Latvia and Lithuania, which have expressed fear of potential Russian aggression.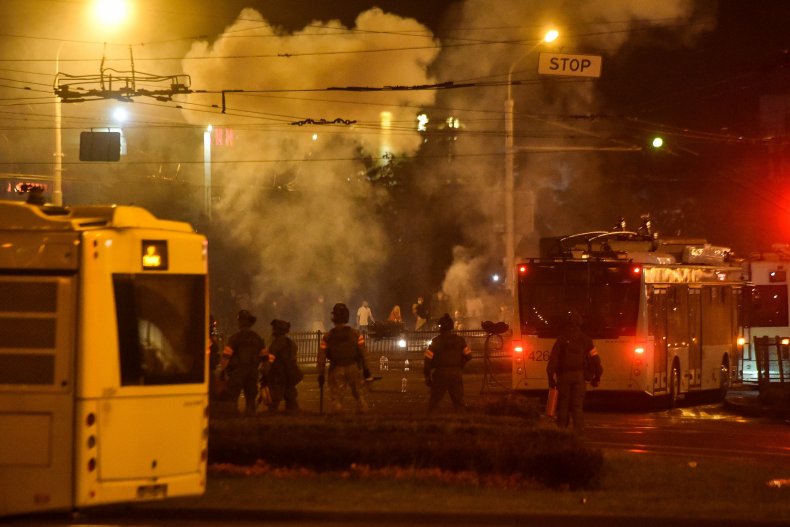 Russia has previously stepped in to defend allied breakaway outposts of Abkhazia and South Ossetia against Georgia and of separatist Transnistria, located between Ukraine and Moldova. In the current case of Belarus, however, Lavrov said Wednesday he was so far "convinced that the Belarusian people with their own wisdom can figure out the current situation on their own."
The Kremlin too said "there is no such need" for direct Russian assistance, according to comments by spokesperson Dmitry Peskov featured in the state-run Tass Russian News Agency. "Here any hypothetic deliberations are absolutely unacceptable and impossible," he added.
But some observers remain skeptical, given the threat of yet another nation potentially joining the Western fold as NATO and its advanced weapons crept further into the former Eastern Bloc over the past two decades. Doug Wise, a former CIA senior Intelligence Service and deputy director of the Defense Intelligence Agency, told Newsweek that "the situation with Lukashenko in Belarus has all the elements of a full-blown crisis for Putin."
With large-scale demonstrations just across the border, "Putin will exploit Lukashenko's 'invitation for assistance' and draw upon the standard Russia playbook of using successful hybrid war tactics from cyberattacks directed against the opposition to the deployment of GRU paramilitary operators and 'little green men,'" a term popularly used to refer to masked troops with no insignia that appeared in Ukraine in 2014 as part of a deployment widely attributed to Russia.
"Given what's at stake for Russia in Belarus, he has to have already taken these initial steps in order to keep Russian intervention just below a military threshold yet prepare and set the conditions for an eventual, full-scale Russian military intervention," Wise added.