President Joe Biden has been urged to do more to help Americans in Russian jails as his administration lauded the release of two U.S. citizens from Venezuela.
Biden said that the freeing of Gustavo Cardenas and Jorge Fernandez from prison in the South American country followed "tireless" U.S. diplomatic efforts.
In cases denounced as unjust, Cardenas, an executive for oil company Citgo, had been held since 2017 accused of corruption, while Fernandez, was arrested in 2021 after being accused of terrorism.
But Biden's statement on Tuesday that his administration "would fight" to bring Americans "held unjustly against their will" overseas throws a spotlight on three other high-profile U.S. citizens arrested in Russia.
The most recent case grabbing headlines was of basketball player Brittney Griner, a WNBA star with Phoenix Mercury who also turns out for Russian club UMMC Ekaterinburg.
Griner was arrested last month at a Moscow airport after Russian authorities said a luggage search showed she had vape cartridges, which were said to contain oil derived from cannabis.
If convicted she could face up to 10 years in prison. The exact date of her arrest and her current location remain unknown.
Her wife Cherelle Griner made a heartfelt Instagram post saying: "There are no words to express this pain. I'm hurting, we're hurting. We await the day to love on you as a family."
Rep. Sheila Jackson Lee (D-TX) has demanded Brittney Griner's release. "You wonder what is the evil purpose of Putin's government to have her at this time," she said, "all of those Americans being held in Russia on false charges, they should be released now."
These include two other U.S. citizens being held on charges that American officials say are trumped up.
Paul Whelan, an executive at automotive supplier BorgWarner, was arrested in 2018 and jailed for 16 years for espionage for allegedly possessing a flash drive of Russian secrets.
Whelan said he received the flash drive from an acquaintance and thought it had family photos.
Last year, Whelan described to CNN the grim conditions of the labor camp he is in and said that getting medical care "is very difficult."
Meanwhile, Trevor Reed, a North Texan and former Marine security guard, was jailed for nine years in 2020 on charges of intentionally endangering the lives of police after a night of drinking.
U.S. ambassador to Moscow John Sullivan called the evidence presented to convict Reed as "flimsy and preposterous."
On Sunday, Secretary of State Antony Blinken said the U.S. was working to free Americans in Russian custody, and urged Americans in Russia to leave the country.
When contacted, the State Department referred Newsweek to comments Blinken made during that press conference.
In reference to Griner, he said: "There's only so much I can say given the privacy considerations at this point."
"More generally, whenever an American is detained anywhere in the world, we of course stand ready to provide every possible assistance, and that includes in Russia," Blinken added, referring to efforts "seeking the release of Paul Whelan and Trevor Reed... both of whom are unjustly detained."
Last year Biden said he discussed the fate of U.S. citizens detained in Russia at the summit with Russian President Vladimir Putin. But Putin's invasion of Ukraine, and the tough sanctions that followed, could pose a considerable diplomatic hurdle for their release.
Last week Whelan's brother, Paul Whelan, said that his family was worried about the impact of sanctions on Russia and the potential expulsion of the U.S. Embassy in Moscow, but was still optimistic.
"The sanctions may actually provide a method for the U.S. to seek Paul's release faster than they might have otherwise," he said.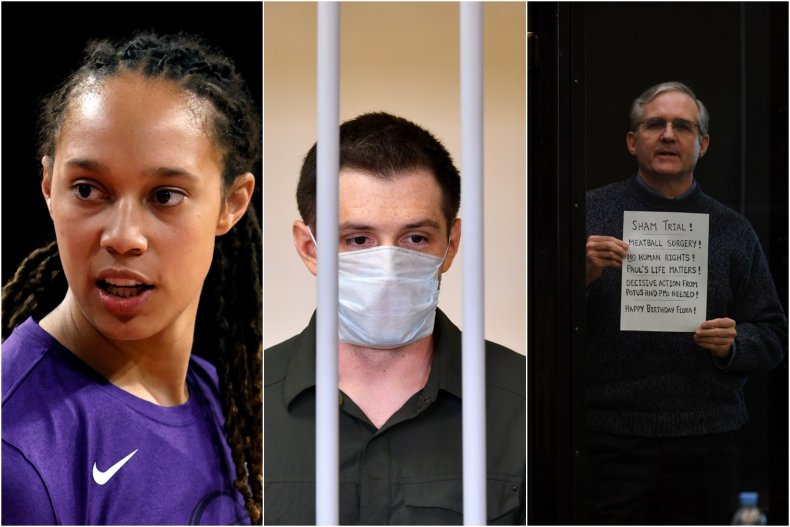 Update 03/09/22, 11.30 a.m. ET: This article has been updated with a State Department response.